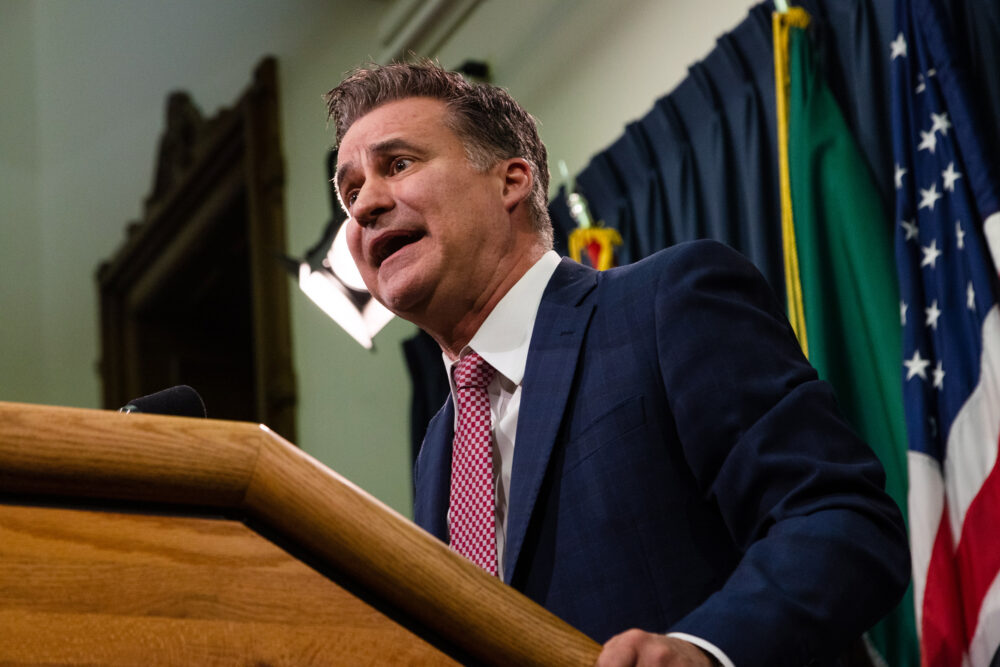 State Sen. Roland Gutierrez, D-San Antonio, announced Monday he is joining the Democratic primary to challenge U.S. Sen. Ted Cruz, R-Texas.
Gutierrez made his campaign official in a nearly four-minute video that starts with him driving to Uvalde, the city in his district where a deadly school shooting took place last year. He says the massacre was about more than guns but also about how Texas leaders have neglected the state, including rural Texas and "systems … that are supposed to keep us safe."
"That failure hasn't been isolated," Gutierrez said. "I'm running against Ted Cruz because everything that we've seen in this state has been nothing but taking care of rich people while the poor people, the working class, get screwed over."
The video also singles out Cruz for his 2021 trip to Cancun during the power-grid collapse in Texas, calling it "just indefensible." And it also takes shots, briefly, at other state GOP leaders, including Gov. Greg Abbott and Attorney General Ken Paxton.
Gutierrez's entrance into the 2024 race has long been expected, and it sets up a primary matchup with U.S. Rep. Colin Allred of Dallas, who announced his campaign in May.
"Our campaign is laser focused on beating Ted Cruz, and we are happy to welcome anyone who shares that mission into this race," Allred campaign manager Paige Hutchinson said.
Cruz's campaign also welcomed Gutierrez to the contest. Cruz spokesperson Nick Maddux said in a statement that Texans will now get to see Allred and Gutierrez "slug it out for who can be the most radical leftist in the state."
Gutierrez has been in the Legislature since 2008, but he became more vocal than ever after the Uvalde tragedy. He spent the 2023 legislative session pushing for new gun restrictions, delivering passionate floor speeches and holding regular news conferences with families of the Uvalde victims.
"I'm a proud gun owner and believer in the Second Amendment, but after 19 children and two teachers died, the Republicans would't even allow us an opportunity to even talk about ways to protect our kids," Gutierrez said in the video. "It's why we have to do something now."
Gutierrez has faced resistance in the Republican-dominated Legislature, but he notched at least one victory in May when a House committee surprised many by advancing a bill to raise the minimum age to buy some semi-automatic rifles from 18 to 21. The bill did not go further.
The Uvalde gunman legally purchased two AR-style rifles shortly after turning 18 and only days before killing 19 students and two teachers at Robb Elementary School.
More recently, Gutierrez successfully amended the Senate's latest property-tax plan to include pay bonuses for public school teachers. It is unclear if the House will go along with the plan in the current special session.
Gutierrez began in the Texas House before winning election to the state Senate in 2020. He does not have to give up his Texas Senate seat to run against Cruz because it is not on the ballot again until 2026.
Gutierrez faces a serious opponent in Allred, who has already picked up a number of national endorsements and has raised more than $6 million. He also transferred $2.4 million from his House campaign account.
In an interview with WFAA, Gutierrez did not shy away from a contrast with Allred. Gutierrez said he is sure Allred is a "nice man" but added that the "fact is, I've done a heck of a lot more than he has in public service."
Allred's campaign has brushed off talk of primary opponents, saying he is focused on defeating Cruz, who is seeking a third six-year term.
Another Democrat in the Legislature, Rep. Carl Sherman of DeSoto, also is considering running for Senate.
Democrats have not won a statewide election in Texas since 1994. Democrat Beto O'Rourke came surprisingly close to defeating Cruz the last time the senator was on the ballot, in 2018, but the party has not been as competitive in a statewide contest since then.