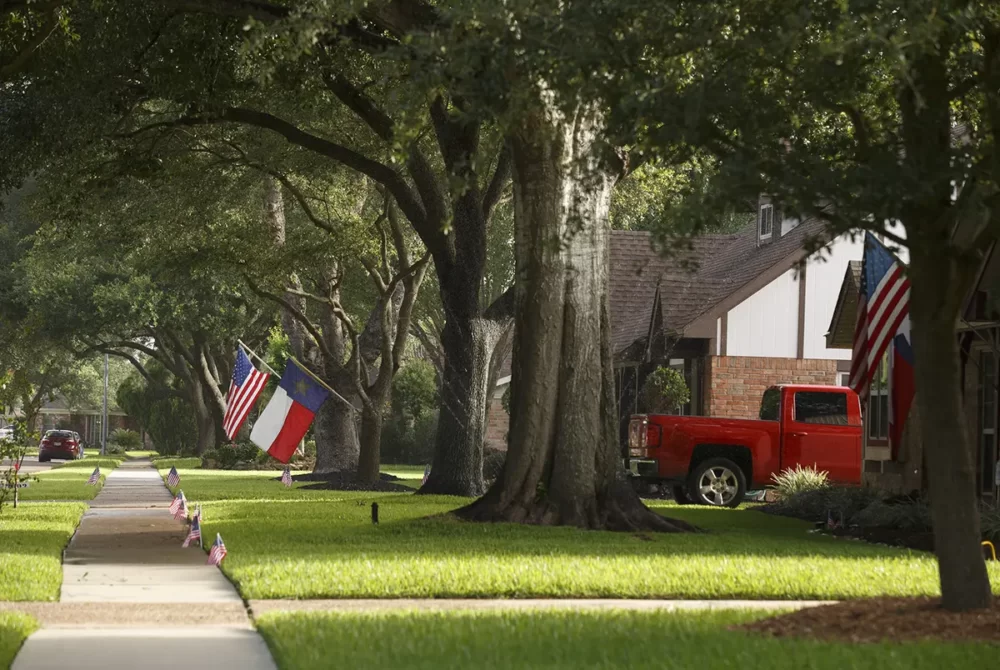 In the opening hours of a new special legislative session, Texas lawmakers quickly made their opening pitches Wednesday to break a longstanding impasse over how to cut Texans' property taxes and reach a deal.
A bargain over how to deliver more than $12 billion in new property tax cuts has evaded Texas' top Republicans for months as leaders of the House and Senate have been at odds over whether homeowners or businesses should benefit more from tax cuts. Texas landowners pay some of the highest property taxes in the nation.
House Speaker Dade Phelan and House lawmakers are so far sticking with a proposal to take all $12.3 billion lawmakers set aside this year for tax cuts and send it to school districts so they can lower their tax rates — a method called "tax rate compression."
Texas homeowners and business owners alike would see their tax rates fall under the House proposal, but the biggest benefit would flow to businesses and wealthier homeowners. The House Ways and Means Committee, that chamber's key tax-writing panel, unanimously approved the measure Wednesday.
It's unclear when the full House will take up the bill; the House next meets on Friday but is expected to quickly adjourn until July 5.
State Rep. Morgan Meyer, a Dallas Republican and the House's chief tax-cut crafter who authored the bill, declined to comment after the vote.
In the Senate, a $12.7 billion tax-cut package that includes targeted tax breaks for homeowners and businesses, money for school districts to lower their tax rates and stricter revenue caps for school districts sailed through the Senate Finance Committee and the full chamber by unanimous votes.
"I can't think of a better property tax bill that you could possibly pass," Lt. Gov. Dan Patrick said after the vote.
State Sen. Roland Gutierrez, D-San Antonio, tacked on an amendment to the bill that would give teachers supplemental pay for the 2023-24 school year. The amendment, which took about an hour and a half to broker, would give teachers in urban school districts an extra $2,000 and those in rural districts an extra $6,000.
Sen. Joan Huffman, R-Houston, the chamber's chief budget writer, stressed that the payments were not permanent. The bill would cost $3.2 billion out of the state budget for the next two years.
Near the end of the regular session in May, Gutierrez and a handful of other lawmakers refused to vote for the new 2024-25 spending plan because while it earmarked more than $5 billion for education, it did not set aside funds specifically for teacher pay raises — a priority for both parties at the beginning of the session.
Those raises were tied to separate legislation creating a private-school voucher program, but the House refused to support vouchers, which use state education dollars to pay for private school tuition.
Teacher pay raises died with the voucher program, but they are likely to be considered again when Gov. Greg Abbott calls a special session on both issues later this year, as he has said he will do.
"What we've just seen here is a once-in-a-lifetime opportunity to not only pass a record property tax relief bill but add a tremendous benefit for teachers," said state Sen. Paul Bettencourt, a Houston Republican and author of the bills. "This is a huge win for Texas taxpayers. ... It's astonishing work. I've never been prouder to be a member of the Texas Senate."
The amendment triggers the question of whether it will help or hurt the bill's chances, either with the lower chamber or with Abbott, who did not have teacher pay on the call for the special session.
"It'd be a hell of a time for anybody to veto this," Gutierrez said. "Our teachers are demanding this. They should not be held hostage to anybody's political ambitions."
Abbott's office did not immediately respond to a request for comment.
It's unclear whether the House, which has been at odds with the Senate over how to lower property taxes, would accept the Senate's approved bill.
Patrick said he was hopeful the House would pass the Senate's bill when lawmakers return next Wednesday and conclude the special session. He also said he'd asked for a meeting with Phelan to broker a deal.
"I'm looking forward to a meeting," Patrick said. "Whenever that is, I believe we can get this resolved quickly."
Lawmakers have twice failed to strike a compromise before running out the clock — once when the Legislature's regular session ended in late May and again on Tuesday when time ran out on a special session called by Abbott.
Abbott, who made cutting property tax cuts a cornerstone of his reelection campaign last year, called lawmakers back to the Capitol this week to end the stalemate and send him a tax-cut bill.
On Wednesday tax-cut writers picked up where they left off — unveiling familiar proposals on how to cut school district property taxes, the biggest slice of a property owner's tax bill.
In the Senate, Patrick and tax-cut proponents held firm on giving homeowners a more substantive chunk of the proposed tax breaks.
The $12.7 billion tax-cut package laid out Wednesday by Bettencourt, Patrick's go-to person on property taxes, would provide targeted tax relief to Texas homeowners in the form of an increase in the state's homestead exemption on school district taxes, which is the amount of a home's value that can't be taxed to pay for public schools. That exemption would go from $40,000 to $100,000 under the Senate plan.
More than two-thirds of the $12.3 billion in the House bill for property tax cuts would go to school districts to lower their tax rates. The Senate proposal — essentially the same package senators put up in the waning days of the first special session — would also put tighter revenue caps on school districts, a way to further drive down tax rates.
More businesses would get a break on their state franchise taxes, a state levy businesses pay on their revenue, under the Senate proposal. Senators want to expand the pool of businesses that receive a state franchise tax exemption in a bid to provide tax relief to small-business owners. As a result, 67,000 business owners would not have to pay that tax.
"I'm at a loss to explain why we're even having an argument," Bettencourt told the Senate Finance Committee on Wednesday.
Abbott initially threw his weight behind the House proposal, which pressures school districts to reduce their tax rates, in late May, touting it as a better way to ultimately eliminate school maintenance and operations taxes — which make up the bulk of a school property tax bill and pay for school expenses like teacher salaries. Some conservatives have sought to get rid of the tax altogether.
Abbott has held firm on his desire to see an all-compression approach and a tax-cut proposal that puts Texas "on a path" to ultimately eliminating the maintenance and operations tax. But he appeared to soften his stance Tuesday when he called lawmakers back to the Capitol, signaling that he's open to an alternate proposal should the House and Senate agree to one.
Legislators have less than 30 days to strike a compromise on tax cuts. But they also face an August deadline to get a tax-cut ballot measure on the November ballot. Voters would have to approve portions of the House and Senate packages in a constitutional amendment election.
Frustration among lawmakers over the continued absence of a deal became increasingly apparent Wednesday.
"I hope that there'll be some give and take between the House and Senate and we will be able to get something done and agreed upon and passed," said state Rep. Chris Turner, an Arlington Democrat and member of the House Ways and Means Committee. "And that the House and the Senate and the governor can do what they weren't able to do in the first special session in the regular session, which is reach an agreement and actually get something for the voters to approve in November."
That angst was felt in the Senate, too.
"This seems like a rerun of a movie that we've seen before," said state Sen. Juan "Chuy" Hinojosa, a McAllen Democrat, ahead of the Senate vote Wednesday.
---
Join us for conversations that matter with newly announced speakers at the 2023 Texas Tribune Festival, in downtown Austin from Sept. 21-23.
This article originally appeared in The Texas Tribune at https://www.texastribune.org/2023/06/28/texas-legislature-tax-cut-plan/. The Texas Tribune is a member-supported, nonpartisan newsroom informing and engaging Texans on state politics and policy. Learn more at texastribune.org.