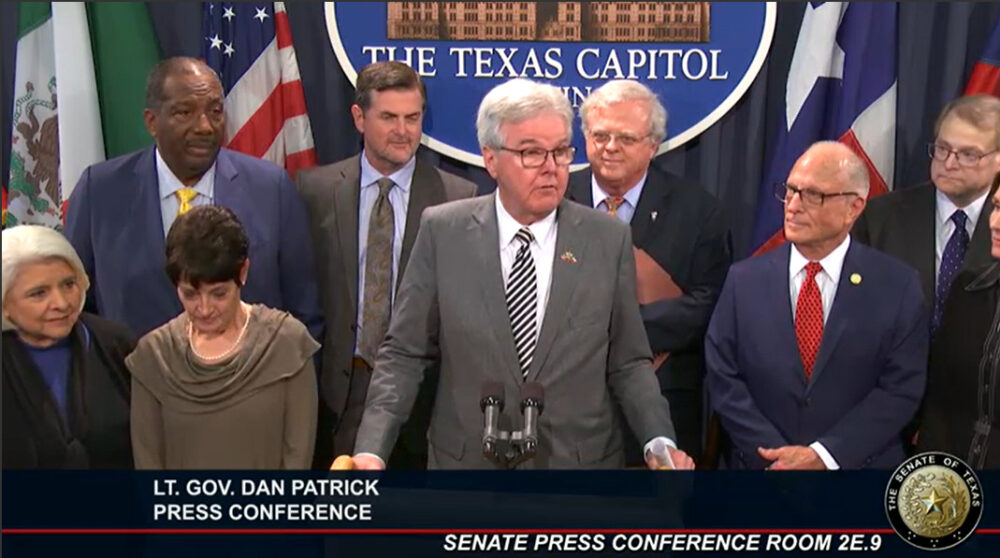 The Senate has passed what Lieutenant Governor Dan Patrick is calling "the largest tax cut in world history." Senate leaders from both parties are calling on Speaker Dade Phelan to summon the House back to pass the property tax legislation.
Taken together, Senate Bill 26 and Senate Joint Resolution 2 would let Texans vote on a package to cut property taxes by $18 billion. The measures would increase the homestead exemption from $40,000 to $100,000.
"That means the (Texas) homeowners, all 5.72 million, will be getting $1,270 in the first year savings, and if you happen to be over 65, those savings are nearly $1,450. Truly eyepopping," said Republican Senator Paul Bettencourt of Houston, the measures' author.
The package would also double the business exemption from paying the franchise tax to $2.67 million. That would remove 67,000 small-to-midsize businesses from paying the franchise tax at all. The two measures passed the Senate unanimously.
Lieutenant Governor Dan Patrick emphasized there's a firm deadline for the Legislature to pass property tax relief in order to get a constitutional amendment on the ballot for Election Day 2023.
"Right now, we have about six weeks to pass a bill to get it on the November ballot," Patrick said. "So, this is a package that, again, I think if Governor (Greg) Abbott will support and the Speaker will support, I think it will pass easily, unanimously."
Speaker Dade Phelan announced a select committee to study property tax relief. Phelan adjourned the House shortly after it passed its own version of property tax relief (House Bill 1) at the start of the special session. HB 1 did not include the increased homestead exemption, which Patrick said made it a nonstarter in the Senate.
Democratic State Senator John Whitmire of Houston asked that Governor Greg Abbott exert pressure on Phelan and House leaders to come back to the Capitol and vote on the Senate's package.
"Enough is enough," Whitmire said. "As a young House member, I would be called to the Governor's office about a vote I didn't want to take. More times than not, you leave the Governor's office in support of that position. So, I would urge Governor Abbott to get as involved as he can be."
The current special session is due to end in just over a week.