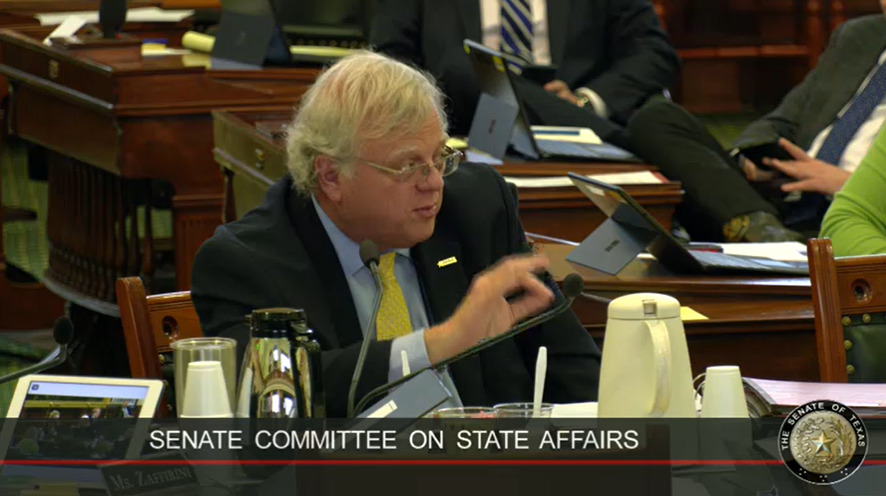 The Texas Senate is considering a pair of bills aimed at removing Harris County Elections Administrator Clifford Tatum. The bills come in the wake of high-profile problems with both last year's primary and general elections in Harris County.
Senate Bill 823 would allow the Secretary of State to suspend or remove an appointed elections administrator for cause and appoint his or her replacement. SB 1750 would require counties with a population of over 3.5 million – in other words, Harris County alone — to abolish the administrator's office, reverting its responsibilities to the elected county clerk and tax assessor-collector.
State Senator Paul Bettencourt, R-Houston, the author of both measures, says they are necessary in the wake of recurring difficulties the county has experienced since creating the office of elections administrator in 2020.
"Harris County has suffered since 2020 from elections administrators who have lost 10,000 ballots, failed to provide sufficient ballots, paper ballots to over 120 polls, provided unreconcilable election results, improperly instructed the signature verification committee on how to review mail ballots...and the list is seemingly endless," Bettencourt said.
Bettencourt said that Harris County's problems are too big for the state to ignore. "Harris County election results have a significant impact on the entire state of Texas by producing approximately 1.1 million of the 8.1 million votes in the November election," he said.
Harris County Republican leaders have charged that problems with the November 2022 general election, notably the shortages of ballot paper in a number of precincts that tend to favor the GOP, may have cost the party a number of close contests. The county Republican Party is suing Elections Administrator Tatum, alleging either incompetence or malfeasance on his part was the cause of the problems. Harris County District Attorney Kim Ogg and the Texas Rangers have opened investigations into potential criminal conduct at the direction of then-Secretary of State John B. Scott.
In addition, 21 unsuccessful Republican candidates are suing to challenge their election losses. These include Alexandra del Moral Mealer, who narrowly lost the contest for county judge to Democratic incumbent Lina Hidalgo.
Harris County Republican Party chair Cindy Siegel testified in favor of both bills at a hearing of the Senate State Affairs Committee.
"Our right to vote is a basic right we are promised as citizens of this country." Siegel said. "That means, when I go to vote, that I should have the confidence that the poll will open on time, that there will be enough voting machines, that they'll actually work, that I will have sufficient and the right size ballot paper, and that my ballot is secured until my vote is accurately recorded."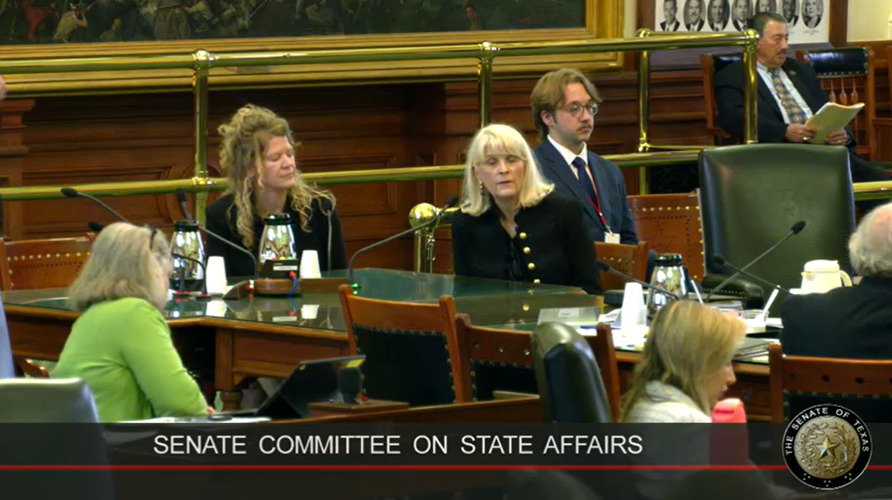 A spokesperson for Elections Administrator Tatum said he had not received an invitation to testify and that his attorneys had advised against his volunteering to do so.
Critics of the bills argue that they are a partisan attack on local control. James Slattery, senior staff attorney with the Texas Civil Rights Project, testified against SB 823.
"This bill would allow the secretary of state, an unelected political appointee of the most powerful partisan official in the state, to effectively seize control of local election administration on the flimsiest of pretexts and retain that control indefinitely with next to no accountability or transparency," Slattery said.
But Bettencourt noted that SB 1750 would hand over control of elections in Harris County to two elected Democrats – County Clerk Teneshia Hudspeth and County Tax Assessor-Collector Ann Harris Bennett. He argued that elected officials of either party had a better track record of managing elections than Elections Administrator Tatum or his appointed predecessor, former administrator Isabel Longoria.
"It's not about politics," Bettencourt said. "It's about performance."