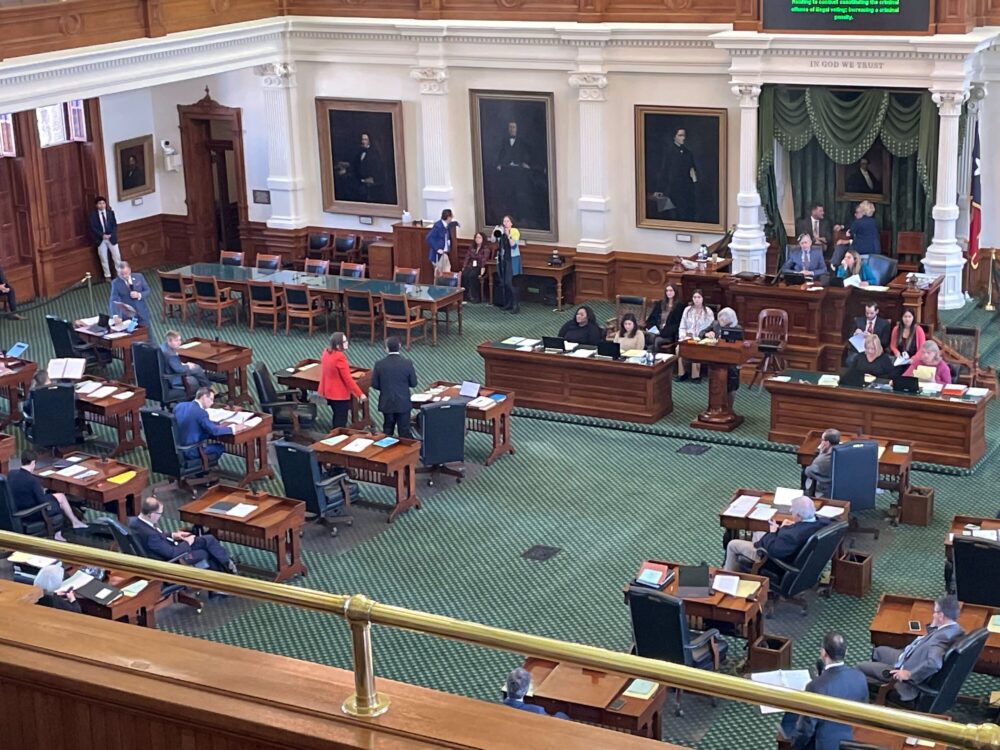 Republican state lawmakers have filed a raft of bills aimed at combating alleged election fraud and making the officials who conduct elections more accountable to the voters. The major proposals could make it even tougher to vote in Texas than it already is.
The leading elections bill that passed the Texas Legislature in 2021 shut down a number of practices that made it easier to vote. But a last minute amendment to the bill in the House changed illegal voting from a felony to a misdemeanor. Lieutenant Governor Dan Patrick made reversing that change one of his top priorities for this session. Senator Bryan Hughes, R-Mineola, wrote the bill to do it, Senate Bill 2.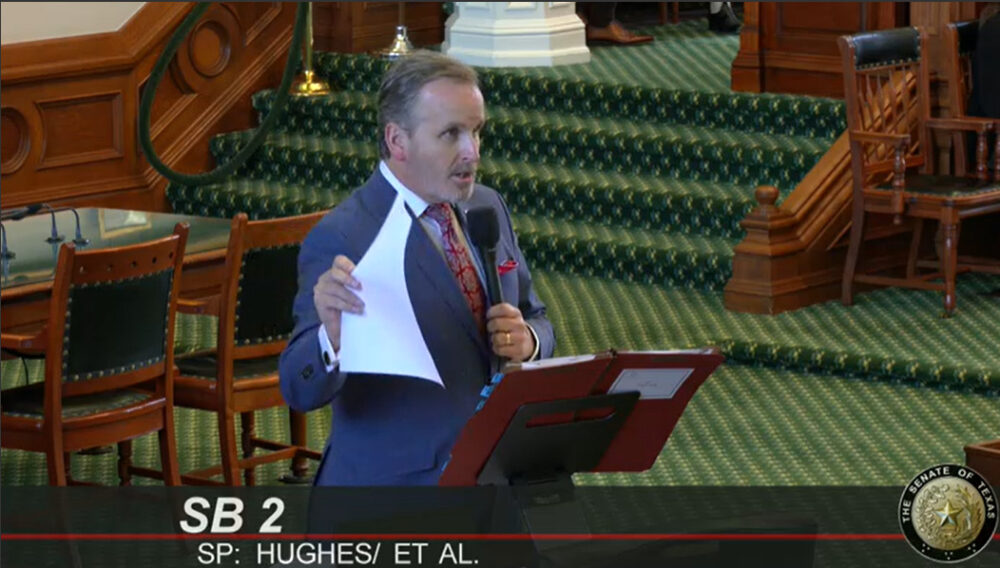 "So, illegal voting had been a felony for almost 50 years," Hughes said. "That's how it has been. That's what prosecutors understood. And you know, we set the offense level of a crime based on how serious it is."
SB 2 would also make it possible to punish someone for voting illegally whether or not they intended to commit a crime by voting. As Hughes explained during the floor debate on the bill, "If I know that I have voted in another state in this election, if I know that I am a felon (and) I've not had my voting rights restored, If I know that I'm not a citizen and thus don't have the right to vote, I can be held accountable for illegal voting."
That's even if people don't realize those circumstances make them ineligible to vote. Hughes said this change was necessary because the state's top criminal court had appeared to make ignorance of the law a defense.
In 2016, Crystal Mason cast a provisional ballot, even though she was still on parole for a conviction of tax fraud. She was arrested, convicted of illegal voting, and sentenced to another five years in prison. But last year, the Court of Criminal Appeals directed a lower court to reconsider its opinion, on the grounds that Mason didn't know she wasn't eligible to vote and hadn't intended to break the law.
"Did it ever occur to you that maybe the Court of Criminal Appeals knew what they were doing when they ruled?" Democratic Senator and Houston mayoral candidate John Whitmire challenged Hughes during the floor debate. "You're trying to overturn it today."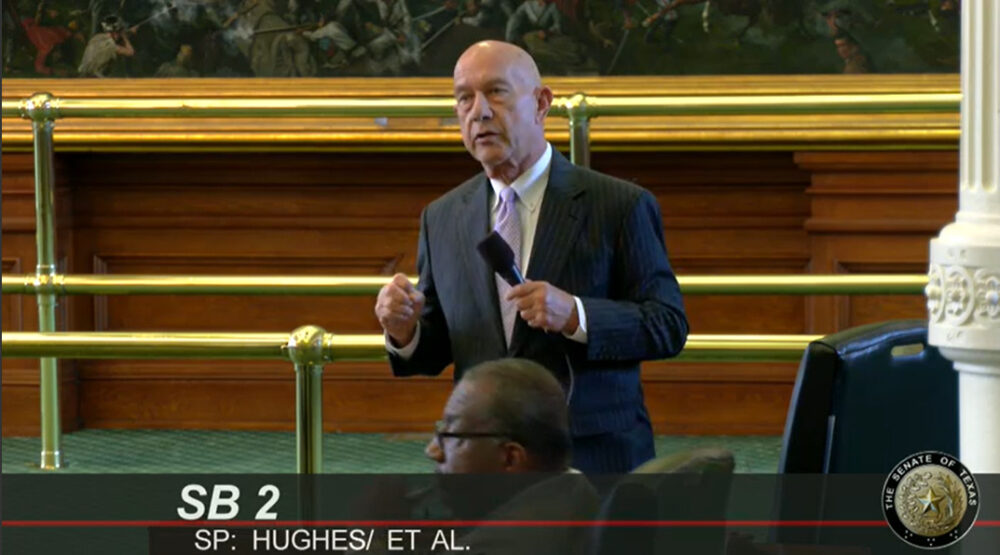 Senator Sarah Eckhardt of Austin spoke for many of her fellow Democrats when she argued that SB 2 would lead to prosecuting people for well-intentioned mistakes. "Voting has now become a risk," Eckhardt said, "and that, I don't believe, is what we want to be doing here in a democracy."
Voting rights advocates say SB 2, if passed, could discourage many people from voting who are, in fact, eligible to vote.
"It will create irreparable fear for communities that may not know the 1,700 different types of penal code violations that they could potentially walk into when potentially being disqualified or unable to vote that could land them facing a felony penalty," said Katya Ehresman, voting rights program manager for Common Cause Texas.
Sean Morales-Doyle, director of the voting rights program at the Brennan Center for Justice, says it's common practice in many states to make illegal voting a felony. "I don't think it's true that it's generally a felony regardless of whether you intended to vote while ineligible," Morales-Doyle said. "Criminalizing behavior, especially within the area of voting rights, that is not intentional and for which there's not criminal intent is really troubling."
While SB 2 is the marquee elections bill this session, it's far from the only one. Harris County Republican lawmakers have filed a series of bills aimed at responding to problems in the county's recent conduct of elections.
Freshman Representative Charles Cunningham of Humble previously worked for 15 years as an elections judge. "It seemed like every time we got through whatever time that was, close at 7, finish up, do your count, seal everything up, tape everything up, head on out to the election center, wherever that was at. Guess what? By the time I got home, 9, 10 o'clock, I already knew what the results are. How's that today? Takes two or three days," Cunningham said.
Cunningham has authored a bill (House Bill 2152) that extends the length of time for a defeated candidate to submit petitions for a recount to challenge the results of their elections. A total of 21 unsuccessful Republican candidates from Harris County are suing to press for new elections.
In addition, the Harris County GOP is suing County Elections Administrator Clifford Tatum, alleging that dozens of election centers in Republican strongholds ran out of ballot paper last Election Day and were forced to turn voters away.
"That's a voter irregularity that I think actually becomes voter suppression," said Senator Paul Bettencourt, R-Houston.
Paul Bettencourt introduced SB 823, which would give the Texas secretary of state the power to suspend or fire a county election administrator for one of five causes.
"It's not fair allocation of election materials, malfunctioning voting system equipment, errors in tabulation of results, delays in reporting election returns, and discovery of voted ballots after the polls," said Bettencourt, who alleges all five problems occurred in Harris County in 2022.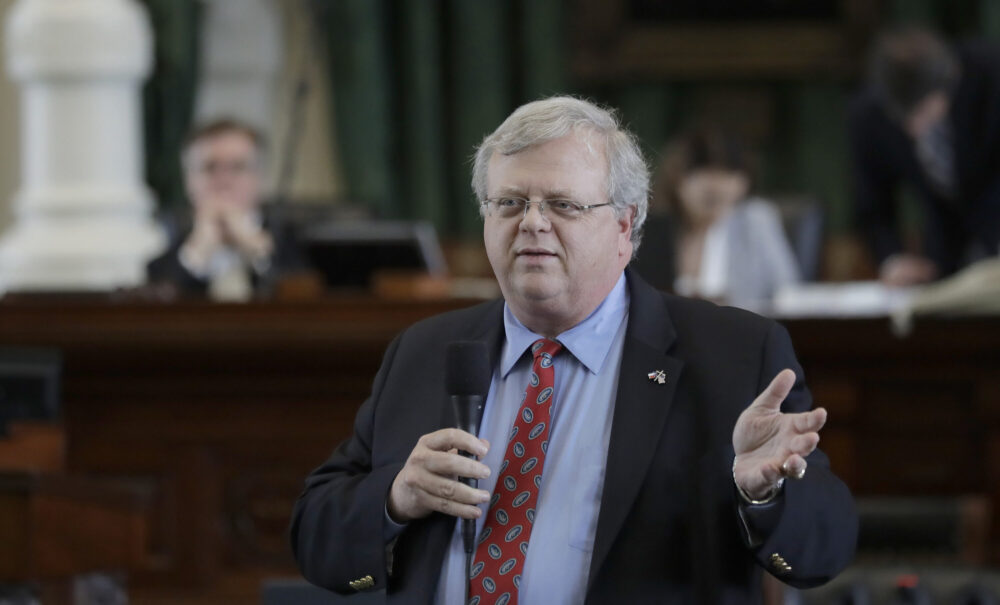 Senator Carol Alvarado, D-Houston, who filibustered against the 2021 elections legislation, said that Bettencourt is going too far. She noted there's already a process for getting rid of an elections administrator.
"The County Commissioners Court who hired that person, they can tackle that issue," Alvarado said. "I think it's an infringement on local control. I think it's overreaching, it's unnecessary, and it's a waste of time."
But Bettencourt has filed another bill that would go even further. SB 1750 would force all counties with more than 1 million residents to eliminate an elections administrator who is appointed. The bill would then hand back the responsibilities to the county clerk and county tax assessor-collector, who are both elected and more responsible to the voters. In Harris County, both those offices are held by Democrats.
"The fact that you've got a Republican advocating to give back the elections to two local Democrat elected officials, it means that what I'm looking for is the public policy of the right thing to do," Bettencourt said.
In addition to Harris County, SB 1750 would apply to Dallas, Tarrant, Bexar, and Collin Counties.
Sean Morales-Doyle of the Brennan Center for Justice said there may be legitimate problems regarding Harris County's conduct of elections that need to be addressed, "but using the power of the state to remove people from office or change who's in control of elections, I think, needs to be done carefully and not for political reasons or dissatisfaction with political decisions."
Clifford Tatum declined to comment on the specifics of the bills that could deny him his job as elections administrator. However, he said, "Any particular law that proposes to regulate the process without fully understanding the process is an impediment to the process."
Bettencourt has filed at least two other major elections bills. SB 825 is identical to Cunningham's bill extending the length of time for a defeated candidate to challenge their election results. There's also SB 1039, which enables a candidate, party official, or elections judge to push for the secretary of state to conduct an audit in the case of perceived election irregularities. If the audit finds irregularities, the bill would require the secretary to appoint a conservator to oversee elections in the election precinct where the violation occurred.
Bettencourt said SB 1039 was necessary because Harris County officials have been less than transparent in addressing problems with the November 2022 general election. "We can't have an election administrator and a county judge that are running from county comment because they still won't explain what happened on November 8, because we have literally somewhere in excess of 100 polling places that ran out a ballot paper," he said. "That can't happen. It won't happen once these bills pass ever again."
Most of Bettencourt's bills, as well as Hughes' SB 2, are likely to become law before the next general election this fall. That's when Houston will choose its next mayor and city council.
As in 2021, Republicans are convinced that their measures are necessary to combat fraud. That sits badly with Democratic election workers, many of whom have been working the polls for years, under both Democrats and Republicans. Wes Kinsey has volunteered for a decade, frequently as a presiding judge.
"Working on the front lines of elections, I know the truth, which is that there is no widespread problem with voter fraud, and hence, any additional legislation aimed at stamping out voter fraud is almost certainly government overreach and unnecessary," Kinsey said.