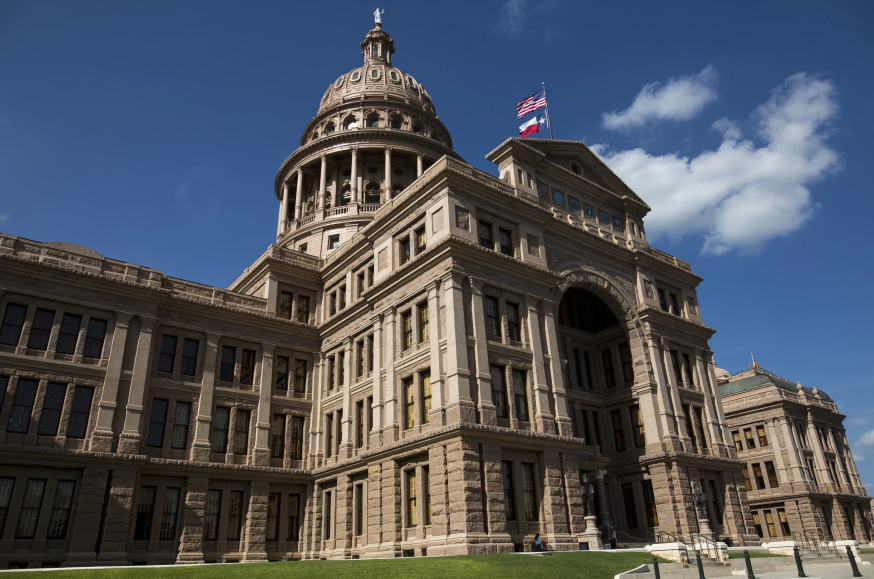 Three Harris County Republican lawmakers have filed bills that would abolish the office of elections administrator in counties with more than 1 million residents. The bills would affect five of the state's six largest counties, but it appears to target Harris County.
State Senator Paul Bettencourt (R-Houston) and State Representatives Briscoe Cain (R-Deer Park) and Mike Schofield (R-Katy) filed identical bills (Senate Bill 1750) that would hand the powers of the appointed elections administrator back to the elected county clerk and county tax assessor-collector.
In addition to Harris County, the bills would affect Dallas, Tarrant, Bexar, and Collin Counties. But in a statement accompanying the filing of their bills, Bettencourt and Cain left no doubt that they were responding to developments in their home county during the 2022 primary and general elections.
"In 2022," Bettencourt said, "the former Harris County Elections Administrator (Isabel Longoria) 'found' 10,000 votes and released a statement at 10:30 p.m. on a Saturday night that led to her resignation. Then the current Elections Administrator (Clifford Tatum), either wouldn't or couldn't get millions of paper ballots out of the warehouse and to the polls with thousands of voters being turned away for lack of ballots."
Tatum is currently the focus of a lawsuit by the Harris County Republican Party, which charges him with either mismanaging or deliberately "rigging" the 2022 general election. In addition, 21 unsuccessful Harris County Republican candidates from that election are suing to demand new elections, citing the same allegations, and Republican donor Jim "Mattress Mack" McIngvale is suing the Election Administrator's Office for alleged violations of the Texas Public Information Act in connection with the 2022 general election.
The bills' authors argue that the measures would make large counties more responsible to their respective voters. "The Elections Administrator experiment in Harris County has failed," Cain said. "As larger counties try to use this position as another bureaucrat meant to grow government, it's important that voters have a say in running their elections."
Bettencourt has taken the lead in responding to Harris County's recent problems conducting elections. His other bills include SB 823, a measure that would allow the secretary of state to suspend or remove a county elections administrator "for cause." SB 823 lists five causes for removal, all of which Bettencourt contends occurred in Harris County during the 2022 general election: malfunctioning of voting equipment, unfair distribution of electoral supplies, errors in tabulation of results, delays in reporting election results, and discovery of voted ballots after the polls close. State Representative Tom Oliverson (R-Cypress) filed an identical bill in the House.
Bettencourt is also a coauthor of SB 2, one of Lieutenant Governor Dan Patrick's top priority measures for the Senate. SB 2, authored by Senator Bryan Hughes (R-Mineola), would make illegal voting a second degree felony. Illegal voting was changed from a felony to a Class A misdemeanor in the omnibus elections bill that passed during the second legislative special session of 2021.
If SB 1750 or one of its counterparts from the House becomes law, the authority for running elections in Harris County would revert to County Clerk Teneshia Hudspeth, while the functions of voter registrar would shift to County Tax Assessor-Collector Ann Harris Bennett. Both elected officials are Democrats.
Michael Adams of Texas Southern University said Harris County was hardly free from electoral problems before creating the office of administrator. He reflected on the 2020 cycle, when then-County Clerk Diane Trautman, also a Democrat, oversaw the primary election.
"There were charges coming from both parties in terms of the failure, in terms of not being able to adequately have the machines there and where we did have these long lines," Adams said. "I remember very well, on the campus where I'm a professor, that voters were voting after midnight."
Adams said that, when it comes to large counties, if often makes more sense to have a full-time, appointed official overseeing elections rather than having the functions split between two elected officials who have multiple other duties.
"I think this is just a partisan food fight between the two parties in terms of it's targeted at Harris County," Adams said, "and it's all part and parcel of what we've seen in terms of what the Republicans are saying now, that their votes are being suppressed based on things that happened within the Election Administrator's Office."