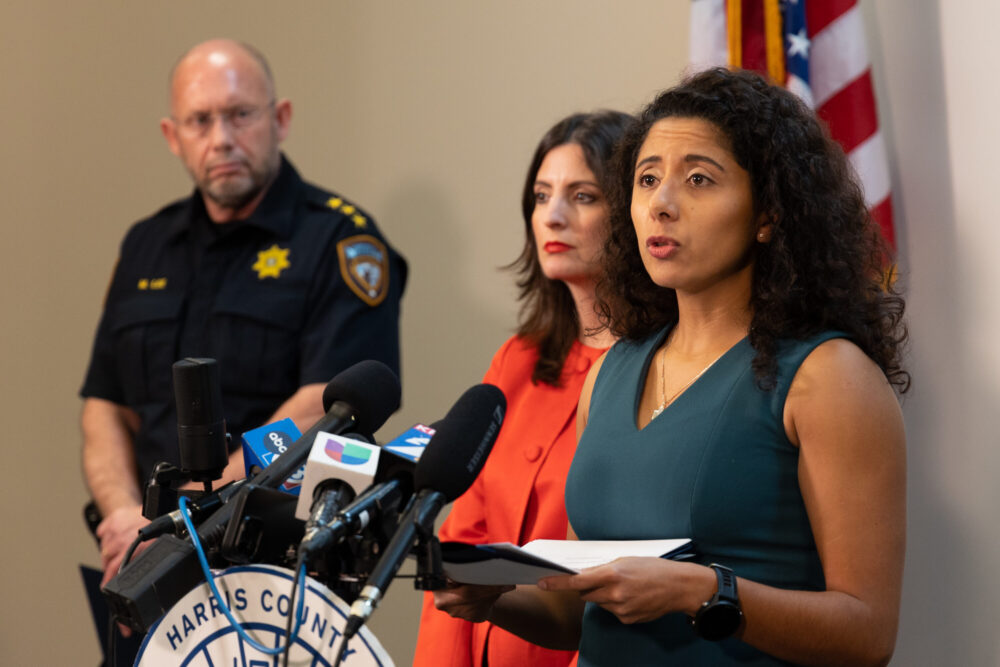 Harris County's top elected official discussed a range of topics Wednesday on Houston Matters with Craig Cohen, including toxic wastewater shipments to the area, the status of the Interstate 45 expansion project, challenges to election results, the potential state takeover of Houston ISD and an ongoing dispute with Texas Comptroller Glenn Hegar over allegations that the state's largest county is not adequately funding law enforcement.
Harris County Judge Lina Hidalgo also addressed a perceived change in her public demeanor since winning another four-year term in November. Responding to a listener question about why Hidalgo's tone has seemed more "combative and angry" since she and her fellow Democrats increased their majority on Harris County Commissioners Court, she laughed and said, "Oh, gosh. I needed a vacation and I took one in January."
Hidalgo then referenced a lawsuit filed by her opponent in the election, Republican Alexandra del Moral Mealer, on Jan. 6 – the two-year anniversary of the insurrection at the U.S. Capitol, which was fueled by then-President Donald Trump's false claims that the election was stolen from him. Mealer, who initially conceded after losing by 18,000-plus votes, is one of more than 20 losing Republicans in Harris County to file legal challenges to the 2022 midterm results, claiming that thousands of registered voters were disenfranchised on Election Day because of ballot paper shortages, voting machine malfunctions and inconsistent operating hours at various polling locations across the county.
There also have been calls by Republican officials at the statewide level, including Lt. Gov. Dan Patrick, for Harris County to redo the election after a majority of its voters again favored Democrats.
"There are lot of folks who think that they can get away with just undoing the results of an election, undoing the way democracy works in Texas, just because they didn't like that they lost," Hidalgo said. "And sometimes you have to call that out."
Here is what Hidalgo had to say about some other topics that came up during her half-hour-long interview with Cohen, who incorporated questions from listeners along with those of his own:
Potential takeover of Houston ISD
Houston Mayor Sylvester Turner said during Wednesday's city council meeting that he had heard the Houston ISD Board of Education, which serves the largest school district in Texas, would soon be replaced by a state-appointed board of managers. A recent Texas Supreme Court decision cleared the way for such an action more than three years after Texas Education Commissioner Mike Morath announced his intention to do so, prompting a legal challenge by the school district.
In 2019, Morath cited dysfunction among HISD trustees and consecutive failing accountability ratings for Wheatley High School as legal justifications for a takeover. Wheatley has since improved its rating, and most of HISD's nine elected trustees have since been replaced by voters.
Hidalgo described the potential takeover as the latest example of Texas' state government, controlled largely by Republicans, trying to exert control over a Houston region that began favoring Democrats in 2018.
"When the state says we're going to take over this and this and that in Harris County, I mean, we are larger than 25 states in population," Hidalgo said. "Imagine if President (Joe) Biden were to say, 'I'm going to take over the elections and I'm going to take over the education and this and that in 25 American states.
"I really think Texas Republicans are taking this way too far," she added. "They just want to be in charge at all costs. They're not thinking about what this means for democracy and our nation."
Claims of defunding police
Hidalgo and other Harris County officials have been locked in a public dispute with Texas Comptroller Glenn Hegar over his claims that county officials cut funding for the Precinct 5 Constable's Office in their latest fiscal budget. The county commissioners court voted in mid-February to sue Hegar's office over his claims, asserting its budget was in compliance with state law.
Hegar released a statement Tuesday saying Harris County officials "have sought an opportunity to resolve a complaint that the county defunded law enforcement." That drew a response from Harris County Attorney Christian Menefee, who said Hegar's "statement is false" and the county continues to evaluate its legal options.
"Perhaps he's positioning to run for (another elected office)," Hidalgo said of Hegar. "I don't know."
County leaders were forced to adopt a no-new revenue tax rate for the current fiscal year, because Republican commissioners Jack Cagle and Tom Ramsey boycotted multiple bi-weekly meetings to prevent the Democratic majority from passing its preferred budget. Hidalgo said that took off the table about $100 million that commissioners wanted to earmark for county law enforcement agencies and related recruitment programs.
Hidalgo also disputed the claim that commissioners' decision to eliminate departments' rollover funding from the previous fiscal year was a police-defunding action. She said every county department was given the opportunity to apply to use its rollover funds for one-time expenses, and that the constable's office did not file such an application.
"This all came to a head right before the election in November," Hidalgo said. "On one hand, folks were saying we were defunding the police. They were turning right around and forcing us to defund them.
"It's a game for them," she added.
I-45 Expansion
In December, Harris County and the City of Houston signed a memorandum of understanding with the Texas Department of Transportation (TxDOT) regarding the North Houston Highway Improvement Project, TxDOT's multi-billion-dollar plan to widen and reroute Interstate 45 near and north of downtown.
Harris County sued TxDOT over the proposal in 2021 – the same year the Federal Highway Administration launched an ongoing investigation into environmental and civil rights concerns about the project – partly because it would displace more than 1,000 residences and businesses in low-income communities of color. The county asked in its lawsuit for a judge to compel TxDOT to work more closely with Houston-area stakeholders and give greater consideration to their concerns, which also include the potential for increased pollution and traffic congestion.
The county agreed to drop the lawsuit as part of the memorandum of understanding, which does not have the support of Hidalgo. She did not attend the commissioners court meeting during which the agreement was otherwise unanimously approved.
Hidalgo said county officials realized they couldn't get much further with the lawsuit they filed in federal court.
"I don't doubt that (Menefee) worked as hard as humanly possible on this, but the most he could get from TxDOT was a commitment to their best effort," Hidalgo said. "I'm concerned that's not really binding. If you say, 'OK, well I'm going to try my best to do it,' who determines what trying your best is?
"If TxDOT decides not to operate in good faith, they could simply say, 'Well, we tried our best and our best is that we can't actually change anything. You know, too bad.' It's going to be on all of us to put pressure on TxDOT and the community to sort of stay on them."