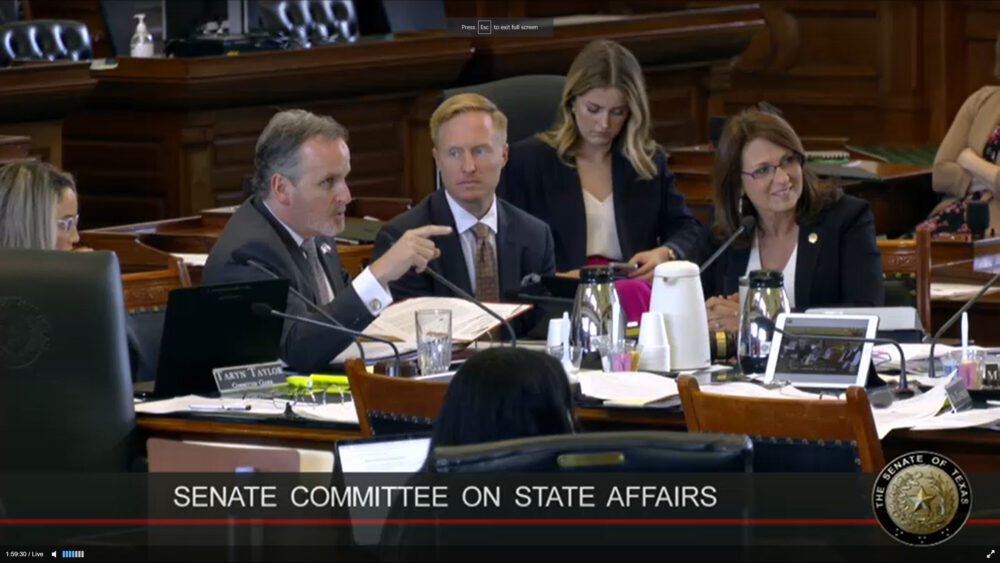 A bill to make illegal voting a felony again advanced in the Texas Senate on Monday. Senate Bill 2 is a top priority of Lieutenant Governor Dan Patrick and the most prominent of several election-related bills before the state Legislature this session.
SB 2 passed the Senate State Affairs Committee by a vote of 7-3. The measure reverses a change made in the 2021 omnibus elections law that made illegal voting a Class A misdemeanor.
"This was not some recent political wind that blew through," said Senator Bryan Hughes (R-Mineola), the bill's author and chairman of the State Affairs Committee. "It's been a felony for almost 50 years. And SB 2 returns this offense to a second degree felony. These offenses are serious, and they should be treated as such."
Under SB 2, illegal voting would be punishable by 2 to 20 years in prison and a fine of up to $10,000, a punishment comparable to that for manslaughter. The bill also establishes the conditions under which a person can be charged with illegal voting.
"We understand the concept that ignorance of the law is not a defense," Hughes said. "Under Senate Bill 2, which is before the committee, if you are a felon, and you know that you are a felon, you don't have to also know that it's illegal for felon's to vote. If you're not a citizen, you have to know that you're not a citizen, but you don't have to know that citizen's cannot vote. Providing what someone individually, subjectively knows is almost impossible."
That question of knowledge of ineligibility appeared explicitly aimed to close the any exceptions raised in some high profile illegal voting cases of recent years. One of the most notable cases is that of Hervis Rogers, a man who waited six hours in line to vote during the March 2020 presidential primary and was later arrested, on the grounds that he voted while still on parole for a 1996 burglary conviction. Rogers said he wasn't aware of his ineligibility. A district court judge dropped the charges against Rogers in October 2022.
The bill will be eligible to go to the Senate floor in a little less than two weeks.
Testimony on SB 2 was mixed. Sharon Edwards, who has served as a voter deputy registrar in Travis County, spoke in favor of the bill. "The fact that we have a problem, I don't think is a secret to anybody," Edwards said. "Sometimes, you have to have a severe penalty to get people's attention."
David Stein, a Tyler-based small business owner and chairman of the Smith County Republican Party, said the bill was necessary to protect legal voters whose votes could be canceled by the effects of illegally cast ballots.
"My job as a county chair is that voter comes to me, and they say, 'How do I know that you are going to make sure that I have the ability to vote and cast a vote without any concern?'" Stein said. "As Americans and Texans, there are certain items that are sacred to us, and the privilege to cast a ballot is among those."
Those speaking against the bill included Karla Fleming-Jones, social action chair for the Houston alumnae chapter of Delta Sigma Theta Sorority, Inc. She said SB 2, "removes the standard of intent, which is necessary for determining guilt. It maliciously elevates a misdemeanor to a felony. It intimidates a group of citizens who are rightfully and legally returning to the voting process for fear of being wrongly accused."
Gary Bledsoe, president of the NAACP of Texas, condemned SB 2 as, "a clear and overt manifestation of racial bias. The intent of the law is clear, to make it easy to prosecute other Crystal Masons and Hervis Rogers around the state."
Fleming-Jones and Bledsoe's statements both drew the opposition of Senator Paul Bettencourt (R-Houston), a co-author of the bill.
"There is absolutely no racial intent of this bill whatsoever," Bettencourt said. "This bill is completely colorblind." Bettencourt stressed that he supported making certain that felons have their full voting rights restored when they have completed their sentences.
Bettencourt is also the author of a number of other election-related bills this session. SB 823 would make it possible for the state to suspend or remove an elections administrator "for cause." Rep. Tom Oliverson (R-Cypress) offered an identical bill as House Bill 2020.
Bettencourt's SB 825 – offered in the House by Rep. Charles Cunningham (R-Humble) as HB 2152 – would extend the deadline for submitting a petition for an election recount. And Bettencourt's SB 1039 – offered in the House by Rep. Steve Toth (R-The Woodlands) as HB 2536 – would enable candidates, political party chairs, or election judges to request the Secretary of State's Office conduct an audit in the case of perceived "election irregularities," with the possibility of civil penalties if such irregularities are found.
All three of Bettencourt's bills appear to be aimed at Harris County. The county is currently at the center of more than 20 lawsuits related to the November 2022 general election, in which Democrats won all the major countywide offices. Republican party and elected officials, including Bettencourt, have accused Democrats and Democratic appointed officials – notably Harris County Elections Administrator Clifford Tatum – of either mismanaging or what they call "rigging" the elections.