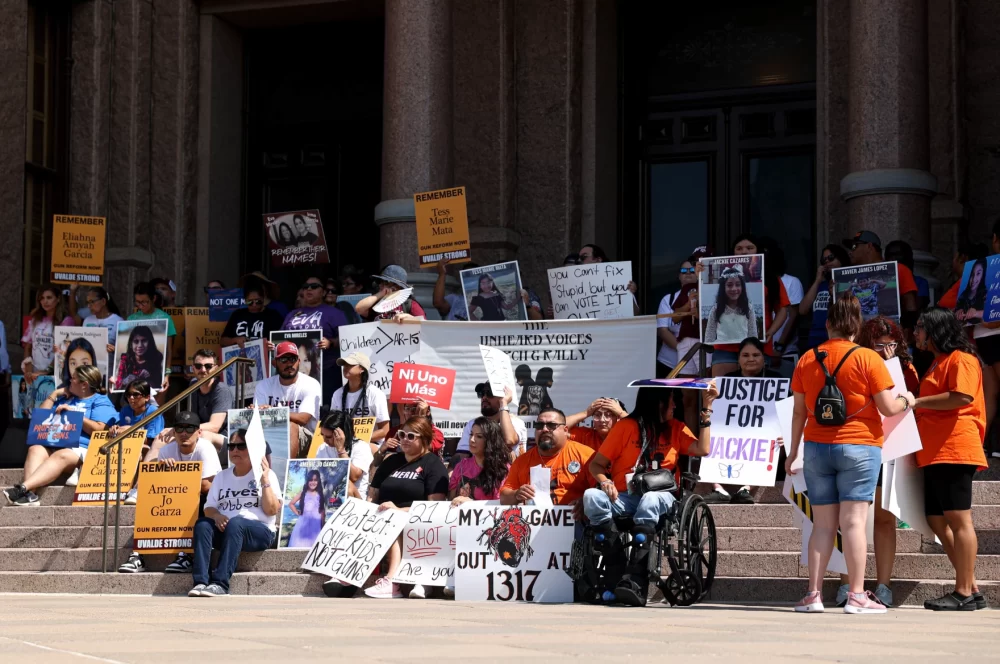 It's been nearly eight months since the shooting at Robb Elementary School in Uvalde.
But for the families of the victims, the pain is still fresh.
"It's been a struggle, it's been very difficult," said Velma Lisa Duran, the sister of Irma García, one of two teachers killed on May 24.
That feeling has been exacerbated since lawmakers arrived in Austin last week to kick off the 88th Texas Legislature, which runs through May 29.
"Knowing that they just went back and knowing that we have until May to convince people of gun safety is incredibly ridiculous," Duran said. "I don't understand their thinking."
The Texas Legislature is back for the first time since a teenage gunman entered Robb Elementary School and fired a semi-automatic rifle.
Since the shooting, Duran and other victims' family members have been calling on lawmakers to consider a series of bills they say could help prevent the next mass shooting.
But, history shows it's unlikely Texas Republicans will add any new gun restrictions.
Among the proposals Duran is pushing for are the implementation of "red-flag laws," enhanced background checks for gun owners, and raising the minimum age to purchase a semi-automatic rifle from 18 to 21.
State Sen. Roland Gutierrez, D-San Antonio, is carrying some of those bills this year.
"We can do a lot better in this space and we deserve to do a lot better, not just for these families, but for all of Texas and for the safety of every child in Texas," Gutierrez told The Texas Newsroom. "We have to make it harder for these young men to get access to these types of weapons."
Gutierrez, whose district includes Uvalde, said he's working to convince some in the Republican majority to support his legislation.
There are other bills, however, that could prove more attractive for GOP lawmakers.
One proposed piece of legislation would allow Texas teachers to be armed in the schools. The proposal is being championed by Gun Owners of America, an organization focused on the Second Amendment.
"We look at Uvalde, we look at what happened there — and I'm not trying to sit in judgment of law enforcement or anything like that — but those first three to four minutes that the gunman started shooting there was no one that came to the defense of those kids," said Wes Virdell, the Texas director of Gun Owners of America.
It took law enforcement over an hour to confront the shooter in Uvalde.
Texas already has a program in place that allows for school districts to arm teachers. But the bill Virdell is pushing for would allow teachers who have a license to carry a handgun on campus without the school district's approval.
Given the Texas legislature's track record, a bill like that is more likely to pass this session. Historically, bills seeking to restrict guns that are introduced after a mass shooting in Texas have gone nowhere.
Sen. César Blanco, D-El Paso, knows this all too well. In 2019, a white supremacist killed 23 people at a Walmart in his district.
"Texans are looking to their leaders and they want lawmakers to provide answers and solutions — and we have these solutions," Blanco said.
After the shooting in El Paso, Gov. Greg Abbott put in place a roundtable to discuss responses.
The recommendations from the group included prohibiting straw purchases of firearms under state law and finding ways to make it easier and affordable for a private seller to voluntarily use background checks.
When lawmakers met in 2021, nothing happened with those recommendations. In fact, lawmakers actually loosed some gun restrictions during that legislative session.
"As someone who has seen my hometown and my district go through such an unspeakable tragedy, it makes the will to fight for common sense gun reform even stronger," Blanco told The Texas Newsroom.
This year, it's still too early to know which gun-related bills, if any, will gain traction.
Texas House Speaker Dade Phelan, R-Beaumont, said last week he's listening to the Uvalde community.
"We owe it to the memory of those students and teachers to make sensible, meaningful change," Phelan said in his first speech after being elected speaker for a second term. "This is going to be an especially tough conversation, but this body has proven capable of handling conversations like this in the past."
But some changes seem unlikely. According to the Austin American-Statesman, Phelan told reporters the measure to raise the minimum age to purchase a semi-automatic rifle doesn't have the votes to pass in his chamber.
This infuriates Durán, the sister of slain teacher Irma García.
"Every politician that refuses to protect us from these lax gun policies they need to all be put in a room and they need to all watch the video of what happened on May 24th — I want that to stay in their heads," Duran said. "I couldn't see my sister when we had to lay her to rest, they pieced her back together. And that visual will always stay in my head and that's why I have to keep fighting for her."
Copyright 2023 KUT 90.5. To see more, visit
KUT 90.5
.