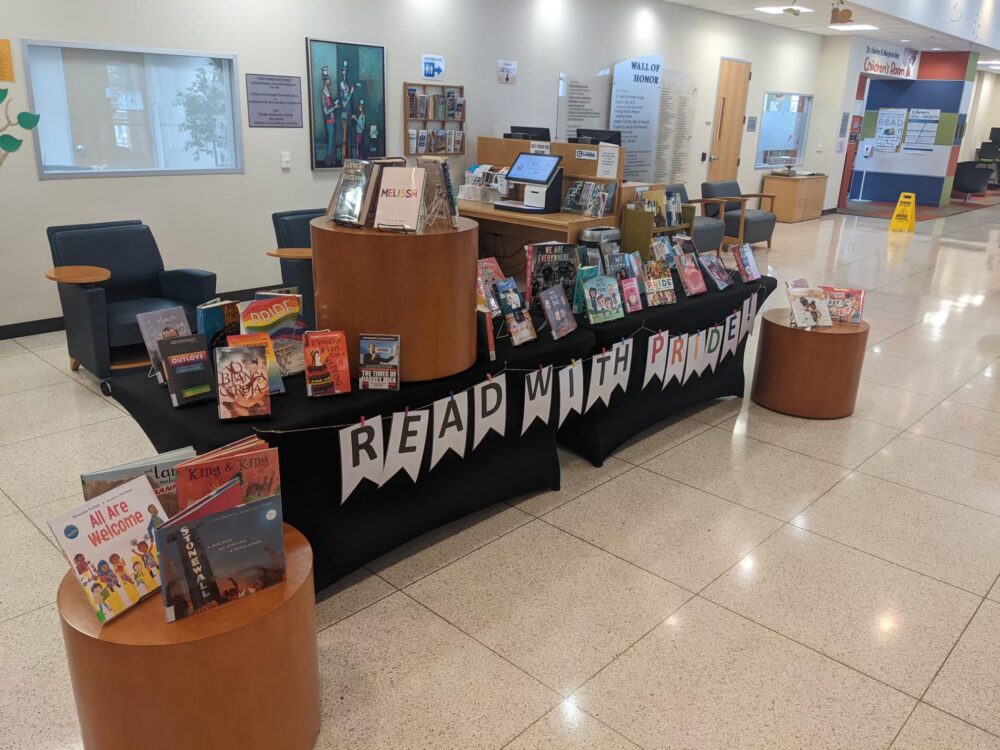 After Huntsville Public Library staff were ordered by city officials to take down a "Read With Pride" display highlighting books with LGBTQ+ themes – and a municipal police officer subsequently reviewed some of those books – leaders in the small college town north of Houston are considering a proposal to outsource library operations to a private company. The move puts the jobs of existing library employees at risk as they received a letter last week saying their employment with the city would end in late January and they would need to interview for their jobs with the soon-to-be-enlisted company.
The president of the Huntsville Public Library Board, which is appointed by the city and tasked with making policy and programming recommendations to the Huntsville City Council, said it has not been consulted about any of those developments or been given the opportunity to weigh in. So board president Michelle Lyons is asking the council to delay its vote on whether to hire Maryland-based Library Systems & Services, LLC, which is scheduled for Tuesday night's council meeting.
"Certainly, if they're making a decision as big as privatizing our library and taking away our ability and our library's ability to choose the programming we have and how the staff is handled, that's something we should have at least been aware of," Lyons said. "We have had no opportunity to have conversations with anybody from the city about how we feel or our concerns about this particular vendor. None of it has been discussed."
Lyons and a Huntsville library employee, who asked to remain anonymous because of a fear of retaliation for speaking out, both said they think city officials intentionally put the proposal on the meeting agenda during Christmas week so as to minimize attention about the plan. The library employee also said the move appears to stem from the issue regarding the "Read With Pride" display, which the employee said was removed in late August after a complaint from a community member about its appropriateness.
A similar display appeared in the library last year without being the subject of scrutiny, according to the employee, who said library staffers remain prohibited by city officials from putting up any kinds of displays. Huntsville City Manager Aron Kulhavy told Houston Public Media in early September the city was suspending "all displays until such time that the city can review the policies and procedures governing displays."
More than three months later, the library employee said the display issue remains unresolved. Lyons said she tried to organize an advisory board meeting to discuss the topic, but was told by city officials that some board members' terms had expired and the group therefore did not have a quorum.
"I want the citizens of Huntsville to be aware of what's going on," the library employee said. "It's their public resource. The city doesn't want to handle the issue, so they're going to pawn it off on a private company instead of having to deal with it themselves."
Neither Huntsville Mayor Andy Brauninger nor five members of the city council – Pat Graham, Russell Humphrey, Bert Lyle, Deloris Massey and Jon Strong – responded to Monday emails seeking comment. Council member Vicki McKenzie did not respond to a Monday text message seeking comment. An email sent to the address listed on the Huntsville city website for council member Dee Howard Mullins came back undeliverable.
City council member Daiquiri Beebe wrote in a Tuesday afternoon email that she is "not in support of losing our dedicated Huntsville library employees or allowing an outside firm to determine how our beloved, local library is run."
"I will speak up for that viewpoint tonight at the council meeting," Beebe added.
Kulhavy did not grant a request to be interviewed or answer a series of emailed questions about the Huntsville library, its operations and the engagement of its advisory board, instead referring to the online agenda for Tuesday's council meeting. According to the agenda item, the current annual operating budget for the library is $711,805 and the city expects to save more than $750,000 over the life of its proposed 10-year contract with Library Systems & Services.
The agenda item also says a deal with the company would "enhance library services, increase efficiency across library operations, focus on patron and community service, leverage library experts and dedicated support for back office functions, and implement library industry best practices while at the same time allowing the city to maintain control of the assets and strategic direction of the Huntsville Public Library."
An online petition started by Huntsville resident Amanda Louie, opposing the privatization of the library and asking for the city council to allow for more public input before making a decision, was created less than a week ago and had garnered more than 700 signatures as of Tuesday afternoon.
Raymond Garcia, a spokesperson for the American Library Association, said the national nonprofit organization has a policy affirming that "publicly funded libraries should remain directly accountable to the publics they serve."
"Therefore, the American Library Association opposes the shifting of policy making and management oversight of library services from the public to the private for-profit sector," Garcia added.
Louie and Michelle Dimmick, who both are Huntsville residents who frequent the library with their children, said they worry about how the library and its operations might change if it's run by a company as opposed to city employees. Current library staff is receptive to book requests and works to serve a wide range of community members, including Huntsville residents who are homeless or lack access to internet service or other resources, they said.
They also said they were taken aback by the timing of a Dec. 15 letter sent from the city to library employees, informing them their employment with the city would be terminated once a contract with the private company takes effect and they would not be guaranteed jobs with the company.
The library employee who asked to remain anonymous said the letter was sent shortly after a holiday-themed luncheon for library staff in which one of them was recognized for 10 years of service. Brauninger and Kulhavy attended the luncheon, the employee said.
"I was very, very angry. All of us were," the employee said. "There was a lot of crying, a lot of expletives thrown about. Right now there are nine people. We're kind of short-staffed."
Along with their concerns about the pending transition in library operations, Dimmick, Louie and Lyons said they do not like how the city handled complaints about the appropriateness of LGBTQ+ themed books and the related display at the library. Lyons said books and displays should not be removed from a public library just because someone is offended by their content, saying visitors have a choice whether or not to engage with those materials.
She also said the decision to remove the "Read With Pride" display sends an alienating, hurtful message to LGBTQ+ members of the Huntsville community who might be seeking support or guidance.
Louie said she witnessed a Huntsville Police Department officer reviewing a series of books at the library, including some with LGBTQ+ themes, on Oct. 18. She learned through emails obtained through an open records request, which she shared with Houston Public Media, that city staff had received a complaint about the legality of the books and instructed police to review them for potential violations of the Texas Penal Code.
The library employee said no books were pulled from the shelves as a result of that review.
"I'm terrified of losing my job because of a display, because of a display that some people don't agree with," the employee said. "For instance, I (previously) made a Bigfoot display. All the people that don't believe in Bigfoot weren't complaining about it. It wasn't like, 'Oh, you're trying to teach my children about Sasquatch.'
"I don't condone the city attempting to censor anything," the employee added. "It doesn't align with the First Amendment."