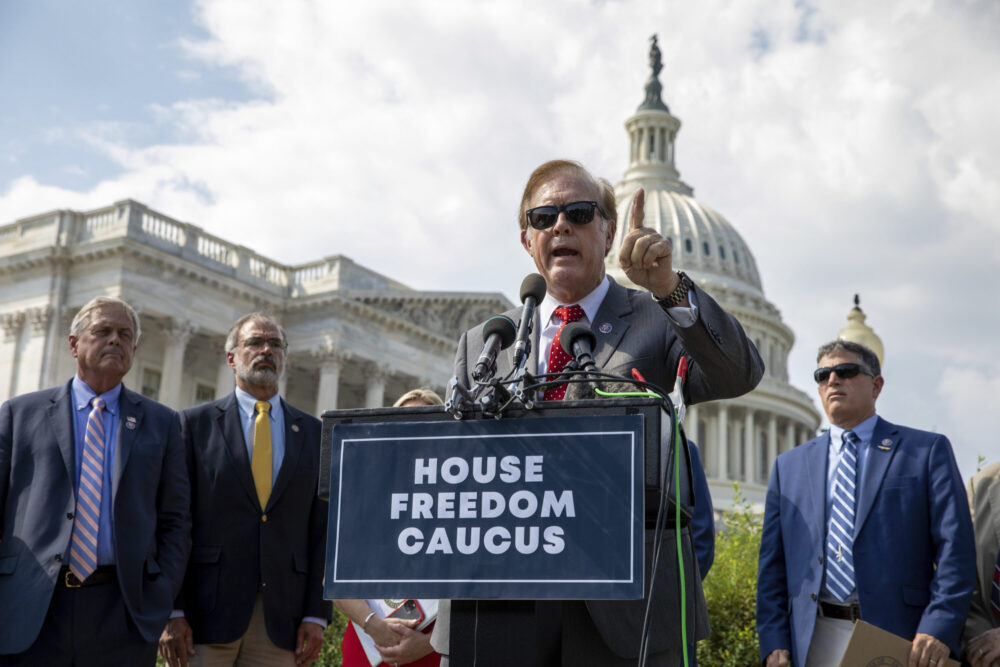 A longtime political opponent of U.S. Rep. Randy Weber has been arrested and accused of threatening to kill the Southeast Texas congressman, according to documents filed this month in federal court.
Douglas Keith Casey, 68, who has run for United States Congress multiple times under the name Keith Casey, has been indicted by a federal grand jury on two felony counts of making threats against a U.S. official. Casey is accused of telling others he wanted to kill Weber on two different occasions this year – in late March, shortly after losing to Weber in the Republican primary; and also two days after Election Day.
"We are aware of the situation and appreciate law enforcement's involvement," a spokesperson for Weber said in a Tuesday email. "As this is an ongoing legal matter, we have no further comment at this time."
Court records do not list an attorney for Casey, who was arrested Dec. 6. His federal indictment was first reported by the Houston Chronicle.
Weber represents District 14, which includes Galveston, much of Brazoria County to the south of Houston as well as the Beaumont area.
Casey has run against Weber multiple times since 2012, the year Weber was first elected to Congress, having never received more than 16 percent of the vote in their head-to-head contests. They last faced each other in the Republican primary on March 1, when Weber received 89.3 percent of the 65,000-plus votes cast while Casey garnered 7.9 percent in a three-candidate race.
Later that month, according to a probable cause affidavit filed in court, an employee at a Beaumont radio station told Weber's office they had received a call from Casey, who allegedly said he was waiting for the radio station to report on a "plot" involving Weber and Texas Gov. Greg Abbott. Casey allegedly told the radio station employee that Abbott and Weber were involved in organized crime and stole the election from him, adding, "I'm gonna kill that (expletive)," the affidavit shows.
The radio station employee also told a criminal investigator that Casey had previously shown up to the station "several times exhibiting threatening behavior," according to court documents.
Then, in August, Casey allegedly went to the Jefferson County Courthouse in Beaumont and told a deputy he was a "prophet" and "servant of the most-high God." He also claimed he had beaten Weber in the last election but was "exiled" from office, according to the probable cause affidavit, which shows Casey was suspected of having delusional and homicidal thoughts and was detained at the time and transported to a local hospital for inpatient care.
On Nov. 10, two days after the general election, Casey was allegedly seen getting in and out of a parked vehicle in front of a business in Nederland, according to court documents. When approached by someone who wanted to check on his wellbeing, Casey allegedly repeated his claim that the election had been stolen from him, said he had a gun and was "going to take him down," referring to Weber, the probable cause affidavit shows.
If you or someone in your life is feeling distressed or experiencing mental health challenges, call the National Suicide Prevention Lifeline. Free and confidential emotional support is available 24/7. Call 1-800-273-8255 or text HOME to 741-741.