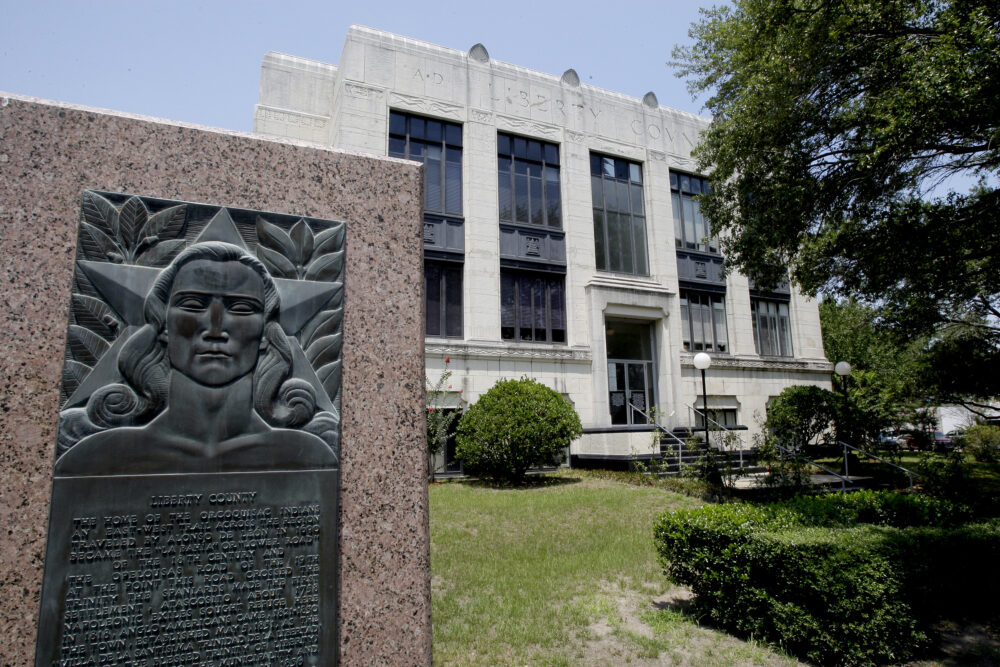 Both the Democratic and Republican candidates for United States Congress rode atop parade floats last month during the Trinity Valley Exposition, the annual fair and rodeo in Liberty County. It was an opportunity for them to gain some name and face recognition and connect with potential constituents ahead of the Nov. 8 election.
Politicians are sometimes greeted with jeers in such scenarios, like when U.S. Sen. Ted Cruz was booed and had a beer can thrown at him during the Houston Astros' World Series championship parade earlier this month.
About 40 miles away, in the small town of Liberty, Democratic congressional hopeful Jon Haire received a different sort of reaction from the community members who had assembled for the October parade.
"We are a very respectful people. No one was booing," said Emily Cook, the chair of the Liberty County Republican Party. "It was silence – complete silence as that congressional candidate's float went through Main Street of our county seat."
Democrats in general have largely been muted in Liberty County, where Republican incumbent Brian Babin garnered more than 83 percent of the vote en route to being re-elected to the U.S. House of Representatives for District 36. The county also voted out its last Democratic officeholder, Ronnie Davis, who has served as Precinct 2 Justice of the Peace for nearly 40 years but lost to Republican challenger Jimmy Belt.
November's election results could be considered the culmination of a years-long political shift in the rural community northeast of Houston, which voted decidedly Democratic from the Reconstruction era after the Civil War in the 1860s all the way until about the turn of the most recent century. Liberty County has since become convincingly red, with Republicans having gained control of every countywide office during the last two decades.
With the exception of the race involving Davis and Belt, who received more than 61 percent of the vote, Republicans garnered at least 80 percent of the vote in every contested race in Liberty County.
"Everybody told me when I ran (this year), I was messing up and could never get elected as a Democrat in Liberty County," said Davis, who took office in 1983. "When I first started running, you wouldn't get elected if you were a Republican."
So what changed during that time span, when Democrats in Liberty County went from preferred to pariahs? There were no seminal moments in the county that precipitated such a shift, according to longtime Liberty Mayor Carl Pickett, who said living and working in the county hasn't changed much under Republican leadership.
Cook and Pickett, whose mayoral elections have been nonpartisan, both said residents there gradually became more aligned with the Republican party because it generally prefers lower tax rates and takes conservative stances against abortion and same-sex marriage while wanting to limit immigration.
Michael Mark, the chair of the Liberty County Democratic Party, said voters' recent preferences also have been shaped by divisive rhetoric associated with national and statewide politics. He said he wonders if race has played a factor as well, with the political shift in Liberty County having coincided with the election of Democrat Barack Obama as president in 2008.
Klint Bush, the elections administrator in Liberty County, said its voters began leaning toward Republicans in national and statewide races in 2000, when then-Texas Gov. George W. Bush was elected as president. Klint Bush corroborated Mark's claim that Liberty County residents started voting for Republicans in local races following Obama's election, with many voting straight-ticket Republican starting with the 2010 midterm.
"When Barack Obama was elected, the first African-American president, that's when the big switch started," Mark said. "I'll leave it to you to draw your own conclusions as to why that was."
From blue to red
Liberty County, which includes the municipalities of Cleveland, Dayton, Hardin and Liberty, has a population of about 98,000 and a median household income of about $51,000, according to the latest data from the U.S. Census Bureau. About 55 percent of its residents are white, with 34.3 percent of the population identifying as Hispanic or Latino and 9.3 percent as African American.
Klint Bush, a lifelong resident of Liberty County, said residents there have long supported conservative values, even when they consistently voted for Democrats. Along those lines, Cook said the political shift in the county has more to do with the evolution of party platforms than changes in residents' opinions and livelihoods.
"Folks here go to church," Cook said. "They love Jesus. They love marriage between one man and one woman. They reject abortion. People like their jobs and gas and want gas prices to be low. ... I think they've realized that their values are not represented by the Democratic Party."
In some cases during the last two decades, elected officials in Liberty County might have realized they could no longer win political races on the Democratic ticket. Klint Bush and Mark both said there have been multiple instances in which officeholders switched allegiances from the Democratic to Republican, with Cook acknowledging that political expediency could have contributed to those changes.
Mark said being a Democrat in Liberty County has become especially taboo since the political rise of Donald Trump, a Republican elected as president in 2016. Trump won the county with more than 80 percent of the vote that year and in 2020, when he lost the nationwide election to Democratic challenger Joe Biden and then falsely claimed the election was stolen from him, inciting an insurrection at the U.S. Capitol on the day Congress certified the results in favor of Biden.
Some Liberty County residents continue to fly Trump flags on their properties, according to Mark, who called it "bizarre."
"They're not your typical, old-school Republicans," Mark said. "This new crop, they're election deniers. They're insurrectionists. They are conspiracy theorists. They are Trump supporters. This is not the Republican party of the 1980s."
Klint Bush, whose nonpartisan election administrator's office was created in 2019, said running elections in the county has become increasingly difficult. He said some voters there have become mean-spirited when they enter polling places and have expressed skepticism about both the elections process and the validity of the results, causing several of his election workers to quit.
"And we're 85 percent Republican in this county," Bush said. "Ninety-five percent of the folks who actually work the polls are Republican, but (voters) question the process because of what they see on TV. That really scares me and that bothers me, and it's a struggle."
Moving forward, gaining traction as a Democrat in Liberty County might be even more of a challenge. Pickett said winning a countywide race as a Democrat would be "extremely difficult" at this point.
Still, Mark said he'll continue to lead the party locally and will continue to encourage people to run for elected offices as Democrats. He said its partly a matter of convincing voters that, "We're not trying to take your guns. We're not trying to tell you that you can't be a Christian and worship the way you want to worship."
Even with a "pretty clear mandate" in favor of Republicans, Cook said the party will continue to push for lower property taxes in Liberty County and help residents become even more engaged with the party as well as with local issues.
Bush said he hopes voters in his home county become more engaged in general ahead of the next election.
"Don't just get involved because the person down the road tells you who to vote for," he said. "Know your party platforms. Know what they stand for. Be an informed voter. See if you actually agree. Don't just be for something because that's what you've been told and that's what's popular. If you want to keep your republic, get involved and know your policies and understand your values."