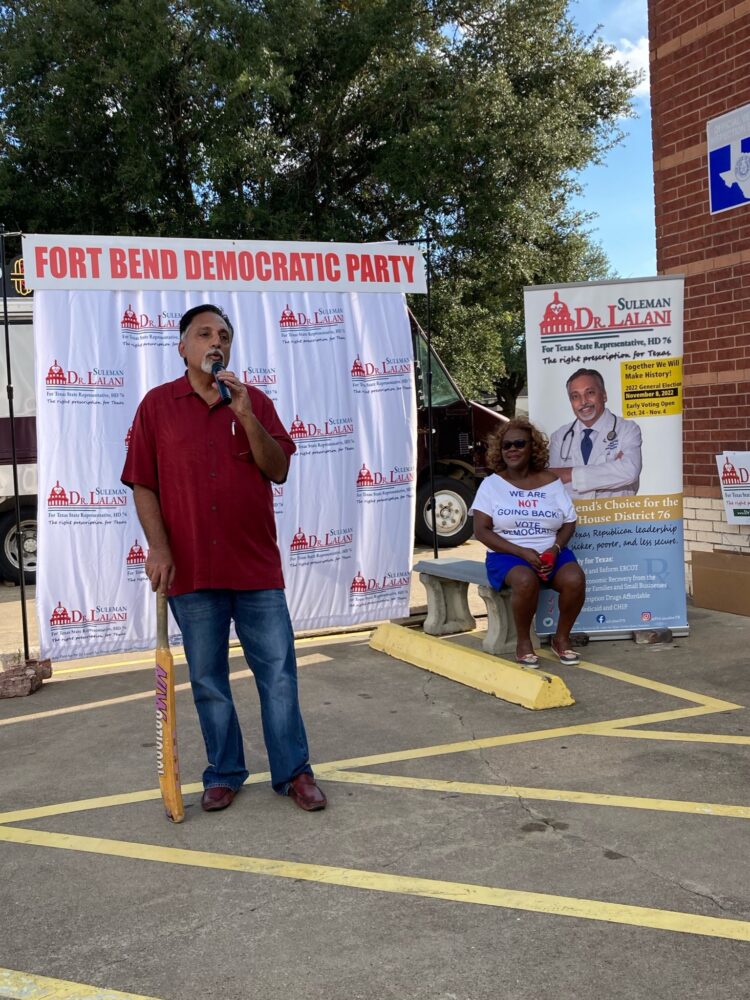 On Oct. 27, a few days after the start of early voting for the midterm election, Dr. Suleman Lalani took to social media to share a message sent by someone campaigning for his opponent.
Lalani made a Twitter post with a screenshot of the message, which included links to two online news reports from earlier this year. Both said Lalani, a 54-year-old native of Pakistan who has lived in the Houston area and practiced medicine for nearly two decades, had a chance to become the first Muslim elected as a Texas lawmaker.
The message also asked its recipients to vote for Lalani's opponent, Dan Mathews, who was described as a Christian minister.
"It was unfortunate that they had to play that card, Islamophobia, and play the card of cultural division and all of that," Lalani, a Democrat, said Monday after beating Mathews for the District 76 seat in the Texas House of Representatives. "But we rose above all of that and stayed focused on our strengths. We were very positive."
Lalani, a Sugar Land resident elected to represent part of Fort Bend County, made Texas history along with another Muslim man who originally is from Pakistan. Fellow Democrat Salman Bhojani was elected to represent District 92 in the Dallas-Fort Worth area, making him and Lalani the first Muslims and first South Asia natives elected to the Texas Legislature.
Lalani, who said he and Bhojani have known each other "for the longest time" because of their common backgrounds, described their election as a "very proud moment" and also a responsibility.
In Fort Bend County, one of the most racially diverse in the United States, India native KP George was elected to a second term as county judge.
"As a physician, when a patient comes to us, we never ask them their religion or culture or voting history, right?" Lalani said. "We take care of the ailments. That's the same mindset I'm taking to the (legislature). I'm here to solve the problems and represent my constituents, irrespective of their color, creed, gender or religion. Fort Bend is a melting pot, a loving coalition of cultures, religions and races, and here we build bridges and not walls. That's what I look to do."
Mathews' campaign did not respond to a Monday email seeking comment on the outcome of the District 76 race as well as the aforementioned campaign message.
Lalani, a primary care physician who said he specializes in geriatrics, said he was drawn to politics because of a desire to improve deficiencies and disparities in healthcare. He first ran for public office in 2020, losing to Sarah DeMerchant in a runoff for the Democratic primary in Texas House District 26.
District 76 is a newly created, adjacent district in Fort Bend County. Lalani beat Vanesia Johnson in this year's Democratic primary, which also went to a runoff, before earning 57.2 percent of the vote in the general election against Mathews.
Lalani said he had better name recognition this time around. He also said he did more in-person voter outreach than he did in 2020, the first year of the COVID-19 pandemic.
Campaigning by community members also helped, according to Lalani, who said he heard about instances in which his patients promoted him and vouched for him in places such as local grocery stores.
"That's huge," he said. "These are things that money can't buy. These are things, relationships and trust, you build up over time. I'm blessed to have that."
Now that he's been selected to represent part of Fort Bend County in Austin, Lalani said he wants to be an impactful lawmaker. He said he wants to expand Medicaid in Texas, make healthcare more affordable and accessible to more residents of the state and restore women's right to have an abortion in Texas.
Improved public education, gun safety and infrastructure also are key issues for Lalani, who said the needs of his constituents will ultimately shape his policies.
"Whatever is needed, I will do that," he said. "I'm not here to just warm the seat. I want to be a value-added member of the legislature."