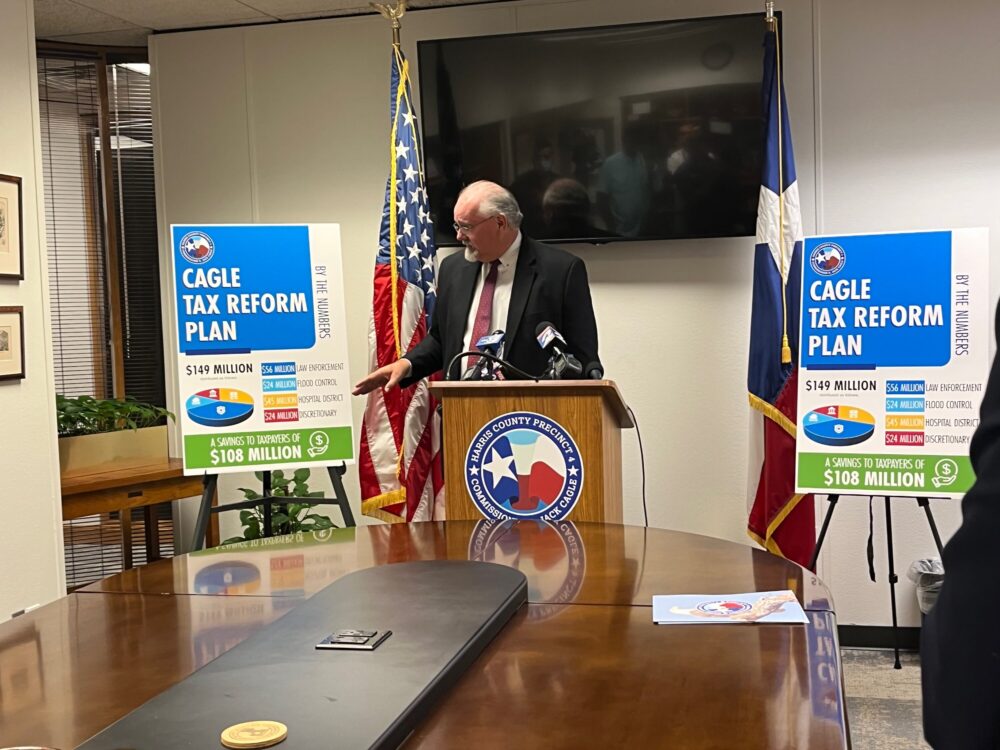 One of Harris County's Republican commissioners is offering a way out of the county's deadlock over its tax rate. The proposal would pay for increased spending on flood control, the hospital district, and law enforcement.
Commissioner Jack Cagle said he's proposing to increase taxes by $149 million. That's compared to what he says would be a $257 million increase under the Democrats' proposed tax rate. Both compare to the "no new revenue rate," which is what will automatically take effect if commissioners cannot resolve their impasse by October 28.
Among the spending items Cagle's increase would pay for: more police officers.
"Namely, 20 million additional dollars to go for both our constables and our sheriff's office, to be divided equally and to be spread equitably amongst the constables, to allow for boots on the ground and salaries for those deputies," Cagle said.
Cagle acknowledged that his proposal with respect of law enforcement was effectively the same as that earlier proposed by his fellow Republican commissioner, Tom Ramsey, in Ramsey's proposal for a deal to end the impasse over the budget.
In addition, Cagle's plan would put an additional $24.1 million towards flood control, $45 million to cover a deficit in the hospital district, and the remainder to go toward discretionary spending.
According to the Judge's Office and the Office of County Administration, the Democratic majority's proposed tax rate would actually reduce the county's tax rate by 1.07%, dropping the tax rate to its lowest level since 1990.
Commissioners Cagle and Ramsey have prevented a vote on the proposal by not showing up. Under state law, county governments need at least four of the five members of commissioners court to show up to vote on setting tax rates.
Cagle is calling for a special court meeting this Friday or Saturday to discuss his proposal. He says he won't just show up for the next regular court meeting – scheduled for next Tuesday, October 11 — as that would provide Democrats with the super quorum they need to push their own tax rate through.
"I'm confident that this is a reasonable thing to do," Cagle said. "I'm willing to show up for a discussion only to where there's not a boot pressed against the neck of the taxpayers with a predetermined vote, walk through the door, tell the public you're going to vote against it, and let us do what we want to do. This is calling the bluff. Let's have debate."