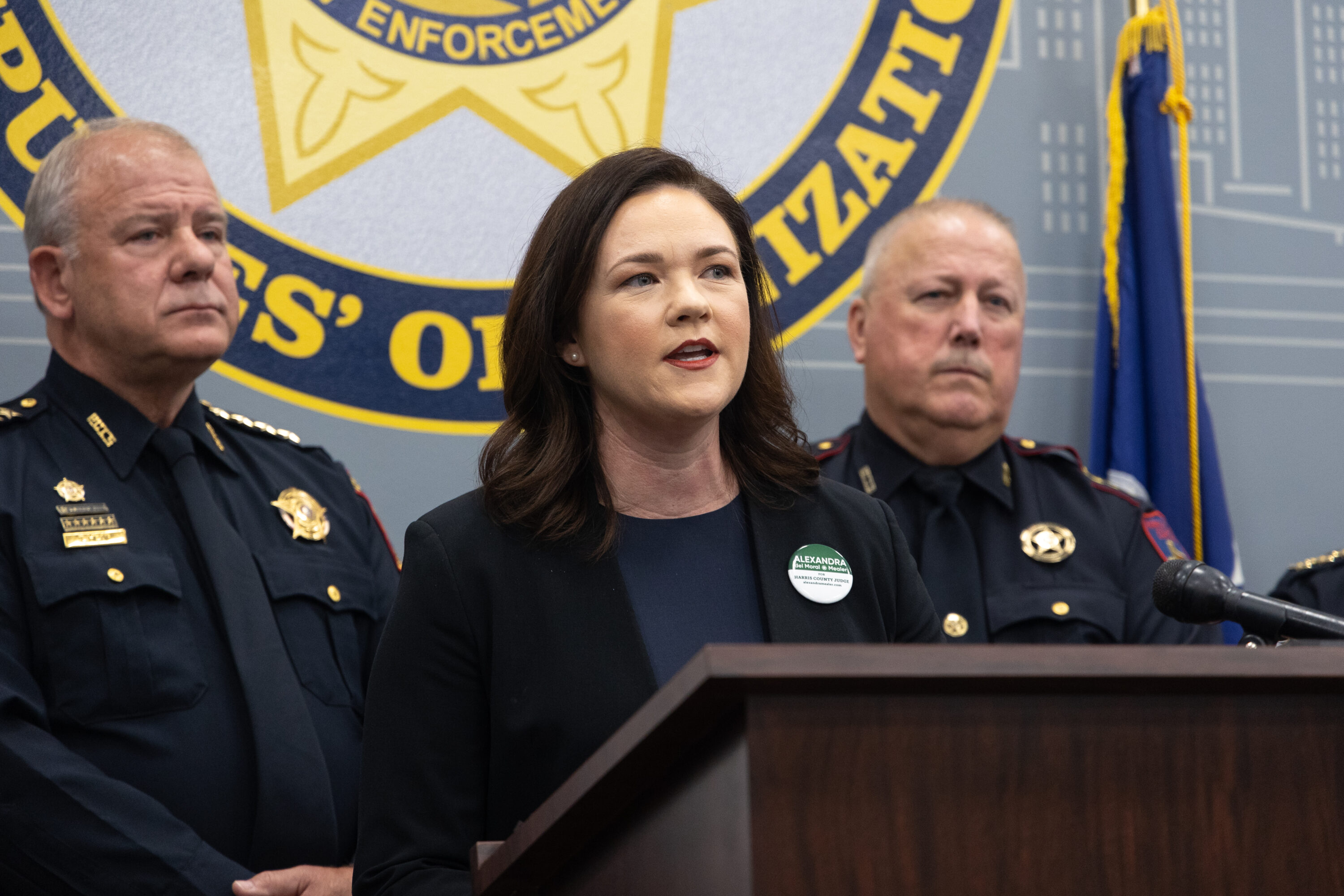 Violent crime in Harris County has become a key issue in the race for County Judge, with one of the candidates unveiling a law enforcement plan in an effort to curb violent crime throughout the region.
During a media briefing on Wednesday, Republican candidate Alexandra del Moral Mealer said she already has support needed to approve funding for an additional 1,000 law enforcement positions if elected into office.
"That is a serious commitment to safety," she said. "That is what an immediate solution looks like to an immediate problem."
Mealer was joined by Harris County Precinct 4 Commissioner Jack Cagle, representatives from the Harris County Deputies' Organization, Houston Professional Fire Fighters Association President Marty Lancton and Houston Police Officers' Union President Doug Griffith — all of whom have publicly endorsed Mealer.
Mealer accused current county leaders of failing to prioritize public safety in the county's short fiscal year $1.3 billion budget — despite nearly 70% being focused on public safety.
Also in attendance Wednesday was Harris County Precinct 5 Constable Ted Heap and Harris County Precinct 4 Constable Mark Herman, who both have accused county leaders of defunding their departments by blocking the rollover of money left over from the previous year.
Last month, State Comptroller Glenn Hegar opened an investigation into the allegations. In response, county leaders voted along partisan lines to pursue legal action against the comptroller.
"Rather than finding an amicable solution that keeps constables on the streets with the equipment and personnel needed to protect Harris County residents, Judge Hidalgo has decided to spend taxpayer funds to sue and continue engaging in political misdirection," Hegar said in a statement Wednesday.
However, claims that crime has continued to rise were disputed last month by Harris County Judge Lina Hidalgo, who said the county saw a 7% decrease in violent crime since June 2021, with a 4% decrease in homicides. This came as she unveiled the Safe Harris initiative — a four year $150 million public safety investment focused on further reducing crime, according to Hidalgo.
Despite the public safety investments, the topic of violent crime will likely continue to persist as Election Day draws near. Mealer's first campaign ad, released on Wednesday, featured the candidate claiming that crime was "out of control in Harris County," and that she could fix the issue if elected.
Early voting starts Oct. 24 — less than two months away. Election Day is Nov. 8.