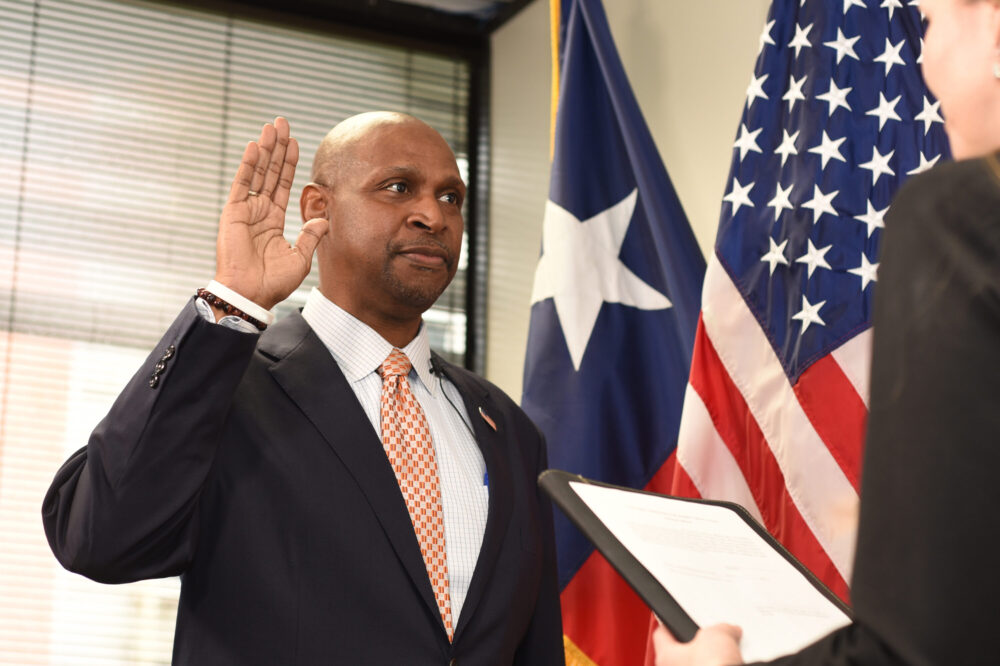 Last Wednesday, Clifford Tatum took the oath of office as Harris County's elections administrator. His predecessor, Isabel Longoria, resigned in July, having come under severe criticism for her handling of the March primary elections. Houston Public Media spoke with Tatum about how he'll approach the job overseeing elections in Texas' largest county.
This interview has been edited for length and clarity.
We've got less than two months to go before the start of early voting in Texas. Do you think Harris County will be ready?
Yes, I do.
What gives you confidence that the system will hold up?
Since I've been here, I've been reviewing the current election processes and procedures. And as I'm seeing the operations played themselves out, the team is doing the things that need to be done to prepare for an election.
Your predecessor fixed some of the things that went wrong in the March primary, but the midterm elections are of an entirely different order. Why do you think you can step into this job and fix things?
Well, I think you're right in observing that there was a marked change from the March through the May elections. And so, what you have to think about is that while the size of the election may change, the processes of the election do not. So, as you prepare for any particular election, you go through the same processes and procedures and the differences, the scalability, how you scale up to handle more polling locations, be it for early voting or for Election Day, and training more election workers for each of those particular types of elections, early voting, and the Election Day itself. And as I see what the training teams are doing, how we've updated, how they've revised the training materials themselves, the plans for how the training will be rolled out into the community and to the individual commissioner precincts, as I see how the warehouse team is preparing the voting equipment in preparation for deployment, the check boxes are being checked, and we're doing the things that need to be done. And based on my 20 plus years of experience, the team here is doing the things that need to be done. And that's what I'm very pleased to see.
In your experience, having worked previously with the Washington D.C. elections administration, you had some problems of your own. What have you learned from past missteps?
Well, one of the things that we as election administrators understand is, while we attempt to conduct a perfect election, there's never really a perfect election, something happens because people are involved. So, what we learn, and what we attempt to do is to incorporate the data that we captured from the last election, the lessons learned from the last elections, and we implement them into future processes. So, one of the things that you look at is, as it relates to voters standing in line, how do we create more efficiencies at the polling place to address long lines? And I do that with air quotes. And part of that equation comes into how many voting machines do you deploy? How many e-Poll Books do you deploy? How many election workers do you have working at any particular site. And then you factor in how many voters will show up at any one particular time and throughout the day? For instance, if you have 500 voters show up at 6 pm and the polls close at 7, well, guess what? You're going to have some lines as we process those voters through the last hours of the night. So, you're constantly learning, we're constantly adjusting. And that's the key, being able to identify the issues, resolve those issues in real time, and then plan and execute so that you don't experience those same issues in the next elections.
You've already come under criticism from some local Republican officials regarding a federal tax lien against you. How do you respond to their argument that this reflects on your ability to do the job of elections administrator?
That is a personal tax matter unrelated to my operations I've experienced as an elections administrator. And in my 20 plus years of public service, I've never had a personal matter, impact my ability to do the job. And I'll leave it just at that.
What do you bring to this job that's different from your predecessors overseeing Harris County elections?
Well, I've been in the elections industry for well over 20 years, I started in the state of Georgia at the state level. I've moved from being a state level administrator to a consultant working with multiple jurisdictions, both small and large, in assisting in them conducting their elections or advising on them conducting their elections. And I've run the office in the District of Columbia, the election administrator serves as both a state level as well as a county level operation. And I've served as a general counsel for the (U.S.) Election Assistance Commission, which put me in a position to see how all the states actually run and execute their election. So, with the 20 plus years of experience, I think I understand how an election runs. I've been hands on in running the elections from, as I indicated, the smallest county to the largest county and of course, Harris County will be the largest county that I've interacted with. And I'm looking forward to that. And please, let me first say, there's no disrespect to any of my predecessors, because I think there were all good folks that were doing the work that the office required them to do. I'm standing in different shoes, and I'll bring different experiences to the process.