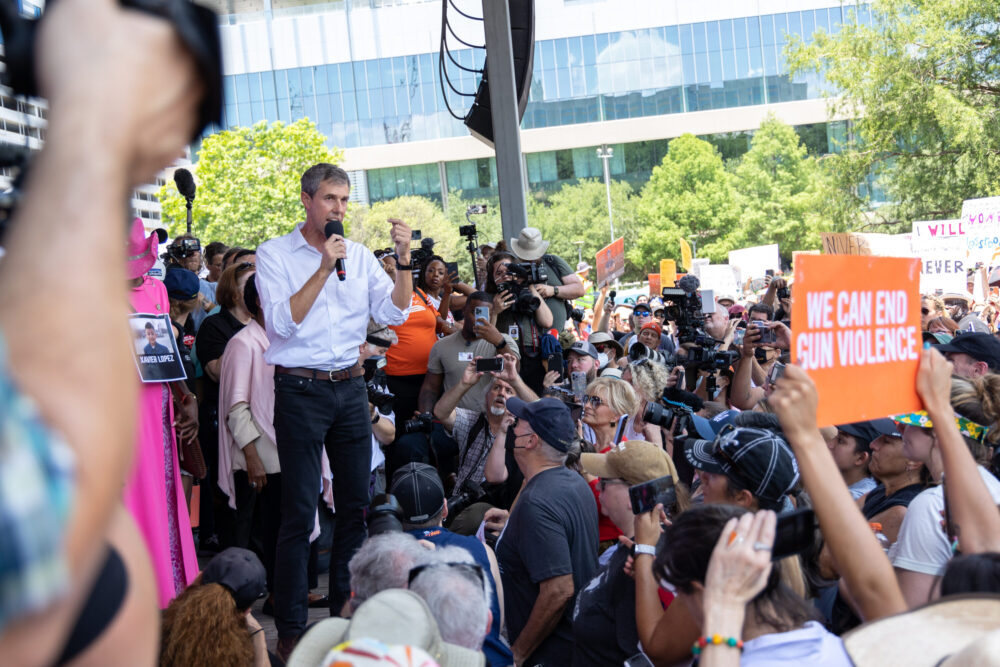 Texas gubernatorial candidate Beto O'Rourke continued his tour of the state Wednesday by appearing as a guest on Town Square with Ernie Manouse, discussing a wide range of issues facing Houston and the state as a whole and also touching on his race against Gov. Greg Abbott.
O'Rourke, a former U.S. Congressman from El Paso, is seeking to become the first Democrat elected as Texas governor since Ann Richards in 1990.
Below is a collection of just some of the comments made by O'Rourke during his one-hour interview with Houston Public Media, beginning with his campaign strategy of visiting each of Texas' 254 counties — including those where voters have historically supported Republicans such as Abbott.
"Showing up in person, without judgment, listening to and seeking to learn from one another and always looking for the common ground between us," O'Rourke said of his strategy. "I was in Hemphill, a small community in East Texas, and of the 80 people who showed up, about 20 were (Donald) Trump supporters. ... I made sure they felt welcome. I gave them the microphone so they could ask me questions, hold me accountable, so they could see for themselves that I'm very interested in representing them regardless of the differences between us. We've got to find a way to come together."
CONFRONTATION WITH GREG ABBOTT AFTER UVALDE SCHOOL SHOOTING
"When I went into that press conference, I was thinking about the fact that after (the 2019 mass shooting in El Paso), the governor came to El Paso, held a press conference and said he was going to do things to make it better and less likely. The only thing he did, Ernie, was literally making it more likely, turning his back on law enforcement and signing a permitless carry bill into law. We need action right now. We need accountability. We need people to stand up for one another or we're going to see more mass shootings."
COMBATTING VIOLENCE/CRIME
"There's nothing more important than the safety of our families and our communities. I'm going to make sure that we guarantee law enforcement has the resources and has the funding ... to prevent violent crime in the state of Texas. ... I'm going to make sure that if you're arrested for a violent crime and pose a danger, it doesn't matter how much money you have (for bail). It's not going to be a matter or wealth or place. It's going to be a matter of your danger to the community."
HOW TO FIX THE POWER GRID
"We connect ERCOT to the national grid. When we need power, we can draw it down. When we have a surplus, we can sell it up. And we're going to fully winterize every energy-producing facility in the state (so they don't freeze and go offline). … It doesn't happen in much colder states. It won't happen in Texas when I'm governor."
IMMIGRATION
"If you come to work, if you come to seek refuge, if you come to make our country better by your presence, we in Texas will ensure there is a legal, safe and orderly path for you to do that. We're a nation of laws. We expect that if you come to our country, you follow our laws."
STATE OF PUBLIC EDUCATION
"The reason teachers are leaving is because we so grossly underpay them. They make about $7,500 less than the national average, and we treat them with contempt. This (Critical Race Theory) deal, it's distracting us from real problems by talking about a law school class (Abbott) wants us to believe is taught in elementary schools. ... We need to do better for (teachers). Raising teacher pay, trusting them to connect with those kids and teaching the version of whatever history that's most accurate and honest. Allow them to answer the call to the profession instead of jumping through hoops."
ABORTION
"The answer that makes the most sense to me, after listening to as many people as I possibly can across the state of Texas, is trust women to make their own decisions about their own healthcare. Trust them to make their own decisions about their own bodies. Trust them to make their own decisions about their own future."