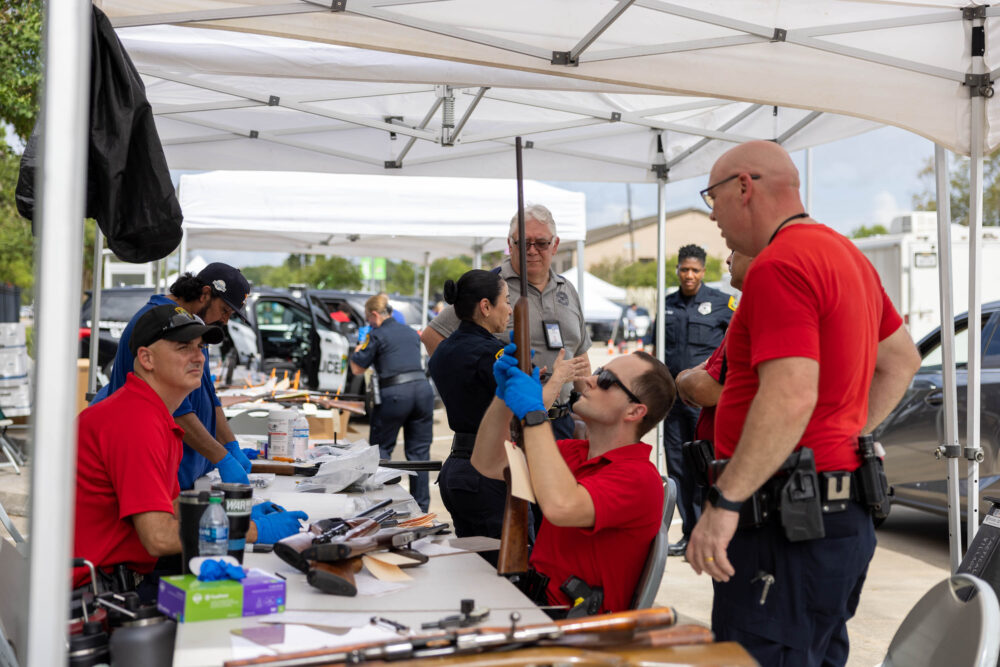 More than 800 guns were collected on Saturday as part of a regionwide buyback event — an effort that Houston Mayor Sylvester Turner hailed as "incredibly successful."
The event was less well-received by the Harris County District Attorney's Office, which categorized the event as a potential deterrent to solving crime.
One of the top officials for the Harris County District Attorney's Office said it was glad to have that many weapons out of the community and headed to an incinerator, but the office also questioned whether gun-related crimes would go unsolved as a result.
David Mitcham, the top assistant to DA Kim Ogg, said Monday his office takes issue with the no-questions-asked part of Saturday's event at Wheeler Avenue Baptist Church in the Third Ward, where Houston-area residents were invited to anonymously turn in handguns and rifles in exchange for gift cards worth at least $50.
In the event any of the turned-in guns are determined to have been used to commit a crime, Mitcham said connecting that weapon to a person responsible would be akin to encountering a "brick wall or blind alley."
"We certainly recognize the importance of getting guns off our streets ... in an effort to reduce violent crime. We applaud that sentiment," Mitcham said. "But it frankly is mystifying as to why you wouldn't identify who it is that was turning in the gun."
The DA's office also said it wasn't consulted before the gun buyback event, according to Mitcham, who confirmed that Ogg expressed her concerns in a Thursday letter written to Harris County Sheriff Ed Gonzalez, Precinct 2 Constable May Walker and Houston Police Chief Troy Finner, whose department co-hosted Saturday's event and is processing the weapons that were collected.
Mitcham added that the distribution of gift cards could be problematic in the event a gun is tied to a crime. The person who turned in the firearm may be considered a witness to the crime, and accepting something of monetary value from law enforcement in return could cause problems for prosecutors down the line.
"We're required under law to give notice to the defendant in a criminal case of any witness receiving anything of value from the state," Mitcham said. "This hampers our ability to be able to comply with that aspect of the law, because the person that's tendering the firearm is unidentified."
But Turner and Harris County Precinct 1 Commissioner Rodney Ellis, who also were event organizers, questioned the reason for Ogg's criticism as well as the timing. Both Turner and Ellis released statements arguing that Ogg — a fellow Democrat — could have communicated her concerns well in advance of the publicly promoted event.
"The program was informed by best practices from gun buyback events across the country, and as such, HPD does not share the concerns she presented in her letter dated the day before the event," Turner said. "Unfortunately, the office charged with the responsibility for the prosecution of all violations of state law in Harris County has failed to communicate on the gun buyback program until now. Given this is the first time I have heard of any concerns (Ogg's) office has had regarding this program, I do not believe her perspective is policy driven."
Ellis added that Ogg's letter "was at best uninformed and cynical, and at worst a political stunt."
The gun buyback program, part of the city's federally funded One Safe Houston initiative, was lauded as a success that exceeded organizers' expectations in terms of turnout. A spokesperson for Turner said 845 guns were collected, with nearly $100,000 in gift cards distributed in exchange. With the event spanning several hours longer than planned because of the turnout, 150 people were turned away and given priority spots in line for a future gun buyback event, according to the mayor's office.
The Houston Police Department is checking the guns to see of any of them were stolen or used in a crime, in which event they will be returned to their owner or processed as evidence, according to the mayor's office. The weapons will otherwise be destroyed.
Turner spokesperson Mary Benton confirmed Monday on Twitter that some of the guns dropped off by community members in exchange for gift cards were privately manufactured firearms — or "ghost guns" — meaning they can not be traced to a manufacturer and likely were produced for much less cost than the buyback participant received in gift cards. Turner said those kinds of guns will not be accepted at future buyback events, according to Benton's tweet.
Both Turner and Ellis expressed an interest in organizing subsequent gun buyback events in Houston, although no details had been determined as of Monday.
The effectiveness of such programs in reducing violent crime is the subject of much debate. A 2021 study released by the National Bureau of Economic Research, which examined crime data from 1991-2015 and the effects of gun buyback programs in more than 100 U.S. cities during the last decade, found such programs, "have been ineffective at deterring gun crime, firearm-related homicides, or firearm-related suicides in the short- or long run."
In a statement released after the event, Ellis acknowledged that criticism, and said he's open to ideas about how future events could be operated.
"Some will say this won't make a major dent in gun violence," Ellis said. "I get it. I wish we had more power to stop the flood of guns into our streets."
"What we refuse to be accused of is inaction," he added. "If we got one gun off the street and prevented one shooting, we made a difference today."