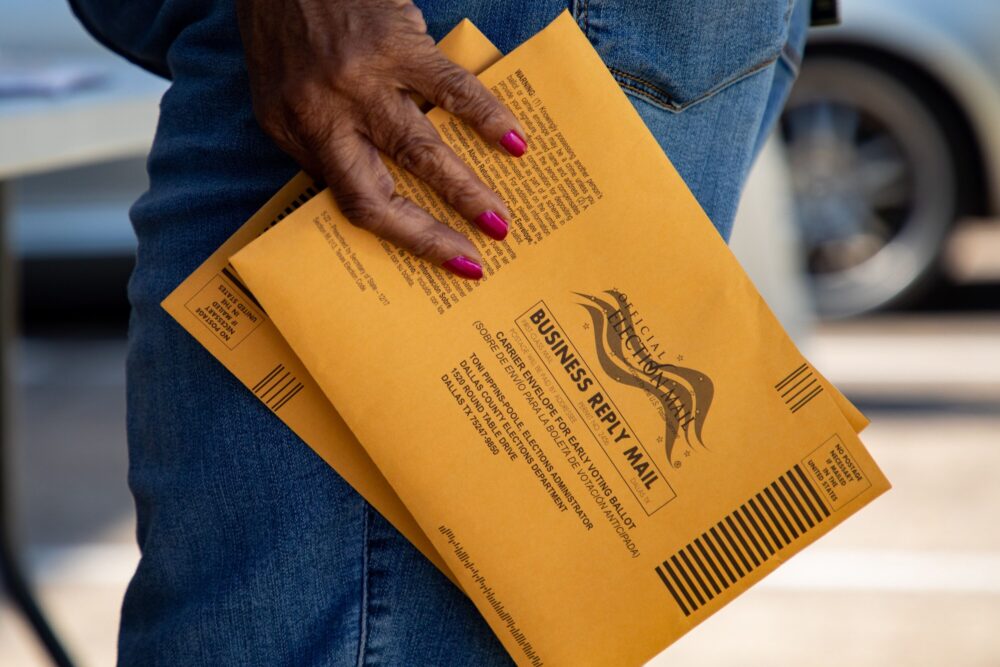 Almost a third of people in Harris County so far who applied to vote by mail will have to correct their mail-in ballot in person within six days of Election Day if they want their ballot counted in the primary races, according to Harris County.
According to data from the office of Isabel Longoria, the Harris County elections administrator, 30% of mail-in ballot rejections so far are due to a complete lack of identification numbers on the ballot or the carrier envelope. Those voters will have have to go to the county elections office in person within six days of March 1 to show their ID if they want their vote counted.
"Their only recourse is to come in person after Election Day to fix their mail ballot," Longoria said.
Of the 23,889 ballots processed as of Wednesday, 7,263 were rejected due to new ID laws, Longoria's office said. Of those, 7,208 had no ID listed, while 55 were mismatched and 26 had no signature.
Thousands of mail-in ballots and applications in Texas have been flagged for rejection so far in the primary election, which elections administrators across the state have attributed to new ballot and application ID rules in a strict new voting law that Republican supporters say addresses "election integrity," but which its critics say is an attempt at suppression. Harris County has requested the Department of Justice intervene to address the high rate of rejections.
The rejected mail-in ballots and applications are the latest voting challenges related to the implementation of Senate Bill 1, Longoria said. The bill, which went into effect Jan. 25, requires Texans voting by mail to include their driver's license number or Social Security number on both their application and carrier envelope for the application and ballot.
If the ID number is missing in one or both of the locations where it's required, the application or the ballot is flagged for rejection. Sometimes, voters will fill out their ID information on their mail-in ballot application but forget about filling it out on the space under the envelope flap.
Sam Taylor, the assistant secretary of state for communications, said the space to fill in personal ID information is in a secure location on the envelope.
"It's really important that voters know that that information is secure," Taylor said. "It's behind a security flap that was a special design that had to be implemented in order to keep that personal information secure."
It's missing information on the carrier envelope that led to 40% of the mail-in ballots being flagged for in-person correction. Longoria said because there isn't an ID number on the envelope, the county doesn't have a way to match the ballot to the voter. Even if the voter tries to confirm their voter ID information on the Texas Secretary of State's ballot tracker website, they still have to correct the ballot in person because of the missing information on the envelope.
According to guidelines sent to election officials by the Secretary of State's elections director Keith Ingram on Jan. 28, early voting clerks can deliver an envelope for the voter to correct in person or by mail, or they can alert voters their ballot needs correcting over the phone or email. Then, the voter can correct the ballot in person or by mailing back the corrected envelope.
However, Longoria said as time has passed, the options have narrowed. To get counted, all mail ballots have to postmarked by March 1 and received by the county by the next day. As of late last week, there isn't enough time for a mailed ballot to be sent to the voter and back to the county, so the voter has to come in person to fix their ballot within six days of election day after being notified they need to correct it.
Claiming there's an easy way to correct a ballot online is misleading, Longoria said.
Taylor said required voter ID information can be added to a mail-in ballot on the ballot tracker website, but Longoria said it's not that straightforward. To log in, voters have to have both their driver's license number and social security number. Once the tracker accepts the login credentials, Longoria said the voter can only confirm if their numbers are correct in the system, meaning they can't add or change information.
Logging in can also be challenging for some voters. Molly Broadway, a training and tech support specialist for voting rights at Disability Rights Texas, said she has spoken with voters who've had problems logging into the website with their own information.
"It's a little sensitive," Broadway said. "Sometimes, you can type in information and it works. Sometimes, it doesn't."
According to Taylor, 95% of registered voters have both their driver's license number and their Social Security number on their record. Even if a voter registered with only one of those numbers, Taylor said the Texas Secretary of State's office likely has both on the voter's record because of its relationship with the Texas Department of Public Safety.
Still, there's 5% of registered voters who don't have both numbers associated with their voting record. Some voters may not have a driver's license. In a county as large as Harris County, Longoria said that population can make a difference.
"Five percent is a cute number when it's just a percentage," she said. "One hundred thousand-plus is a real-life impact for Harris County alone."
In the meantime, more early voters in Harris County are casting their ballot in person than by mail this election: As of Wednesday, 109,156 people voted early in person in Harris County and 18,153 voted by mail. In 2018, a total of 83,334 people had voted in person and 32,822 had voted by mail in Harris County by the ninth day of early voting.
Regarding the large number of of mail-in ballots and applications that were rejected, Longoria said she was surprised at the high percentage, but she said election officials did warn the Texas Legislature of the potential impact Senate Bill 1 would have on voting access when they testified last year.
"We were acting as canaries in the coal mine," Longoria said. "I think those legislators thought we were just chicken little shouting that the sky is falling."