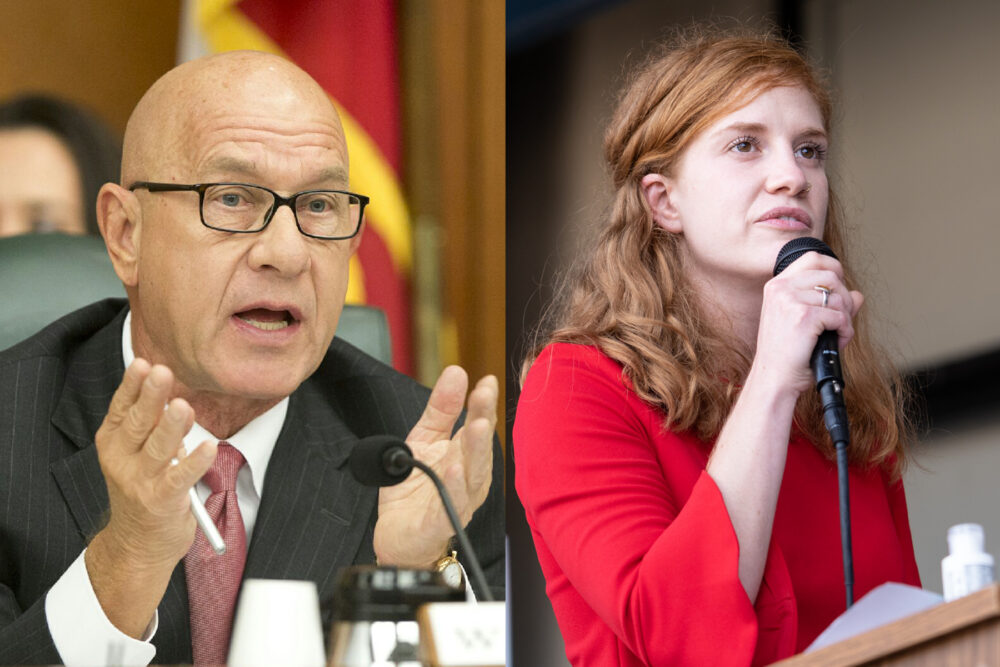 Democratic state Sen. John Whitmire is facing a new challenge in the legislature from a local community organizer after announcing his bid for mayor of Houston next year.
Whitmire has represented Houston in the Texas Senate since 1982 after serving 10 years in the Texas House of Representatives. Last year, he announced that he was running for mayor — making him the first prospective candidate vying for the position after Mayor Sylvester Turner's final term ends in 2023.
After Whitmire made the announcement, local activist and emergency room nurse Molly Cook decided to enter the race.
Cook is a local organizer who has helped lead the opposition to TxDOT's proposed I-45 expansion, which critics say would increase pollution, worsen traffic congestion, and displace more than 1,000 homes located in underserved communities.
The two will face off in a primary to represent Senate District 15, which includes Bellaire, The Heights and Humble.
Whitmire has received endorsements from a few notable politicians, including U.S. Rep. Sheila Jackson Lee and U.S. Rep. Al Green — who both represent Houston. Additionally, the incumbent has been endorsed by Houston Black American Democrats and the Texas Gulf Coast Area Labor Federation. Cook has received endorsements from the Working Families Party, Greater Heights Democratic Club, LEAP Forward, and Houston DSA, among others.
At a virtual forum with both candidates Monday night, Cook laid out her reasons for challenging the incumbent.
"I could not stand by and watch after Sen. Whitmire announced his true intentions for 2023," Cook said. "Experience matters, but you have to ask yourself, 'what kind of experience do you want your legislator to have?'"
In response, Whitmire said the mayor's race would not be a factor until after the next legislative session.
"The mayor's race is not on the ballot this time," he said. "I'm doing nothing different than wanting to go back to Austin and fight with my seniority…that seniority doesn't belong to me by the way, it belongs to you. And you ought to use it in 2023 to the betterment of our community."
Watch the entire candidate forum below, hosted by South Asian American Voter Empowerment:
When addressing compromise with Senate Republicans, Whitmire stressed his experience in the legislature, and his belief in the importance of having a senator on key committees.
Whitmire currently serves as chair of the Senate Criminal Justice Committee, and is a member of the Senate Business and Commerce Committee and the Senate Finance Committee.
"I fight them for funding for Houston," Whitmire said. "You've got to be on the right committees and have seniority experience that people listen to."
Cook said that finding middle ground on issues like "health care, broadband, schools, state preemption of local control in transportation" was possible between both sides of the aisle and important for making progress in the state legislature.
She also criticized Whitmire for what she said was a lack of support for statewide candidates challenging the GOP's control of the Texas government. After the incumbent blamed Republicans for a lack of Medicaid expansion in Texas, Cook pointed to what she believed was a way he could have helped: spending his own money.
"Arguably, the most important thing Sen. Whitmire could've done to get us Medicaid expansion would've been to donate large amounts of money from his war chest to our statewide candidates," she said. "In 2018, he gave none. But between July and December of last year, the senator spent $2.4 million on stocks."
The two candidates also addressed poor air quality in the district, with Whitmire pointing out that he helped stop the construction of a concrete plant in Acres Homes. The incumbent added that he was also fighting against the expansion of the Hawthorn Park Landfill in Carverdale, which critics say could present health hazards to those who live nearby.
Cook said increased car dependence and the continued horizontal growth of freeways — like TxDOT's proposed I-45 expansion — were among the reasons for increased air pollution in the Houston region.
"We have to address the root causes and assumptions of these issues that are failed and are biased toward continuing down our car-centric paradigm," Cook said.
Early voting runs from Feb. 14 to the 25th. Election Day is March 1.