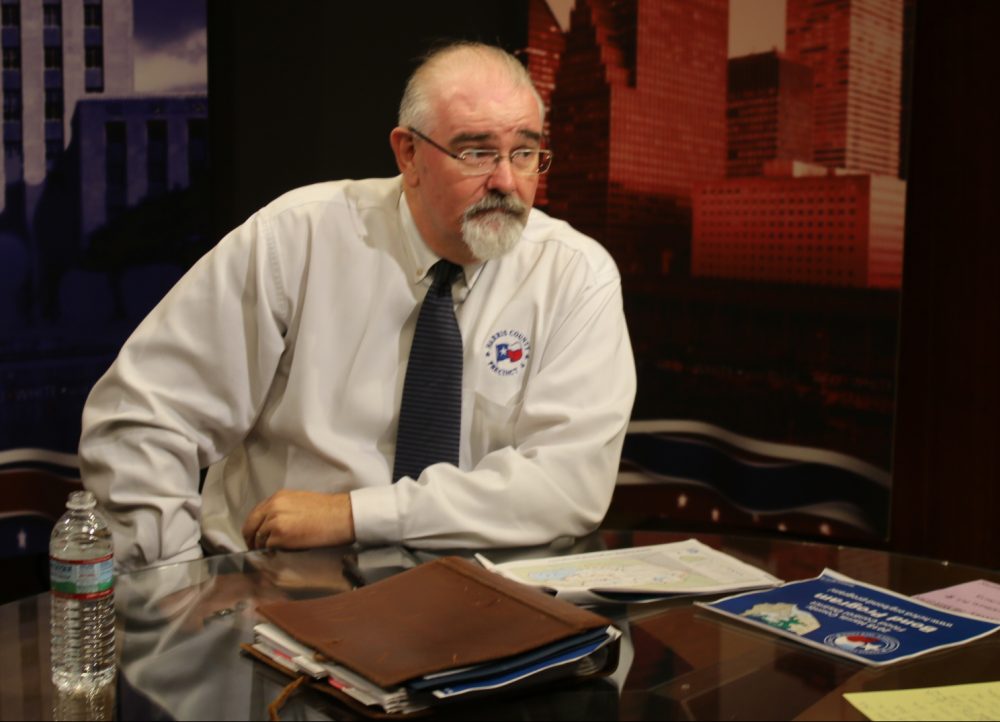 With a new Harris County precinct map in place, Democrats may have their best chance in a dozen years of capturing Precinct 4. That's set up a fierce, three-way contest in the Democratic primary to challenge the incumbent Republican, Commissioner Jack Cagle.
The Democratic primary to face Cagle includes former civil court judge Lesley Briones, former state representative Gina Calanni, former county elections official Ben Chou, and Alief ISD board president Ann Williams.
Briones joined the bench as presiding judge of Harris County Civil Court at Law Number 4 in April 2019, when Democrats on Harris County Commissioners Court appointed her to fill out the term of Bill McLeod. Briones won a full term in 2020, but resigned from the bench in order to run for county commissioner.
Gina Calanni previously served as state representative for House District 132, representing portions of Katy. She served a single term, defeating Republican State Rep. Mike Schofield in 2018 but losing a rematch to him in 2020.
Ben Chou has held no elective office. He previously served in the Harris County Election Administrator's office, overseeing 2020 voting innovations that included expansion of drive-thru voting. Before that, he worked for former governor of Maryland and 2016 Democratic presidential candidate Martin O'Malley and for then House Democratic leader Nancy Pelosi.
Ann Williams was first elected as Alief ISD board trustee in 2007 and has served as the board's president for the past seven years.
"This will be a primary runoff election," said Rice University political scientist Bob Stein, who prefaced his remarks by saying Chou was a former student of his. "I don't think any one of these…candidates is likely to win 51% of the vote or 50% + 1."
Briones launched her campaign first and quickly captured the endorsements of the two current Democratic commissioners, Precinct 1's Rodney Ellis and Precinct 2's Adrian Garcia. Calanni won the endorsement of State Representative Gene Wu. Chou's most significant endorsement is that of Martin O'Malley. Williams has no significant endorsements by current or former elected officials.
"I think the real question here is who gets nominated, and that will to a large extent determine whether Commissioner Cagle can be reelected," Stein said.
The geography and the demographics of the new Precinct 4, on the west side of Harris County, favor Democrats much more than the previous Precinct 4, which stretched across the county's northern tier.
Cagle, along with fellow Republican Commissioner Tom Ramsey, challenged the new map in court, arguing it amounted to an unconstitutional gerrymander. A judge rejected the challenge. Lawyers for Cagle and Ramsey are expected to appeal, but there's a rapidly shrinking window for a higher court to intervene.
Even if the new map stands, Stein said, the power of incumbency means it is far too early to count Cagle out. He noted Cagle, who was first elected in 2010, has a long record of addressing flooding and road congestion problems that gives him broad appeal.
"I would think at this point," Stein said, "if you're going to beat an incumbent Republican, you're going to have to have a Democrat who can draw on some Republican voters, or at least some independents."
Stein doubted Calanni's ability to do that, noting her record as much more progressive than her two Democratic rivals. "It remains to be seen whether Ben Chou has that, what I'd call, ideological moderate or centrist position," Stein said. "But clearly, I would say former Judge Briones is in a strong position."
Correction: A previous version of this story listed only three of the Democratic candidates running to challenge Jack Cagle. There are four: Lesley Briones, Gina Calanni, Ben Chou, and Ann Williams.