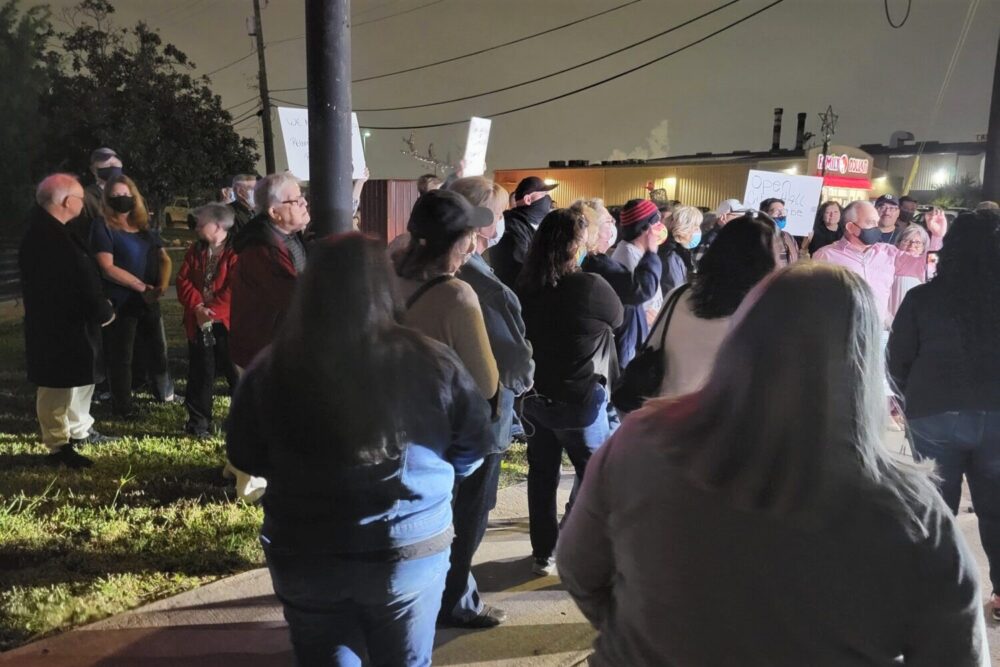 Galena Park residents protested outside of City Hall Tuesday night in opposition to Mayor Esmeralda Moya, criticizing the mayor for what they say is abuse of power and a lack of transparency with city funds.
Roughly 30 protestors stood outside the building around 7 p.m., accusing Moya of silencing critics during city council meetings, essentially blocking citizens from participating in public meetings.
"This is the worst in the 42 years that I have lived here that we have had these kinds of problems," said protester Jackie Gonzales.
Like other protesters, Gonzales said she's also upset that Galena Park City Hall remains closed to the public for the past 18 months due to the pandemic.
"We want transparency, and we want answers as to what's going on with our city," Gonzales said. "Why is City Hall still closed? Every city hall around here is open except for ours."
Moya did not respond to requests for comment.
The protest came a week after Galena Park Police Chief Chris Sanchez was fired. The former chief refused to discipline two officers who questioned the use of a marked police car by the mayor's family, according to Wayne Dolcefino, a former TV reporter and investigative consultant.
The incident between officers and the mayor's husband — who was allegedly driving the car — was captured on body camera video, but the city has yet to release the footage, Dolcefino said.
Protestors called on the mayor to release body camera video they say shows the incident.
Dolcefino sued the mayor and other city officials in August, accusing them of violating the Texas Open Meetings Act and the Texas Public Information Act in denying a request for information related to federal grants the city received for natural disasters since 2017. The city also denied request for meeting minutes and financial information, the suit alleges.
The mayor and the city responded in court documents by saying Dolcefino "churned out" broad and repetitive requests for tens of thousands of pages of documents, while others simply don't exist.
Sanchez was at least the sixth chief to leave the role in the last five years. He was quickly replaced with now-interim Galena Park Police Chief Richard Wagner, who said he's focused on moving the department forward and hiring more officers.
"All I know is right now things are partially broken, and I think we're going to move towards making things get back on the correct track, I hope, and that's all we can do," Wagner said. "Give it as much of ourselves that we can, and try to do the right thing everyday and hopefully at the end it'll work out in everybody's favor."