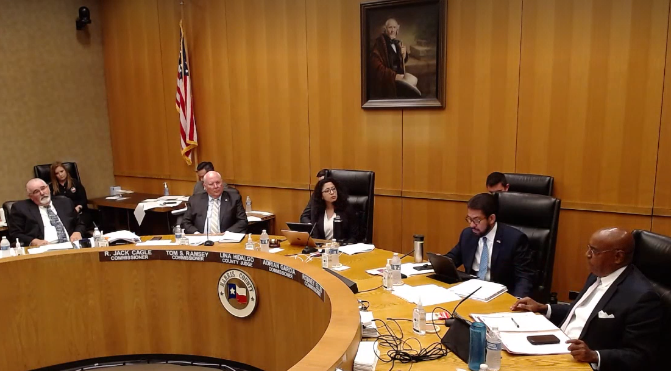 Republican commissioners and a group of voters sued Harris County on Tuesday over newly approved precinct maps they say will ensure a Democratic supermajority on Commissioners Court.
Under the new maps, which drastically change three of four Harris County precinct boundaries, the suit argues among other things that one Republican seat would be strengthened while another would likely be lost.
The lawsuit hinges on a quirk in election law that staggers county precinct elections every two years.
All county commissioners serve four-year terms, but under state law, races in even-numbered precincts and odd-numbered precincts take place in two-year intervals.
The lawsuit alleges that 1.1 million voters will be shuffled to odd-numbered districts, and thus lose their right to vote until 2024.
The next election for even-numbered districts is in 2022. The suit argues that the new maps make it likely that Cagle's Precinct 4 would flip to a Democrat. The 3-2 Democrat-Republican court would then move to 4-1 in further favor of Democrats.
During a Tuesday press conference, Houston attorney Andy Taylor said the approved map was a Democratic political ploy.
"We're not going to allow the three Democrats on the Commissioners Court to steal away over 1.1 million people's right to vote without us challenging it," Taylor said.
In a statement, Harris County Attorney Christian Menefee said that the county "ran a transparent and thorough redistricting process."
"We're confident the map Commissioners Court adopted complies with Texas law," Menefee said.
Harris County Judge Lina Hidalgo's office did not immediately respond to a request for comment.
Map author Rodney Ellis has argued that the county was previously gerrymandered by Republicans, and that the new map was a correction.
This is a developing story and will be updated. Read the lawsuit below: