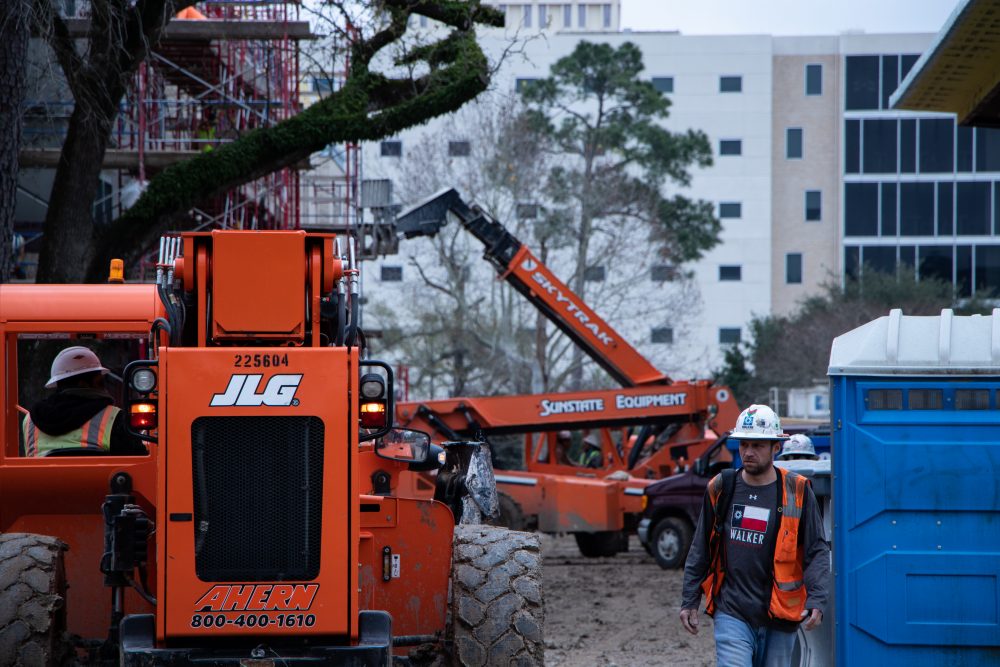 Three construction industry trade groups have asked a federal appeals court to block a Biden administration rule requiring employees of larger companies to be vaccinated or regularly tested for COVID-19 on Monday, arguing it would create roadblocks for large infrastructure projects.
In a petition filed with the U.S. Fourth Circuit Court of Appeals filed by the Associated General Contractors of America, the American Road and Transportation Builders Association and the Signatory Wall and Ceiling Contractors Alliance said the rule forces employees to choose between their jobs and getting vaccinated, and would ultimately force many workers to quit large firms to take jobs at smaller construction companies.
The groups argued that while they wanted to see more people vaccinated, the rule comes during a time when there's already a labor shortage in the industry.
"Petitioners challenge this (rule) not because they oppose its objective, but rather, because it will cause badly needed employees to leave larger construction companies and perhaps the construction industry," the petition says. "The resulting damage to these companies and the critical effort to reconstruct the nation's infrastructure would be great and irreparable."
Read the entire petition below:
The Occupational Safety and Health Administration issued an emergency temporary standard Nov. 4 requiring employees at businesses with 100 or more workers to be fully vaccinated by Jan. 4. Workers who choose to not get vaccinated are required to undergo weekly testing for COVID-19 and are responsible for providing their own testing. The mandate doesn't apply to companies that employ fewer than 100 people.
Texas has joined a lawsuit over the COVID-19 vaccination and testing rule. The OSHA standard states that it preempts any state or local laws banning or limiting vaccine requirements.
OSHA did not immediately respond to a request for comment Monday, but DOL solicitor Seema Nanda told Houston Public Media last week that the agency is "fully prepared to defend this standard in court."
"The new emergency temporary standard is well within OSHA's authority under the law and is consistent with OSHA's requirements to protect the health and safety of workers," Nanda said in an email.
The suit comes the same day President Joe Biden prepared to sign into law a $1 trillion bipartisan infrastructure bill, which which includes billions of dollars for transportation and other infrastructure, including $65 billion funding for broadband.
Although the OSHA mandate will impact larger construction firms working on infrastructure bill projects, that doesn't encompass all of the projects under the bill. Some projects can be handled by smaller construction firms, and larger projects can hire multiple smaller firms, Turmail said.
Still, if a contractor hires a large construction firm and multiple smaller firms for one project, people on the same job site will have different vaccination and testing requirements. Turmail said that creates confusion, which is why his organization is concerned about OSHA's mandate.
"You're not going more people vaccinated through coercion, confusion and conflicting mandates," he said. "There's a better way to get people vaccinated."
Sixty-four percent of construction workers already work at smaller firms, and the smaller companies are recruiting more workers away from the larger construction firms, according to Brian Turmail, spokesman for the General Associated Contractors of America.
"It's easy to see a lot of folks who work for larger firms who are vaccine hesitant to being with just deciding 'hey, I got five phone calls already from people who employ 80 or fewer people. I'm going to go work for them,'" Turmail said.
Paul Puente, the executive secretary of the Houston Gulf Coast Building and Construction Trades Council, said the majority of union construction workers in Texas are vaccinated. But only 15% of construction workers in Texas are part of a union, he said.
Following safety standards set by OSHA while working on a construction site isn't new. The agency has set up rules intended to protect workers from on-site hazards like machinery accidents, electrocution and asbestos exposure.
Puente supports the new OSHA rules, and said they follow that same principle.
"When they create certain policies, their mindset is 'how do we protect the workers?'" he said.