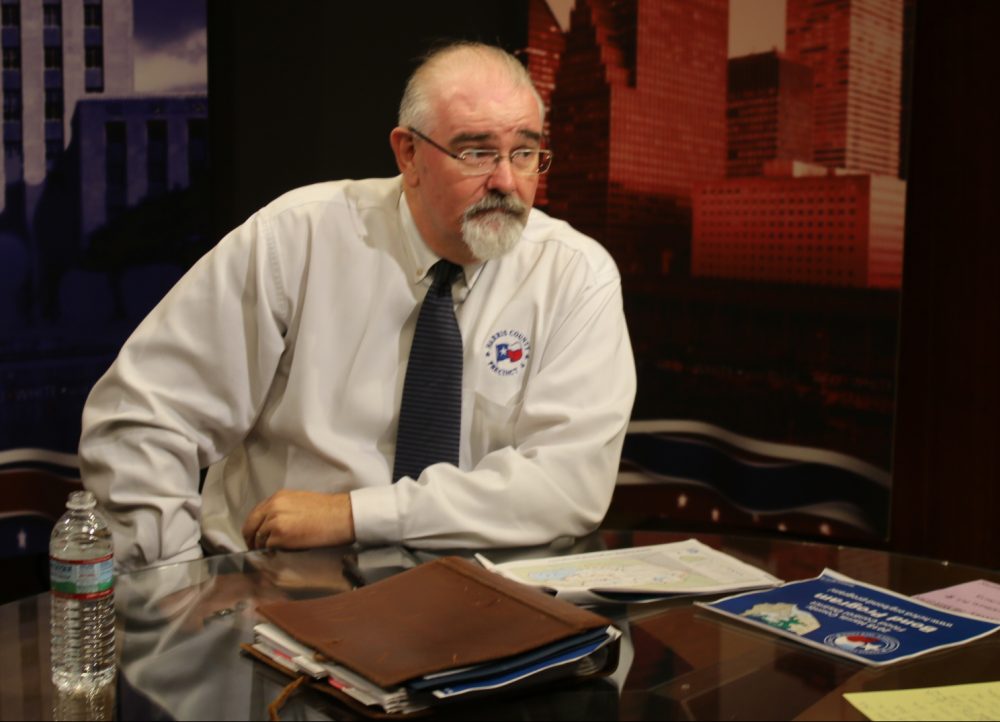 Harris County leaders voted party lines on new county precinct maps that would effectively force the Republican commissioners to swap precincts, hurting the reelection chances of one lawmaker.
County commissioners voted 3-2 to redraw the county's precinct boundaries in such a way that shifted Republican Commissioner Tom Ramsey's Precinct 3 from western Harris County to the northern tier, and switch Republican Commissioner Jack Cagle's Precinct 4 from the north to the west.
Cagle's precinct would also include more territory inside the 610 Loop and less within northwest Harris County than the current Precinct 3. Crucially, the new Precinct 4 is majority-minority, with a combined non-Anglo population of more than 70%.
The end result of this map — the third map proposed by Ellis — would be two safe Democratic districts in precincts 1 and 2, one district that potentially leans Democratic in precinct 4, and one safe Republican district in Precinct 3.
In an interview with Houston Public Media this week, Cagle said that he and Ramsey were prepared to sue to block a previously proposed map, which would have greatly compacted Ramsey's precinct boundaries and transformed it into a Democratic leaning district.
A Cagle spokesman would not confirm whether the commissioners planned to sue over the current maps, but said an announcement would be forthcoming within the next few days.
Cagle is up for reelection in 2022. At Thursday's meeting, he said he viewed this third map — proposed by Democrat Rodney Ellis and referred to as "Ellis 3" — as punishment for his past efforts to block Democrat-proposed tax increases.
"You're inclined to vote for the Ellis 3 because you view that vote as a referendum to the public, in essence, on taxes," Cagle said to Harris County Judge Lina Hidalgo, a democrat. "You feel because of our disagreement on taxes that you need to move me into a precinct that I have not served, to let me face the public on that referendum of the tax issue."
Hidalgo was unmoved, saying the maps corrected past injustices that resulted from maps Republicans designed in 2011 and earlier.
"(The map) empowers communities that have been diluted. It brings together communities that have been split up," Hidalgo said. "No map is perfect. But to me, in a tough decision, this is what I'm going to decide."
The county judge added that she believed the new district was not solidly Democratic, and Cagle would still be a formidable candidate.
But Hidalgo did indicate that past disagreement over taxes influenced her final decision, referencing Cagle and Ramsey's recent threat to break quorum, block a Democrat-proposed tax cut and force cuts to county services.
That threat was ultimately averted when commissioners negotiated a slightly largely tax cut than Democrats initially wanted.
"I am concerned that your party's on a race to the bottom to literally not be able to pay for lifesaving services, when you're rejecting a tax cut so that you can defund the hospital district by $17 million in the middle of a pandemic," Hidalgo said. "I haven't forgotten that."