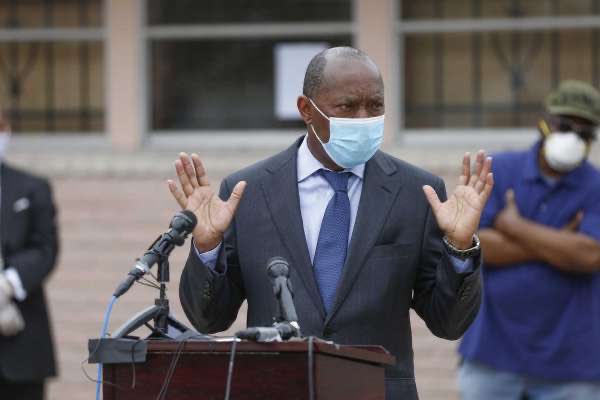 Council members voted to postpone a vote on hiring an outside law firm to investigate allegations that Mayor Sylvester Turner tried to steer a $15 million affordable housing project towards a preferred developer.
The 10 to 5 vote delays for at least 30 days a decision on whether to spend $250,000 to hire Butler Snow, an outside law firm, to investigate the ethics allegations made by the city's former housing director, Tom McCasland.
Turner originally instructed City Attorney Arturo Michel to conduct the investigation. Instead, Michel, who was appointed by the mayor, recommended the council hire Butler Snow.
District G Councilmember Greg Travis was one of the council members who pushed back against the delay, saying he was concerned the motion would effectively kill the city's investigation indefinitely, when he believed council should be taking an active role in the matter through either the outside firm or their own investigation.
"Anything that we're going to do with this law firm, I'm hoping that the council can do without the law firm," Travis said. "But I also suspect that we as a council won't do it. So we need somebody else to come in and take a look."
McCasland's comments, made during a city council housing committee meeting last month, came in response to the city's announcement that two developments had been selected to receive a total of $25 million in funding from the Harvey Multifamily Program — money that comes from the U.S. Department of Housing and Urban Development and is intended to help replace damaged housing lost in Hurricane Harvey.
What looked like a competitive process to award funding was in fact had a pre-determined outcome, McCasland said, with the Huntington at Bay Area development selected to receive the $15 million. McCasland accused the administration of acting unethically, but not illegally.
Mayor Sylvester Turner quickly fired McCasland within hours of his remarks.
The mayor has denied any wrongdoing. Two weeks ago, Turner announced he was withdrawing his support for the Huntington at Bay Area project — indicating that it will not go to city council for approval — calling it a "distraction."
The state General Land Office and the Harris County District Attorney's Office are both looking into the allegations, with separate investigations underway.
Travis added that he's spoken with State Attorney General Ken Paxton about the ethics allegations.
In response, Turner reiterated that the project at the center of the controversy will not be going to council for approval and suggested that Travis was using the allegations in an attempt to generate media attention.
"For whatever reason you're doing all of this, only time will tell," Turner said. "But you haven't been given any document from this administration to vote on. You haven't voted on one single thing. You haven't voted to expend one single dollar."
Housing committee chair and District F Councilmember Tiffany Thomas said she would support hiring the outside law firm to investigate, and was confident it would turn up no wrongdoing.
"These processes have been operating the same and we've certified these projects for the last couple of years," Thomas said. "The process is not in question. So to me it's like, do it so we can put it to bed."
Council members discussed the ethics allegations at two committee meetings this month. Most recently, a senior official with the housing department went into detail about the steps in the affordable housing selection process, though he stopped short of sharing the department's scoring methodology, which would shed light on how the department awards points when ranking projects it recommends for funding.
That came after a meeting that some members criticized for largely ignoring the allegations against Turner an instead focused on the housing department's budget.
At Wednesday's council meeting, District A Councilmember Amy Peck argued that she'd rather use the $250,000 to audit the housing department, which she said would provide some accountability to taxpayers.
Vice Mayor Pro Tem and District K Councilmember Martha Castex-Tatum questioned whether the contract to investigate would be worth the cost, since the GLO and DA are already investigating.
She also pointed to the materials McCasland provided along with his allegations, which did not indicate any illegal actions.
"Nothing in those 77 pages gave me pause for alarm," Castex-Tatum said. "The big difference is, the difference in opinion on what projects should be funded. And the way our governing works is the mayor has the opportunity to choose the project that he wants to go forward."