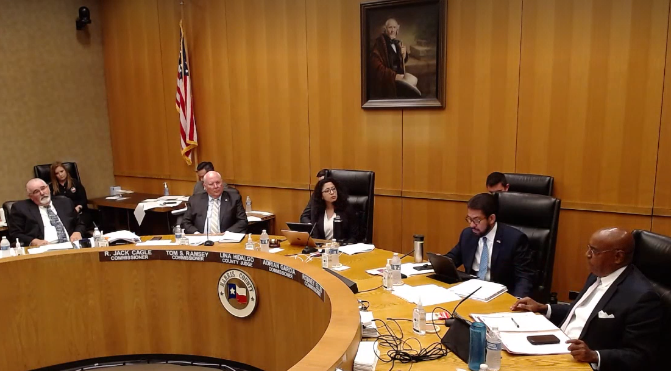 Harris County leaders will hear a second day of testimony on controversial plans to redraw the boundaries of commissioners' precincts on Tuesday — a plan that Republican commissioners have decried as partisan gerrymandering, and which Democrats have said was an attempt to restore balance to maps set by conservatives in the last round of redistricting.
Under the main proposal submitted by Democratic Commissioner Rodney Ellis, three of the four precincts would change dramatically. It would expand Republican Commissioner Jack Cagle's Precinct 4 to absorb much of unincorporated Harris County.
Ellis' proposal would leave his own Precinct 1 largely unchanged.
Cagle's precinct would absorb the northeastern portion of what is now Precinct 2, and the northwestern portion of what is now Precinct 3, the latter of which is represented by Republican Commissioner Tom Ramsey.
It would also include Katy in west Harris County, and Baytown in East Harris County, making it much harder for Precinct 4 to serve all its constituents, Cagle said.
"Katy…is a great place. Baytown is a great place," Cagle said. "But Baytown is on the (Galveston) Bay, and Katy is on the Katy Prairie. And having those two folks having to compete for attention in a very widespread, outer-limits precinct is not just or fair for either of those (groups)."
Cagle said it's likely that the Democratic majority on the court will be able to push through Ellis' proposed map over Republican objections, but he said that would not be the end of the story.
"Right now, Commissioner Ramsey and I are two votes, with lawyers," Cagle said.
Asked if that meant he and Ramsey were prepared to sue if the map was adopted, Cagle said: "Absolutely."
In a statement, Ellis argued that the county was already gerrymandered by Republicans, and that his map would better serve the people of Harris County.
"Our plan seeks to keep communities of interest together and bring together areas that have been split apart for years," Ellis said. "For too long this county has been intentionally divided by precinct boundaries that deny people the opportunity to elect representation that accurately reflects the views of the majority of our communities. The boundaries proposed cease that continued suppression, and allows the voices and views of the people to be reflected by those who represent them."
Asked about a potential legal battle, Ellis said the maps are in compliance with federal standards.
"It isn't surprising that commissioners Cagle and Ramsey would use the threat of a lawsuit in their continued attempts to suppress the voices of the people of Harris County," Ellis said.
The proposed map would compact Democratic Commissioner Adrian Garcia's Precinct 2 into an area dominated by majority Latino neighborhoods on the southeastern side of Harris County, along with Democratic majority neighborhoods of downtown and northern Houston.
By contrast, Ramsey's Precinct 3 would shrink to a corner of southwestern Harris County that has become increasingly competitive in recent election cycles, overlapping Democratic U.S. Rep. Lizzie Fletcher's 7th Congressional District.
By Ramsey's own estimate, Ellis' plan would cost his precinct roughly half a million constituents.
"That map will make it almost impossible for Commissioner Ramsey to win that next election," Cagle said, :and therefore, the public will be able to expect that after the 2024 election cycle, they can expect to see their taxes going up, because there will no longer be the ability to have the super quorum requirement to stop taxpayer tax (increases)."
Under Texas state law, a super majority of four out of five members of a county's commissioners court must be present in order to vote on tax increases. In 2019, Cagle and then-Republican Commissioner Steve Radack broke quorum in order to block a tax hike proposed by Harris County Commissioners Court's then-new Democratic majority.
Judge Lina Hidalgo and Harris County commissioners previously took public testimony on the proposed map, as well as proposed maps by Ramsey, Cagle, and others, last Thursday evening. More than 130 speakers showed up for that meeting. The second day of public testimony has been scheduled for Tuesday as part of the supplemental agenda for Commissioners Court.
"Other than my and Commissioner Cagle's proposals, services to (Precinct 3 residents) will be disrupted and suffer under the others that were brought to the table. Hundreds upon thousands of residents will be impacted negatively," said Ramsey in a statement on his website.
The court has scheduled at least one more day of public testimony for this coming Thursday afternoon. However, Commissioners Ramsey and Cagle have expressed concerns that the final vote could be held as early as Tuesday.
The once-a-decade county redistricting process comes hard on the heels of statewide redistricting, recently completed during the third special session of the state Legislature.
Democrats heavily criticized that process for enacting Republican partisan gerrymanders of the state's congressional delegation, as well as the state House of Representatives, the state Senate, and the state Board of Education.