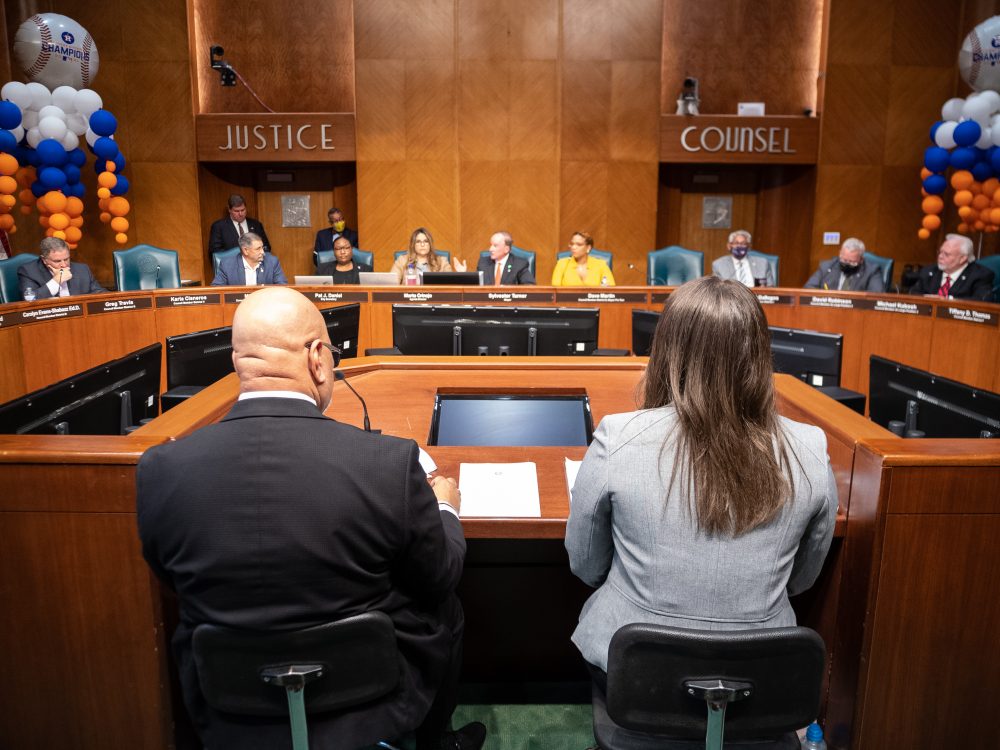 A special Houston City Council meeting about a city-run multifamily affordable housing program raised questions about the housing department's use of its budget — but offered no answers as to whether Houston Mayor Sylvester Turner worked to steer millions in federal affordable housing dollars to a favored developer in a deal tied to his former law partner.
In a roughly three-hour long meeting that adjourned before going through the entire agenda, some council members questioned how the direction of the meeting — which focused largely on how expenses blew past the housing department's administrative budget by millions of dollars — related to the allegations against Turner made by former Housing Director Tom McCasland.
"It's fluff. It's misdirection. It's nothing that we were here to talk about today," District G Councilmember Greg Travis told the committee chairs who organized the meeting, "There's nothing in here of substance that we're going to be talking about."
At-Large Councilmember Sallie Alcorn, who did express concern about the agency's bloated budget, nonetheless also asked committee chairs to focus on the allegations made by McCasland.
"What's been presented today, there's going to be many, many more questions about," Alcorn said. "But I'm more interested in the project-selecting criteria and why we're all here."
In a presentation given by Houston Housing and Community Development's chief financial officer and interim director, it was revealed that in fiscal year 2021 the housing department spent more than $11 million on administrative costs related to distributing federal Community Development Block Grant housing funds, despite being allocated only about $4 million for administrative purposes for that program.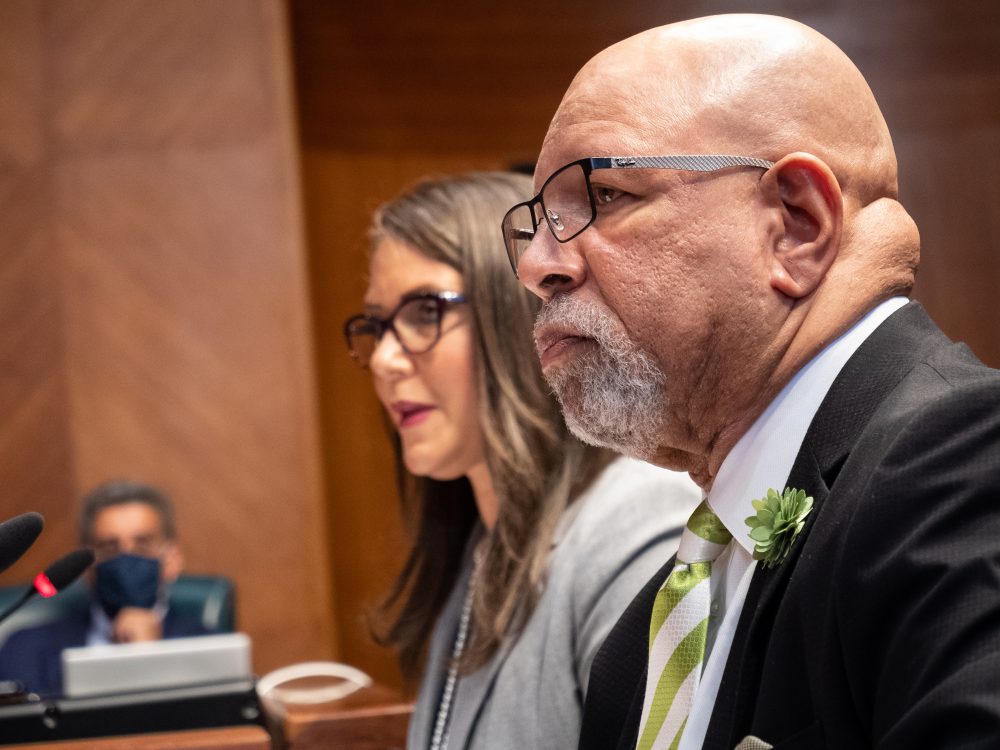 At-Large Councilmember Michael Kubosh called on Bynam to provide the council with a breakdown of how the $11 million in administrative costs was spent.
The city's Chief Development Officer, Andy Icken, was scheduled to speak but did not due to time constraints. He's expected to go before the council next week at a second special meeting.
District F Councilmember Tiffany Thomas, chair of the council housing committee, said she requested two additional housing department officials answer questions at the meeting, but they did not appear.
The meeting was spurred by comments McCasland made at a housing committee meeting on Sept. 21. The former housing director seemed to catch council members off guard when he accused Turner and some senior staff members of running a "charade" selection process to award $15 million in federal funds to a particular affordable housing developer.
Housing officials had recommended four projects to create 362 affordable units at $16.2 million, according to McCasland. Instead, Turner chose the Huntington at Bay Area project, which if approved would create just 88 affordable housing units for $15 million — four times the cost per affordable unit.
Its chances of approval by city council are unclear now that McCasland's allegations surfaced.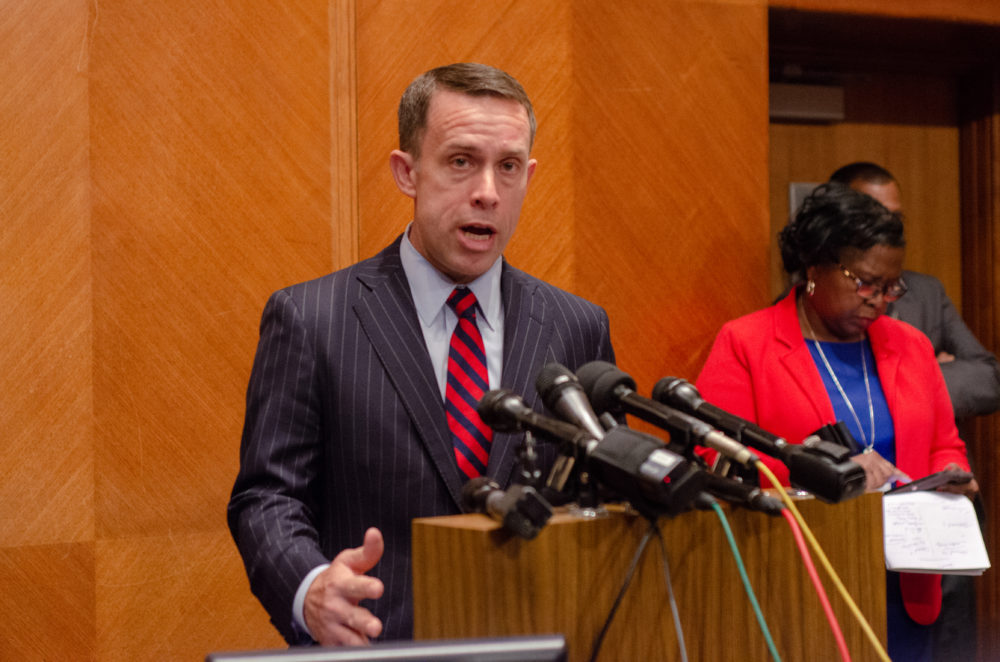 Thursday's meeting was believed to be an opportunity for the Turner administration to offer its side of the story. But additional questions about the mayor's involvement in the process remain unanswered, as the meeting's focus was squarely on what housing department officials argued was a history of bureaucratic mismanagement from McCasland.
Council members questioned whether McCasland had a conflict of interest as housing director because his wife, Elena White, has led nonprofit organizations that collaborate with the city to connect disaster-impacted residents with housing resources. In response, interim Housing Director Keith Bynam said no conflict of interest had occurred.
McCasland quickly tweeted that the mayor and council members were well aware of his wife's role.
I have briefed the Mayor, Housing Committee, and every Councilmember via a memorandum regarding the role Elena White, my spouse, played with Connective. I have also disclosed her role in my annual City financial disclosure. As briefed, no City funding has ever gone to Connective.

— Tom McCasland (@McCasland4HTX) October 7, 2021
District E Councilmember and Mayor Pro Tem Dave Martin, chair of the budget and fiscal affairs committee, implied the timing of McCasland's allegations against Turner was not a coincidence, suggesting that McCasland knew the department would soon face criticism from the Texas General Land Office for overspending on administrative costs.
"Suffice to say, this audit was done on Sept. 17 — GLO sort of got the information — and Tom McCasland dropped the bomb on Sept. 21," Martin said. "Is there a coincidence in that, or is that pure conjecture on my part? Don't answer that question."
But while all members of the council expressed concern over the spending, some, like District A Councilmember Amy Peck, questioned why the housing department's overspending hadn't been brought to council's attention sooner.
"If we're spending more than what we have budgeted, why was this never reflected in any agenda item that we voted on?" Peck asked. "Because I don't ever recall seeing anything that said that there was a fiscal note that it wasn't budgeted for."
"That I cannot answer," the housing department's Chief Financial Officer Temika Jones said.
Unlike other city departments that are funded primarily through the city's local general fund budget, the housing department receives an enormous amount of its annual funding from federal housing grant money — including the disaster recovery administrative funding that Jones and Bynam told council has been overspent.
Concerned council members called for increased oversight over how the housing department is spending that federal administrative funding — not just the money it receives from the city's local general fund.
"We still need to know, whether it's general fund or not, if we're spending more than what was budgeted," Peck said. "We need to be aware of that when we're voting on items."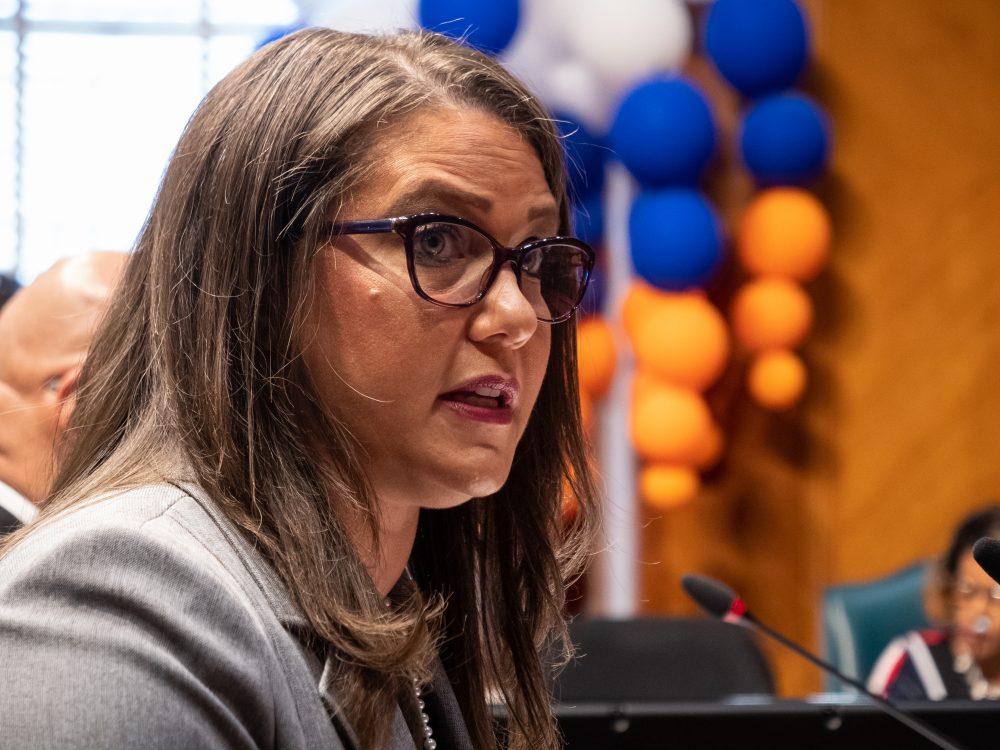 In response, Thomas, chair of the council housing committee, said council members could expect to see more financial reporting at housing committee meetings moving forward. Thomas also called for more transparency in how the city scores projects that are being considered for funding.
Turner did not attend Thursday's special meeting, but during the council's regular session one day earlier, he addressed McCasland's allegations, pointing out that by law the mayor has discretion to choose which projects receive funding under the program.
"I don't know what the allegation is," Turner said. "What I did hear from the former director was that there was nothing illegal, nothing fraudulent, and the decision (that) was made was within my discretion to make. Now that's what I heard. Now, if you know of an allegation, then say it. Because at this point I don't know what the allegation is."
Mark Musemeche with MGroup Companies is listed as developer on the Huntington at Bay Area project, according to state records. He has not responded to requests for comment.
Those records also show a company named Harbor Venture Group attached to the project. The documents list the mayor's former law partner, Barry Barnes, as a co-general partner and developer of that company. It also lists a partner at Barnes' firm named Jermaine Thomas as a principal.
Barnes and Thomas have also not responded to requests for comment.
Turner has not been with the law firm since he was elected mayor in 2015. He has denied any wrongdoing.
In a statement shortly after McCasland made the allegations, Turner said he instructed City Attorney Arturo Michel to review the allegations, "to determine whether there were any illegalities, fraud, conflicts of interests, violations of procedures, practices, and policies."
"My administration works extremely hard to avoid potential conflicts of interest, and I have not conducted business differently than any former mayor in the city of Houston," the statement read.
Michel offered an update on the investigation at Thursday's special meeting, informing council members that he's recommending the city hire an outside firm, Butler Snow, to investigate.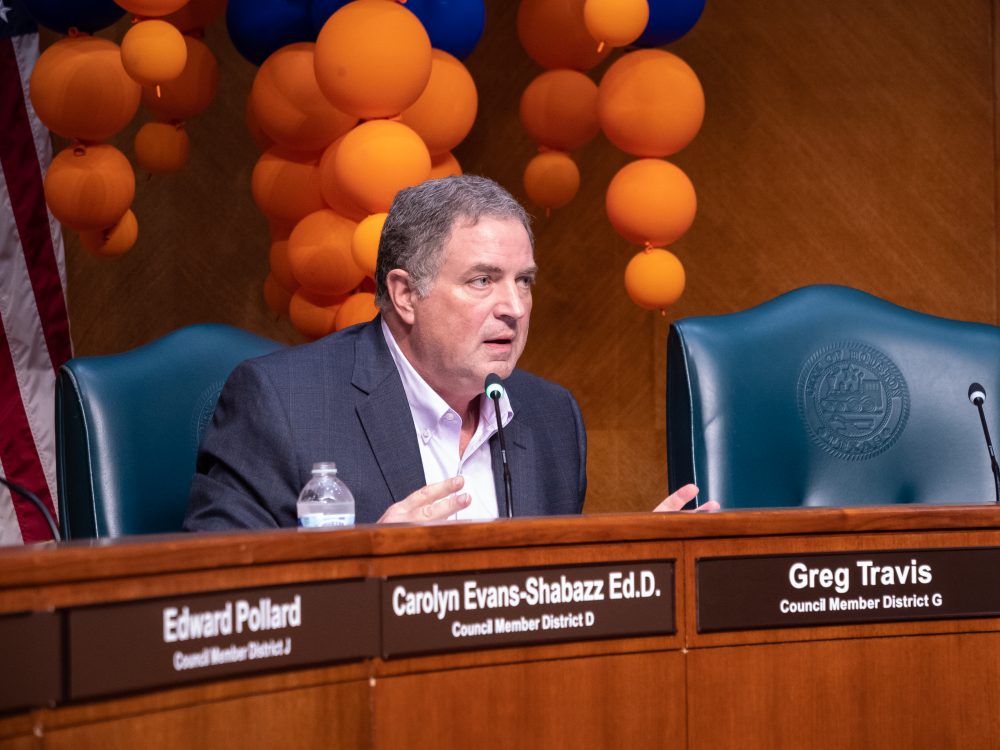 The Harris County District Attorney's Office is now investigating the deal, according to the Houston Chronicle, and the Texas General Land Office has publicly announced it was looking into the city's use of the federal funds. The GLO distributes all Harvey recovery money directed to the state from the U.S. Department of Housing and Urban Development.
The Huntington at Bay Area project was also awarded a highly competitive 9% tax credit this year from the Texas Department of Housing and Community Affairs after a recommendation from the city.
The mayor's office has noted that money for the mayor's chosen project had not yet been allocated — a point echoed in Thursday's meeting by interim Director Bynam.
"If you don't think it's good," Bynam said, "you can vote it down."
But Greg Travis, of District G, argued that McCasland's comments were the very thing that raised red flags in the first place.
"Would we be here right now if these allegations hadn't come forward on Sept. 21?" Travis asked. "And why aren't we talking about those allegations? Would we still have our head in the sand? Would we still not know any of this? Would none of this have ever come to light?"