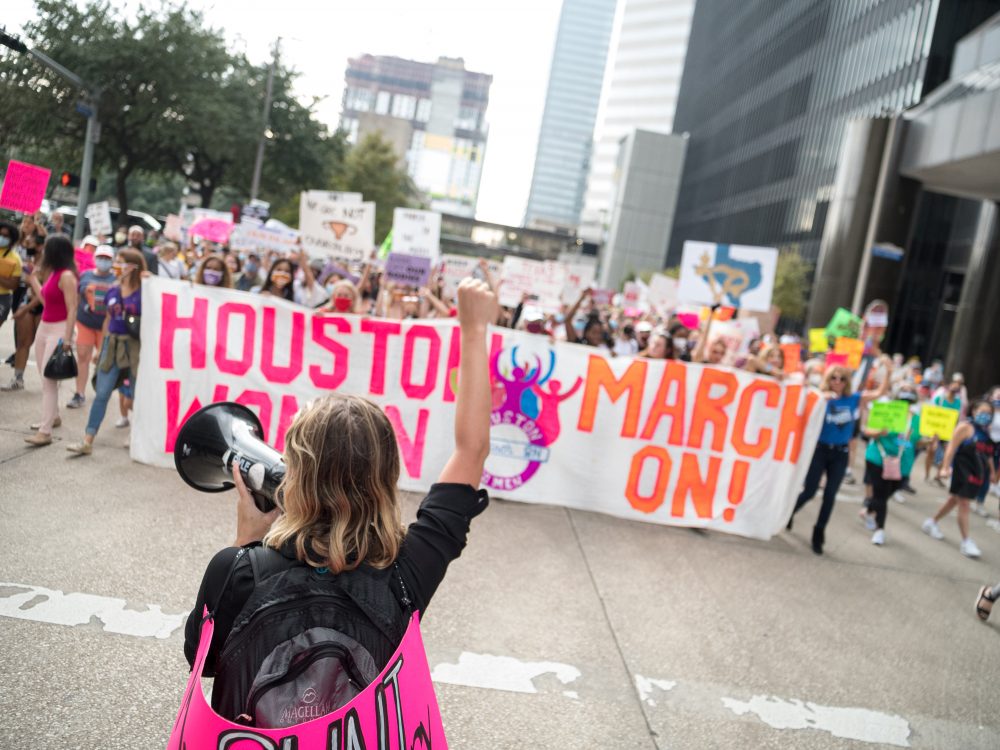 Thousands marched to Houston City Hall Saturday morning in protest of Texas' new restrictive abortion law, as hundreds of similar marches took place across the country.
The crowd began gathering at Discovery Green at 7 a.m. to protest against Senate Bill 8, which bans abortions after the first six weeks of pregnancy — before most women know they're pregnant. The new law also allows citizens to sue people or organizations who perform or helps someone get an abortion after cardiac activity is detected.
If successful, the plaintiff could be awarded $10,000 or more.
Monica Morales of the group Las Chingonas De Tejas waited at the park for the march to begin. She said she had previously helped loved ones who were seeking an abortion, and criticized SB 8 for restricting a woman's right to choose.
"I think that people forget that making that decision isn't so easy," Morales said. "Even though they have got it, it's the decision they had to make for whatever it is, and it still affects them afterwards, but that's their choice."
Romel Veals, 51, also arrived at the park before the march began. Veals said she wouldn't let the law stop her from lending a helping hand — despite the risk of legal retribution.
"If I did know someone, personally that needed the assistance, I would give it. Period," Veals said. "Driving them, giving them money to buy a ticket, I would do it."
At 9 a.m., the crowd began to march down the road towards City Hall, chanting in unison during the one-mile journey.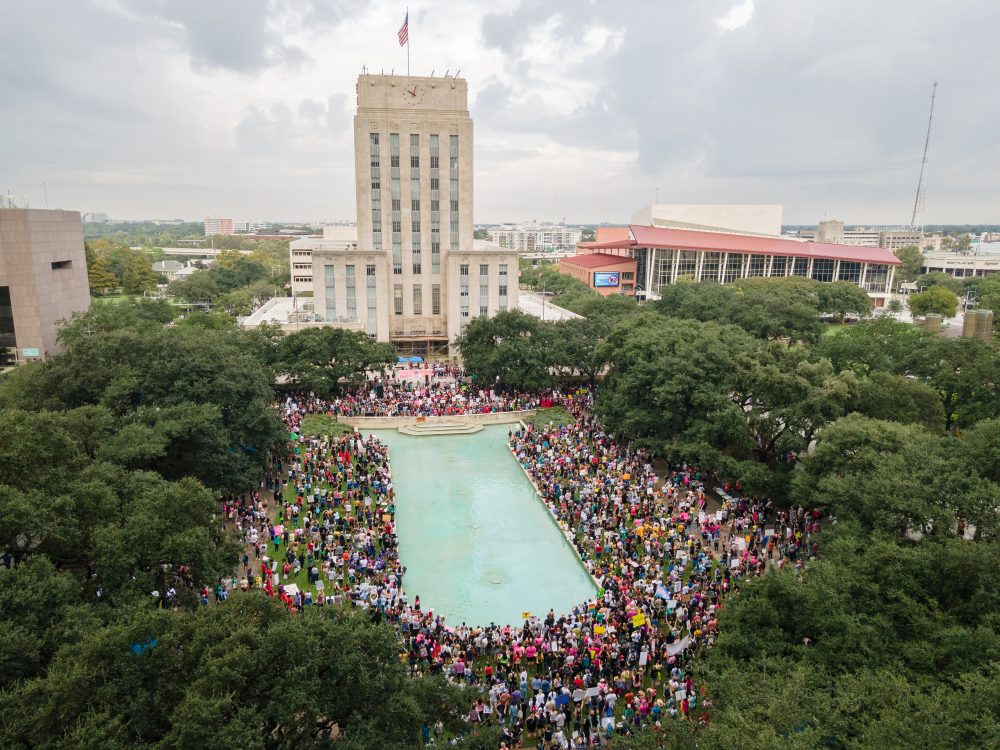 After arriving at City Hall, the crowd listened to several speakers, including Phyllis Randolph Frye — the first openly transgender judge appointed in the U.S.
Among those in attendance was Mayor Sylvester Turner, U.S. Rep. Al Green, and U.S. Rep Sylvia Garcia.
While the speeches rang throughout the courtyard of City Hall, Diana Barrera, 32, danced with an Aztec dance group called Danza Itcoalt Tezkatlipoka Houston just outside of the crowd.
Barrera said the dance elevates their energy and lifts up their prayers, which include women negatively impacted by SB 8 and her ancestors — indigenous women who've been stripped of their reproductive rights for centuries.
"Not only are we standing in our power as women, but if you take this back 500 years ago, our women were forcibly sterilized as a way to control our population, as a form of genocide," Barrera said. "So this is something that we haven't just been resisting, since Abbott decided to come up with this crazy law. But we've been resisting this type of violence against women for over 500 years."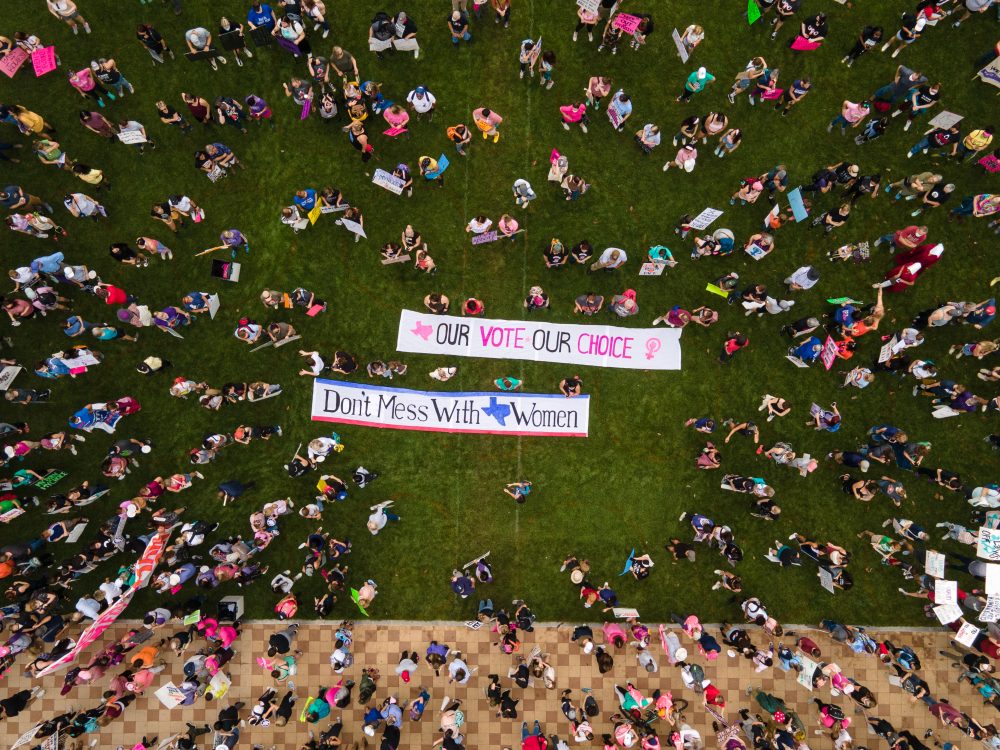 Rallies took place across the country Saturday aimed at condemning efforts in states like Texas that are passing laws severely curtailing access to abortion.
"The demonstration in Austin was organized by local activists, and supported by Deeds Not Words, as part of the national day of action featuring more than 600 events in all 50 states," according to a statement from organizers.
Texas has the most restrictive abortion ban in the country. The law has been in effect since Sept. 1.
Courts, including the U.S. Supreme Court, have refused to block the law so far. Every other state that has tried to enact similar laws has been stopped after courts ruled the laws were unconstitutional. In effect, Texas is now the only state in which the legal precedent set by Roe v. Wade — which legalized abortions in the 1970s — has not been in effect.
The Texas law prohibits people from getting an abortion as early as six weeks, even in cases of rape, sexual abuse or incest. Instead of requiring enforcement by the state, lawmakers drafted the law to be enforced by private citizens, which is a reason it hasn't been blocked by the courts.
The U.S. Justice Department has asked the federal court in Austin to at least temporarily halt the ban. It argues Texas is violating the constitutional rights of Texan.