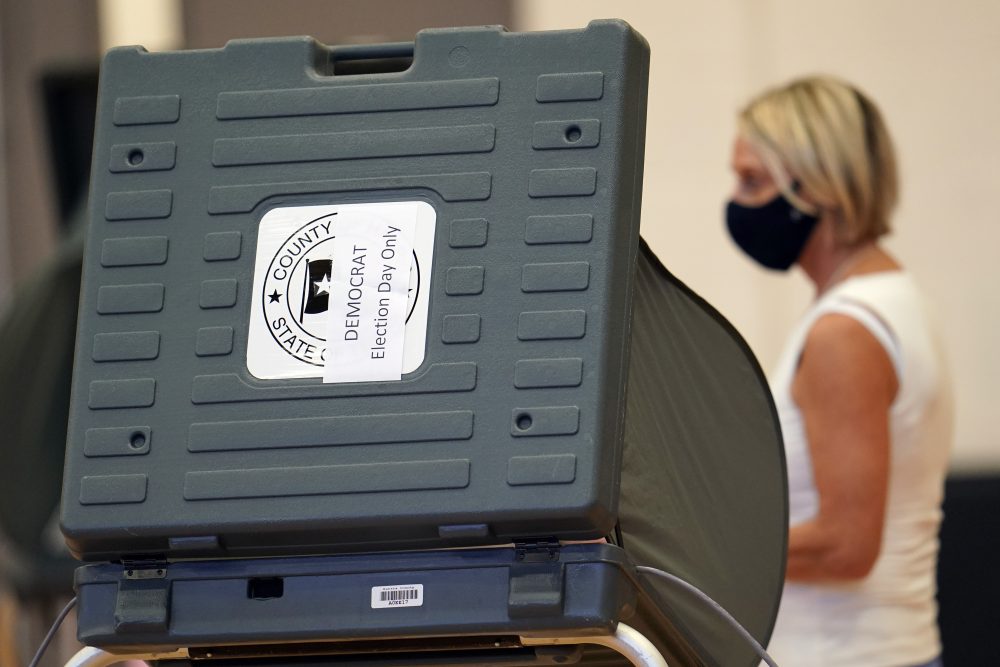 The state of Texas will conduct an audit of election results in Harris County and three other counties in the state, the secretary of state's office announced late Thursday.
The announcement came just hours after former President Donald Trump — who for months repeated baseless claims that widespread voter fraud resulted in his 2020 election loss — requested that Gov. Greg Abbott add the audit to a special legislative session agenda.
Texas has been without a secretary of state ever since the resignation Ruth Hughs in May, and it was not clear who made the decision to conduct the audit. In a brief statement, the office said it had already begun the process in "Texas' two largest Democrat counties and two largest Republican counties—Dallas, Harris, Tarrant, and Collin—for the 2020 election."
Three of the four counties voted for Joe Biden in the 2020 election. Only one, Collin County, voted for Trump.
The move was blasted by Harris County Democrats and elected officials as a partisan attack on the election process.
"Donald Trump ordered Gov. Abbott to audit the 2020 election, and like clockwork, Texas just initiated an audit of Harris County voters," said Harris County Judge Lina Hidalgo. "Democracy isn't a game. These fake audits are an affront to all voters, Republicans and Democrats, and it's pure pandering to the kinds of extremists that stormed our capital."
At an afternoon press conference, Hidalgo said she would look at what legal options the county had in responding to the secretary of state's office announcement.
"I will not treat this as a serious audit, because it's not," Hidalgo said.
The county was not contacted before Thursday night's announcement, and as of Friday afternoon, county officials had still not received any information on the audit, according to the election administrator's office.
Harris County Attorney Christian Menefee said he would review any records requests from the state on a case-by-case basis, but that he believed the audit was done in bad faith to appease "a gentleman who lost an election 11 months ago."
"Serious people wouldn't have approached it this way," Menefee said. "When you follow an unserious former president, you do unserious things."
A previous review of Harris County election results by the Harris County District Attorney's Office, the County Attorney's Office, the County Clerk's Office, and the Office of Precinct One Constable Alan Rosen previously found no evidence of fraud in the November election.
Earlier this year, a deputy for Hughs told state lawmakers that "Texas had an election that was smooth and secure."
In a statement, Harris County Democratic Party Chair Odus Evbagharu called the audit an "absolutely absurd" attempt by Republicans to disenfranchise voters.
"Maybe the GOP and Donald Trump himself aren't clear about this, but Trump won the state in an election that was declared 'smooth and secure' by the Texas Secretary of State," Evbagharu said. "The state announced this audit within hours of Donald Trump's push for one. Who is Governor of the State of Texas Greg Abbott or Donald Trump?"
This is great news for Texas! https://t.co/RzcZHtngLO

— Attorney General Ken Paxton (@KenPaxtonTX) September 24, 2021
Trump lost the 2020 election with 232 Electoral College votes to Joe Biden's 306. Biden received 81,268,924 total votes, and Trump received 74,216,154, according to popular vote totals tallied by the U.S. Federal Election Commission. It was the largest share of the popular vote by a presidential challenger since 1932.
Nonetheless, the former president and other Republicans disputed the results after the election, alleging widespread fraud despite any evidence that such fraud was present. Allies of the president and others sued to overturn the results, and at least 63 lawsuits were dismissed after judges discovered no evidence to support fraud claims.
Texas played a major role in those legal battles, with Attorney General Ken Paxton unsuccessfully challenging the results in the U.S. Supreme Court.
State Rep. Briscoe Cain, R-Deer Park, traveled to Pennsylvania after the election to help the Trump campaign challenge Biden's victory. Cain was later appointed to chair the Texas House Elections Committee.
Seventeen Texas Republicans in Congress later voted to reject the election results in Arizona and Pennsylvania, as did U.S. Sen. Ted Cruz. Both states were won by Biden. U.S. Rep. Beth Van Duyne of Irving split her votes, objecting to Pennsylvania but voting no to the Arizona challenge.
That same day, pro-Trump rioters stormed the U.S. Capitol. At least 58 Texans face charges in connection with the insurrection. Paxton spoke at a rally organized by the former president in Washington, D.C. directly preceding the riot.
MORE | 'National Disgrace': Houston Reacts To Siege At The U.S. Capitol
In the months since, Texas Republicans have pushed for and passed new voting restrictions that supporters say are an effort to shore up election integrity in the state. Opponents say the law, Senate Bill 1, is an attempt at voter suppression.
SB 1 targets some of the voting laws enacted in Harris County during the 2020 election in response to the COVID-19 pandemic, including drive-thru and 24-hour voting.
In a statement, Harris County Elections Administrator Isabel Longoria said her office was focused on providing "innovative, equitable approaches" to voting during the pandemic.
"We have seen countless attempts to delegitimize the 2020 election," Longoria said. "(Thursday's) actions represent another attack by officials on our communities' trust in elections."