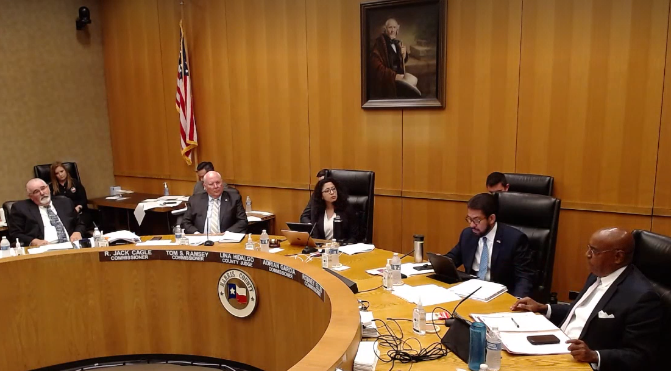 Harris County is likely to pass a 3% property tax rate cut next week after two Republican commissioners who teased a quorum break vowing to show up for a vote, Commissioner Adrian Garcia announced on Wednesday.
The rate cut, the third such cut in as many years, would bring the county's property tax rate to about 58.1 cents per $100 of taxable value.
Republican Commissioners Jack Cagle and Tom Ramsey had threatened to break quorum the day of the vote, forcing the tax rate to revert to an even lower level. State law requires four members to be present for a quorum.
That threat has receded, with Cagle and Ramsey assuring Garcia, the tax cut's author, that they will attend Commissioners Court next week after a compromise was reached, Garcia said.
"Commissioners Court works best when we compromise, and while no one is getting everything they want, this will serve the County well during these unique times," Garcia wrote in a statement.
Ramsey appeared to confirm the deal with Garcia on social media.
Taxpayers…I have good news. More to come tomorrow.

The short version…your tax rate is going down and the county will be collecting less.

— Tom Ramsey (@TomSRamsey2) September 22, 2021
The Democratic members of Harris County Commissioners Court proposed cutting the county's overall property tax rates last week, but the two Republicans wanted to push those cuts even further, going as far as to hint at the possible quorum break.
Democratic Precinct 2 Commissioner Adrian Garcia originally proposed cutting property taxes by 2.2% to 58.6 cents per $100 of taxable value.
That proposed tax rate was supported by the other two Democrats on the Commissioners Court, Harris County Judge Lina Hidalgo and Precinct 1 Commissioner Rodney Ellis.
But Cagle and Ramsey argued the proposed cuts didn't cut deep enough. Cagle, who proposed decreasing property taxes to 57.5 cents per $100, told Houston Public Media last week that he believed that Democrats have been spending too much money on new county departments — leaving the budgetary burden to fall onto taxpayers.
"When our budgets now are getting higher, the way to solve it is not by raising the taxes after this pandemic," Cagle said. "The solution is for us to tighten our belt, like the public here has had to tighten their belts."
The next commissioners court meeting is Sept. 28, during which commissioners are expected to pass the measure.
Additional reporting by Sara Willa Ernst.