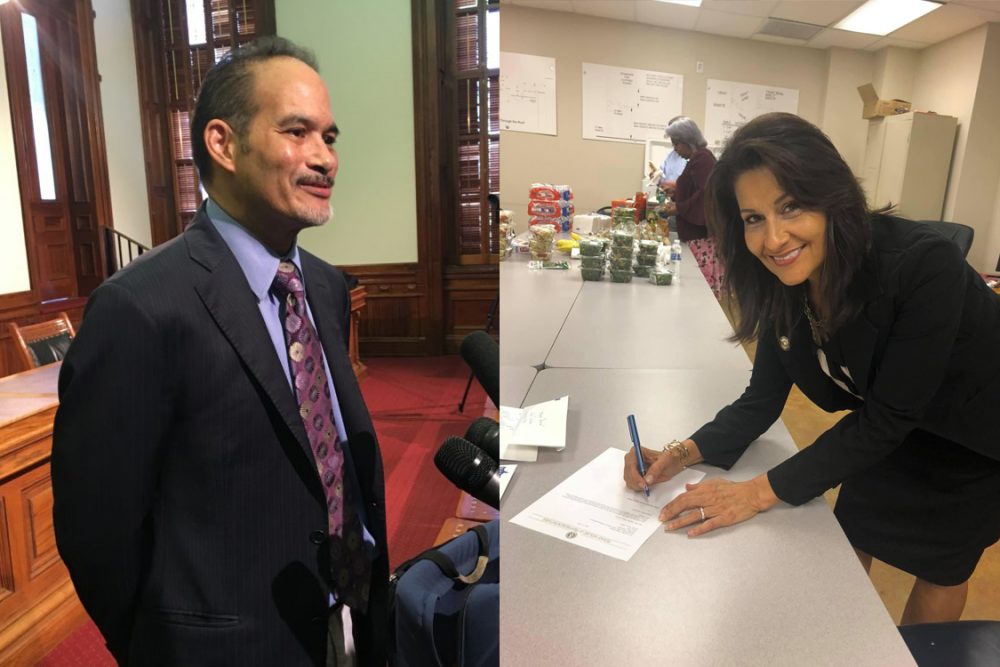 Texas Democratic state representatives Garnet Coleman and Penny Morales Shaw were among at least 50 House Democrats Monday to stage a second walkout in order to stop GOP-backed bills from passing during the special legislative session.
The two representatives discussed the walkout, and the potential outcome during Tuesday's Houston Matters.
This interview has been edited for length and clarity.
Craig Cohen: We start with Texas Democrats bolting from the special session in Austin and from the state of Texas. The move keeps the Texas House from having a quorum — at least two-thirds of lawmakers present to pass bills which would ban drive-thru and 24-hour voting, make mail-in voting more difficult, increase criminal penalties for voting mistakes, and give partisan poll watchers more authority at voting sites. NPR reports at least 50 of 67 Democratic lawmakers flew to Washington to lobby Congress to pass federal voting protections. The Texas Tribune pegs the number above 51. That matters, as that's the number needed to break the quorum. Among them, Texas 147th district Democrat Garnet Coleman. He's on the line. Representative, good morning.
Garnet Coleman: Good morning.
Why did you leave Texas?
Coleman: Well, actually, to be clear, I'm still here in an undisclosed location because of health concerns. But I'm in solidarity with my colleagues that have flown up to Washington D.C., I led, along with two other members, our quorum break to Ardmore in 2003. So I know exactly what they're going through. What matters is those people who are not on the floor. As long as there's not 100 people on the floor, the action cannot happen. So I'm in the numbers that prevent a quorum from being present.
We also have Texas Representative Penny Morales Shaw with us today. Shaw represents district 148 in the Texas House. Representative, good morning.
Penny Morales Shaw: Good morning.
You are in D.C. right now, correct?
Morales Shaw: Yes, I actually had to step out of a huge crowd, because we just started our press conference here on the steps of the Capitol. But I'm happy to be with you this morning.
Why in your words was this walkout necessary?
Morales Shaw: It's necessary for Texas to finally embrace all of its people, and expand and make consistent laws that confirm access to voting. And that's not what's happening at the Texas House. We are here (in Washington) to work hard for the people, for each of our constituent groups, to ask and plead with Congress to pass laws that will give states oversight, especially if we are being threatened with laws that will further felonize, criminalize and make voting more difficult than it is. And Texas, as you know, has one of the most stringent election laws already.
House speaker Dade Phelan has basically said they'll do whatever is necessary to establish a quorum. And that includes arresting you and returning you to the House floor if they so choose.
Coleman: Well, since I just got the bottom part of my leg amputated, if they want to drag me onto the floor of the House, let them do it.
Are you confident that you and at least 50 other Texas House Democrats can remain off the House floor indefinitely?
Coleman: Yes I am confident. And not indefinitely, nothing's indefinitely. I believe that we can do this through this special session. And again, remember, it's not that somebody is in Washington, D.C., it's that they're not on the floor. I went through this in 2003 with several special sessions. So, I led that group with State Rep. Pete Gallego and State Rep. Jim Dunnam, and I can tell you, these are stressful things. But I think that my colleagues did the right thing by going to Washington, D.C. And if I could get myself together, and that's it wouldn't in a wheelchair, that I'd be on a plane out there too.
Representative Penny Morales Shaw, what would you like to see happen before you join lawmakers in session again?
Morales Shaw: Well, I'd like to see — what we've all liked to see ever since the first bill came through in June, and the end of May — is that they come to reasonable terms with us. First of all, this is a solution without a problem. It's looking for a problem that doesn't exist. We want them to realize that and if their concern is election fraud, somewhere hypothetically in the future, because it doesn't exist now, or if it does is nominally, then let's pass the bill for elections securitization. Not hampering voter access, criminalizing our election workers who go there to uphold democracy, or limit access to voters who maybe work at plants or in the petrochemical industry, or who work in the medical industry and have strange hours. And if you're not well, you know, let them have access to vote by mail, without impossible hurdles. Let's make laws that help young people register online, that people can use college ID to vote. And if you're worried, again, about some hypothetical or future possibility of fraud — because there's no proof of it now, and I'm a 20-year lawyer, so we look for the facts — then let's have a reasonable voter securitization election law. We live in a time where we have advanced technology. We do all sorts of incredible things. Yet, we have an archaic voting system that we just want to continue to add criminal penalties to and that's my biggest issue with this bill. But there are many.
The special session continues until Aug. 7, and if nothing changes between now and then, Gov. Abbott could just call another special session. What's to keep this from being an indefinite process?
Morales Shaw: It's really his unilateral decision, just like it was his unilateral decision to detail a line item in the budget to cut 2,165 state workers' pay. That was something he did, he can undo if he wants to. It's the same for this. He has unilateral power to continue to force us to come to the floor and vote on a bill that has no modifications, no amendments, doesn't include any of the public input that came out of the recent committee hearings and the former committee hearings. He can continue to do that. And we're Texans, we fight. There's no reason why we should trust Texans with guns, but not ballots.
Texas Democrats' decision to break a quorum of the #txlege inflicts harm on the Texans who elected them to serve.

As they fly across the country on cushy private planes, they leave undone issues that can help their districts & our state.

It's time to get back to work. pic.twitter.com/XE8VcgOFhs

— Greg Abbott (@GregAbbott_TX) July 12, 2021
Above: Gov. Greg Abbott criticized Democratic lawmakers over their decision to leave the state and block legislation from passing in the special session.
The governor characterizes this move as a refusal to show up for work and do what you were elected to do. Does he have a point?
Coleman: Balderdash. We are working. We're representing our constituents who believe in free and accessible access to the ballot. And if this is how we can represent them, that's the best thing that we can do. It's not not working, it's actually working to make sure that they are represented in the most vigorous way that we can do it. And this is what this is all about. You know, the governor is really funny. The agenda he laid out was an agenda to do both election reform of some sort that makes it harder for people to vote in, and could create intimidation in the ballot box and in the precinct. And the lieutenant governor is doing trans kids in sports — that's their agenda. I don't know why they're saying we're stopping our own agenda, because they put that agenda out there as what they want to pass. I think it's better to go kill bills, then think that everything is about passing a bill.
I will point out that the items, the things that he said that you were keeping from occurring, were not necessarily the items that he identified for this special session. Rep. Morales Shaw, your reaction?
Morales Shaw: Let me start by saying that each of those issues that he talks about, those are not new issues. Those are issues that we vigorously, vigorously pushed for during regular session. And honestly, there was no reason why each of those measures could not have passed, other than the powers that be that holds the levers, and that's the GOP, so they didn't pass those measures during regular session. If you look at the legislative bills that were filed, you will find each of those and probably multiple versions of them. And then, just to speak to the fact that we're not working. If we're not working, I don't know what we're doing. This is this is more than work. It's sacrificial work, we're away from our families, we're away from our homes. We're away from our own businesses. We are here to work for the people, this is no vacation> We're just not doing the work that he wants us to do. We are not bending to their will, we are bending to the will of our constituents and of the people of Texas, because let me tell you, this bill, it's not going to affect one person, one party or another, it's going to affect everyone. It will affect seniors, it will affect young people, it will affect disabled people, it will affect all people of all creeds. So we are really working on behalf of more than our constituents. But for the people, we're here today in Washington, not on cushy planes, their regular charter planes, paid for by the House Democratic Caucus. And in a regular old hotel, there's nothing exceptional or luxurious about either. And again, we're away from all of our own amenities. Some of us have health issues we're dealing with and we have to make this sacrifice, because every single law in this country and in our state is birthed at the ballot box — what does or doesn't happen there. So this is paramount that we'd be here and we'd be fighting for the expansion and not restriction of voter rights.