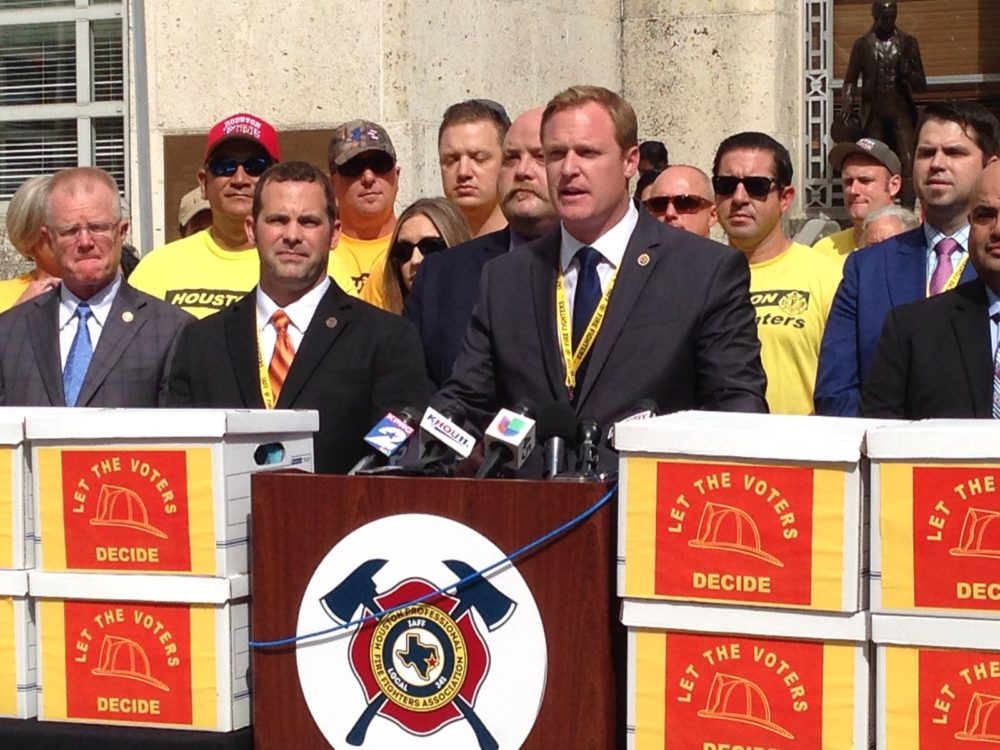 Houston's firefighters union has obtained enough signatures on a petition to put a charter amendment on the November ballot, which would force binding arbitration if contract negotiations with the city reach an impasse, according to union president Marty Lancton.
Lancton said Friday the petition gained more than 20,000 signatures in the past month, the minimum needed to put a measure on the ballot. The signatures will now be verified by the city secretary.
"Houston voters have a right to vote on this in November and it is the city's ministerial duty to honor that right," Lancton said.
The Houston Professional Fire Fighters Association and the city of Houston have been locked in a legal battle over a pay increase through a collective bargaining contract since 2017. Lancton said the proposed measure would be more "cost-effective" than continuing the battle in court.
If passed, the measure would force the union and the city into arbitration if contract negotiations stall, meaning both parties would need to submit a contract proposal to a panel of three judges. That panel would then create a contract that both parties would be forced to accept.
Mayor Sylvester Turner has publicly opposed the referendum, saying it would put financial constraints on the city's budget. Instead, he proposed an 18% pay increase for firefighters in May — a proposal that city council approved last month.
Lancton has pushed back on this idea, calling the proposed raise a "bonus," due to the fact that it would be covered using temporary federal funding from the American Rescue Plan Act.
During the Friday press conference, Lancton said that the union would prefer to keep the process outside of the courts, but would take legal action if the city attempted to delay the process and prevent the charter amendment from being placed on this year's ballot.
"We are prepared to seek help from the courts if the city delays validation of our city charter amendment petition, or tries to keep this issue off of the November 2021 ballot," Lancton said. "If the citizens are signing a petition, it's because they believe that there's an issue going on right now."
Lancton made reference to Austin and San Antonio, which already allow binding arbitration when labor disputes stall out with the city. San Antonio recently resolved a six-year stalemate between the city and its firefighters union, after voters in 2018 approved a city charter amendment requiring mandatory arbitration.
Houston, on the other hand, has fought against the union's collective bargaining efforts — going as far as declaring the statute unconstitutional in an appeal filed with the Texas Supreme Court after a panel of justices ruled in favor of the union in May.
"It is not up to the mayor to decide whether or not he wants to enforce a statute," Lancton said. "It is the law."
Additional reporting by Jen Rice.