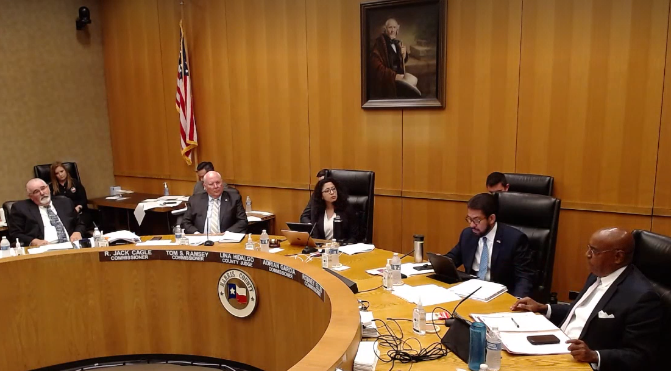 Harris County leaders on Tuesday approved a new county administrator that County Judge Lina Hidalgo said would coordinate with and oversee county-level departments.
The administrator, who would be appointed by the Harris County Commissioners Court through a majority vote, would take over day-to-day operations of the the county and "ensure that planning and implementation are responsive to the goals in court," Hidalgo said at Tuesday's Commissioners Court meeting. That person would also be subject to removal by the court.
"We need to take the politics out of the minutiae of, you know, 'what materials are used for a broadband tower?'" Hidalgo said. "We just need to decide that we need broadband."
The administrator would also be supported by deputy county administrators, who would each manage different departments, and would work with commissioners to set goals for those departments.
"For a very long time, the tendency in Harris County, for many decades, (was that) folks that end up in these departments is somebody who knew somebody who knew somebody who knew somebody," Hidalgo said. "This county administrator will be in charge of evaluating, making the decisions as to who the department heads are. And of course, Commissioner's court always can hold the county administrator accountable.
County Budget Director David Berry was picked the fill the role.
The measure passed 3-2 on party lines — an issue that Precinct 4 Commissioner Jack Cagle, a Republican, said raised serious concerns about the balance of power in the county.
"That means that three of us will control the county administrator, and the power will actually be increased in your column instead of defused," Cagle said.
Supporters noted that the county administrator model was already in use throughout other large counties in Texas, including Bexar, Dallas, El Paso, and Tarrant counties. Travis County does not currently have a county administrator.
A slew of witnesses stood up to voice objection to the change, largely taking issue with what was perceived as a lack of transparency. Critics of the measure have said it did not have sufficient public notice — Cagle said the commissioners were only made aware it would be on the agenda Friday.
The two Republicans on the court also argued the position is unnecessary and adds an additional layer of bureaucracy to the process, while adding concerns about a possible overreach, with Precinct 3 Commissioner Tom Ramsey calling it a "power grab" — though Hidalgo noted that Democrats currently already hold a majority to make massive changes in the county without an administrator.
"It's not necesarily what we do today," Ramsey said. "It's what this sets up for. This is step one, in terms of making a significant change in a county, that we need to be careful of."
Additional reporting by Jen Rice and intern Shivani Parmar.