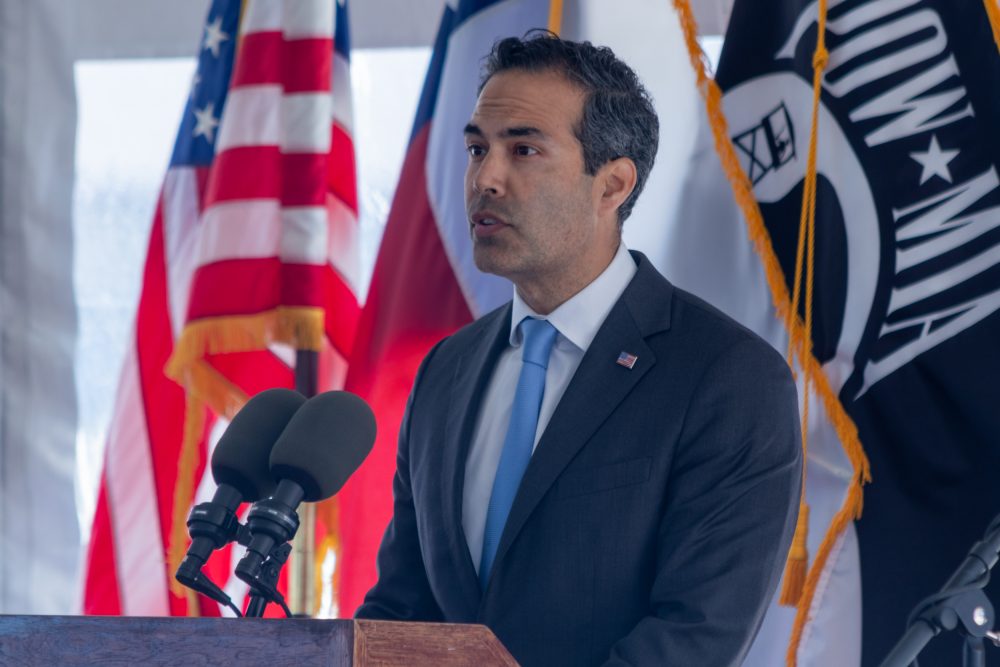 Texas Land Commissioner George P. Bush on Wednesday promised to allocate $750 million in federal Hurricane Harvey relief funding to Harris County, after days of criticism from Democratic and Republican leaders across the Houston area.
Bush, who has said he is "seriously considering" a primary challenge to Texas Attorney General Ken Paxton, made the announcement on Twitter, with the message, "Houston, I hear you."
Houston, I hear you. pic.twitter.com/urAK0uL7xw

— George P. Bush (@georgepbush) May 26, 2021
Harris County, which dealt with the brunt of damage from Harvey's landfall in 2017, requested $1.3 billion in funding from the U.S. Department of Housing of Urban Development, distributed through the state General Land Office.
In response, they state agency offered nothing.
The decision sparked outrage among local leaders, who said the matrix used by the GLO to determine how to allocate funds skewed towards smaller cities and counties.
On Wednesday, Harris County Judge Lina Hidalgo said the GLO's about-face was encouraging, but ultimately fell short of county requests.
"I support and continue to call for certainty in funding, but $750 million for Harris County is still a mere fraction of the $4.3 billion that the State received for flood mitigation after Hurricane Harvey and not enough to meet our needs," Hidalgo tweeted.
Harris County is the epicenter of our nation's energy infrastructure, home to 5 million, suffered over half of the damages & deaths in Harvey, and continues to be vulnerable to flooding. We will continue working with leaders from our County, GLO & HUD to secure a fair allocation.

— Lina Hidalgo (@LinaHidalgoTX) May 27, 2021
Mayor Sylvester Turner agreed, arguing that the city and the county both deserve $1 billion.
Harris County commissioners on Tuesday voted unanimously to condemn the state office and vowed to lobby both Austin and Washington to bypass Bush's office, while contemplating possible legal action.
"It is now incredibly clear that the state works to actively screw us," Democratic Commissioner Adrian Garcia said at the meeting.
A day later, Hidalgo, Turner, the county commissioners and city council members drafted a letter to the office, expressing disappointment in the decision and asking Bush and the GLO to reconsider.
Turner earlier this week called the GLO's decision "unfathomable."
"You can't justify that," Turner said this week. "And so you have a bipartisan effort of local leaders, Democrats as well as Republicans, who are pushing back very strongly to say to GLO, the state, 'you need to reconsider that.'"
Bush, meanwhile, has blamed HUD, saying his hands were tied.
"I have heard the overwhelming concerns of Harris County regarding the mitigation funding competition," Bush wrote Wednesday. "The federal government's red tape requirements and complex regulations are a hallmark of President Biden's administration."
HUD has rejected that position, saying it was not responsible for the state's matrix for allocation, and has not prevented the state from providing any funds.
"We believe all areas of the state, including Houston and Harris County, should receive the resources they need to recover from Hurricane Harvey," read a statement from HUD spokesman Michael Burns this week.