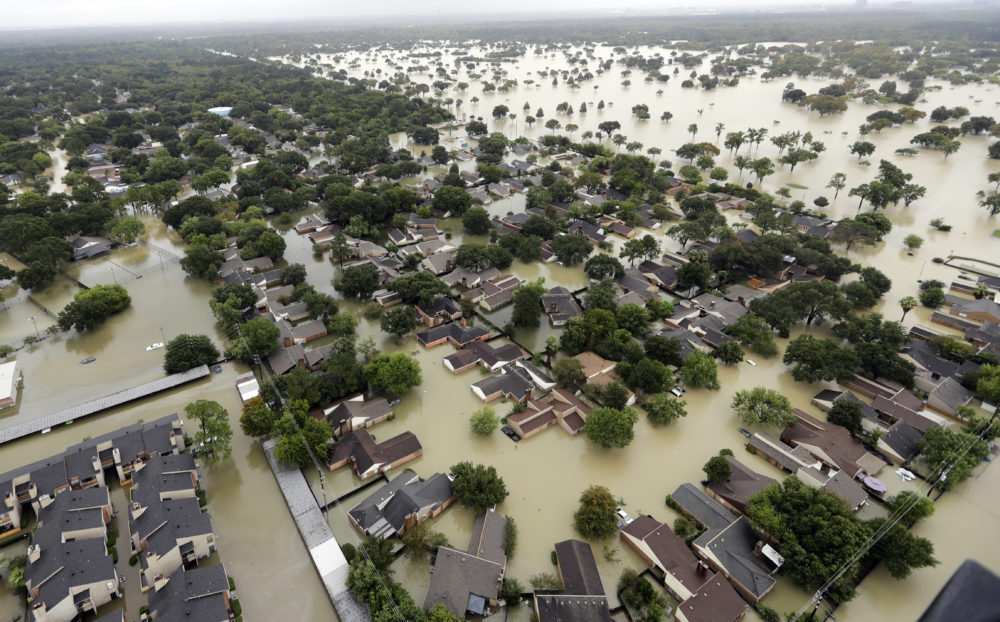 In this Aug. 29, 2017 photo, water from Addicks Reservoir flows into neighborhoods from floodwaters brought on by Hurricane Harvey in Houston.
Republican and Democratic leaders in Houston and Harris County sent a joint letter to the Texas General Land Office requesting federal Hurricane Harvey relief funds Wednesday, after the state agency rejected a billion-dollar aid request from the local governments.
The bipartisan letter signed by the entire Harris County Commissioners Court, Houston Mayor Sylvester Turner and eight city council members expressed dissappointment in the land office's decision, and asked the GLO to reconsider.
NEW: We're sending a letter signed by ALL of Houston City Council and Harris County Commissioners Court, Republicans and Democrats, to @txglo over the lack of Harvey mitigation funding for our region. The unanimity speaks to the magnitude of this issue. We must make it right. pic.twitter.com/b5vwmoOFbO

— Lina Hidalgo (@LinaHidalgoTX) May 26, 2021
The letter comes one day after hours of testimony from more than 60 people at commissioners court, where Democratic and Republican Harris County leaders voted unanimously to condemn the GLO for its decision to grant Harris County zero dollars in its first tranche of Hurricane Harvey relief funds from the U.S. Department of Housing and Urban Development.
Harris County had requested more than $1 billion in federal relief, which is doled out by the state agency. But while four small cities in Harris County — Baytown, Galena Park, Jacinto City and Pasadena — received $90 million, neither Houston nor the county itself received anything.
"It is now incredibly clear that the state works to actively screw us," said Democratic Commissioner Adrian Garcia, "and we just can't sit by and take it anymore."
There remains an additional $1.1 billion in Harvey relief that has not yet been allocated.
Hurricane Harvey made its way to the Texas coast in the summer of 2017, sitting over Houston for days and bringing with it more than 60 inches of rain, flooding highways and leaving more than 200,000 homes and businesses either damaged or destroyed. About 32,000 Houstonians were displaced from the storm, and at least 68 people died.
All of those factors combined caused $125 billion in total damage. The county requested $1.3 billion in federal funding from the first round distributed by HUD.
Instead, the county got nothing.
The next steps will include heavy lobbying in Austin and Washington to overturn the GLO's decision.
But it could also could include legal action.
"We authorized the county attorney to get legal, technical experts, if there is a cause of action or if there is an administrative procedure that we can challenge," Harris County Commissioner Rodney Ellis said after the court met in executive session Tuesday. "We think it was inequitable."
Witnesses from across Harris County uniformly criticized the state for its handling of the federal money.
"Having suffered the most damage from Harvey, for us to not get any funding, is nothing short of a slap in the face," said Precinct 3 resident Sanjay Ramabhadran, a member of METRO's board of directors.
"I was in school with the commissioner of the GLO, George P. Bush," said Pastor Rick Martinez of Houston's Bethel Community Church, "and quite frankly, I'm astonished that a man with a law degree from the University of Texas cannot — or let me rephrase that, will not — do the simple math that needs to be done here."
In order to determine who received funding, the Land Office created a matrix which Harris County leaders said puts the city at an immediate disadvantage due to its large population.
Tom Ramsey, the Republican commissioner for Precinct 3, said the move was so divisive that it brought together a sometimes politically polarized court.
"All five of us are united," Ramsey said. "That speaks volumes to a lot of different people who would like to make this political. And I don't know, maybe how we got here was political. But how we're going to get out of this is not going to be political. It's going to be (a) clear and direct allocation to Harris County, and $1 billion is my minimum expectation."
Additional reporting from Matt Harab.
Correction: A previous version of this story misstated which agency came up with the federal Harvey funding matrix. It was the General Land Office, not HUD, which has publicly said that "all areas of the state, including Houston and Harris County, should receive the resources they need to recover from Hurricane Harvey."