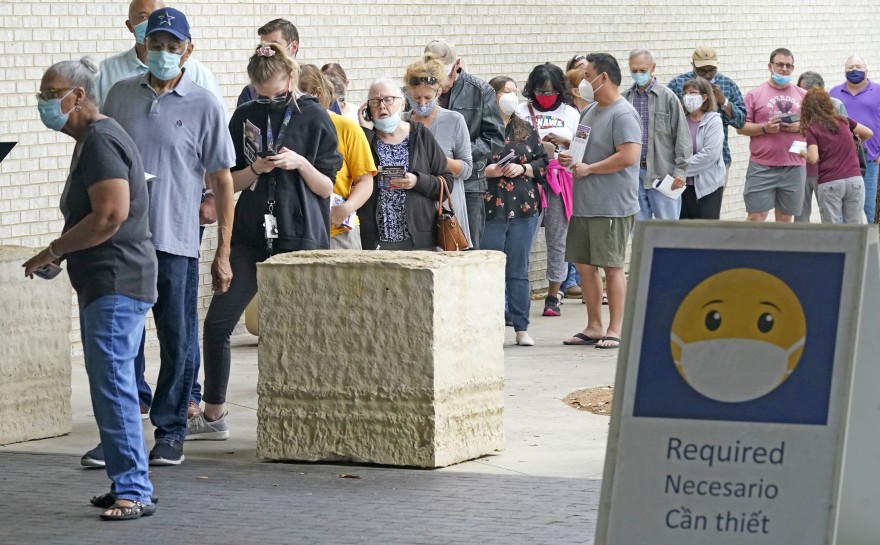 Texas government entities are no longer allowed to mandate masks, Gov. Greg Abbott announced in an executive order on Tuesday.
The restriction precludes counties, cities, school districts, public health authorities and government officials from requiring mask-wearing in response to the COVID-19 pandemic.
Government entities that don't adhere to this new restriction will be subject to a $1,000 fine.
"The Lone Star State continues to defeat COVID-19 through the use of widely-available vaccines, antibody therapeutic drugs, and safe practices utilized by Texans in our communities," said Abbott in a press release.
Public schools are permitted to continue following mask mandates for now, but no student, teacher or parent will be required to wear a mask in public schools beginning June 4.
Hospitals and long-term care centers supported by the state are exempt from this order. State, county and juvenile corrections facilities are also exempt.
The order also reiterated Abbott's March 2 executive order, which lifted all restrictions for businesses to operate, superseding any orders by a local official.
"Texans, not government, should decide their best health practices, which is why masks will not be mandated by public school districts or government entities," Abbott said. "We can continue to mitigate COVID-19 while defending Texans' liberty to choose whether or not they mask up."
In Houston, the news came during a press conference in which Harris County Judge Lina Hidalgo announced the county would lower its COVID-19 threat level — from its most severe level, "red," to "orange" — and issued guidance for vaccinated people to resume most activities without a mask except where required in businesses or the workplace.
That decision was made after a downward trend in some key metrics, including cases and hospitalizations.
Hidalgo appeared to be caught off guard when asked by a reporter about the governor's mandate. In her prepared remarks, she specified government buildings and libraries would still require masks — a rule that looks to have been usurped by the governor's authority.
She said she was especially concerned about how it could impact school communities, and asked local families to take precautions.
"These kids are around teachers, around classmates who may not have gotten the vaccine," Hidalgo said. "They can spread it. So just think about that when you're deciding what to do and what your child should do."
Additional reporting by Houston Public Media's Matt Harab.
Got a tip? Email Haya Panjwani at hpanjwani@kera.org. Follow Haya on Twitter @hayapanjw.
This story originally appeared on KERA in Dallas. KERA News is made possible through the generosity of its members. If you find this reporting valuable, consider making a tax-deductible gift today. Thank you.