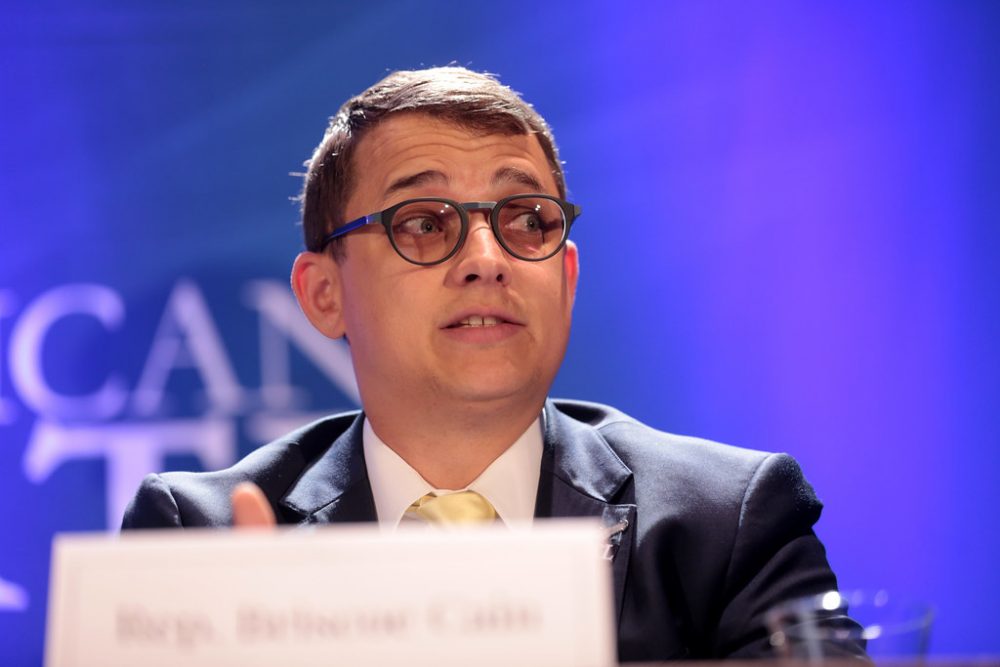 Updated 7:17 a.m. CT Friday
After a dramatic showdown in the Texas House of Representatives Thursday, a bill that would tighten restrictions on voting made its way out of committee with new language and without any public input.
At the center of that controversial move is state Rep. Briscoe Cain, a Deer Park Republican who tried to help Donald Trump overturn the 2020 presidential election, and who has made so-called "election integrity" legislation among his top priorities.
Video of a contentious House Elections Committee hearing earlier Thursday — posted on Twitter by Progress Texas — showed Democratic lawmakers objecting to a last-minute change in language for Senate Bill 7, seemingly blindsiding those in attendance who said they did not have an opportunity to read the new language. Cain's motion would have replaced the language with that of a completely different bill, House Bill 6, according to the Texas Tribune.
"You just gave it to us," one of the legislators on the committee can be heard telling a visibly frustrated Cain. "We don't trust that."
Cain tried again late Thursday night, and the motion passed 5-4. It will now go back to the state Senate, setting up a likely faceoff between both chambers over which version of the bill gets passed, or whether some combination of both makes it to the governor's desk.
Republican lawmakers in Austin are pushing for changes in how Texans vote, with a focus on banning innovations used in the last election in Harris County. And Cain is a key player in those efforts.
Cain, 36, is serving his third term in the Texas House. Prior to this session, he made national news when he volunteered his services as an attorney to try to help President Donald Trump overturn the results of the presidential election in Pennsylvania. (The effort failed.) During the 2019 session, Cain was an outspoken supporter of the unsuccessful omnibus "election integrity" bill, Senate Bill 9.
So it was an unwelcome surprise to many Democrats when incoming House Speaker Dade Phelan named Cain chairman of the House Elections Committee. And he's since been extremely partisan in his handling of that role, according to Anthony Gutierrez of Common Cause Texas.
"The single greatest power a committee chairman has is the ability to decide which bills get a hearing and which don't," Gutierrez said. "The vast majority, with just maybe a handful of exceptions of the bills he's chosen to advance so far are ones that would limit voting in a variety of ways."
Late last month, the House Elections Committee took up HB 6, one of the Legislature's two signature bills on voting. As the bill's named author, Cain yielded control of the committee to the vice chair, state Rep. Jessica González, D-Dallas, while he read the bill and answered questions from fellow committee members.
HB 6 targets reforms enacted or attempted by Harris County during the 2020 election. It would block elections administrators from mailing vote-by-mail applications unless asked. It would also make it much easier for partisan poll watchers to videotape voters and bar judges from removing those poll watchers unless they commit a crime, which critics say could lead to intimidation, particularly for people of color.
"You know, when people do not have confidence in our electoral institutions, when political legitimacy is questioned, liberty is threatened," Cain said, as he finished summarizing the bill. "Therefore, it is incumbent on the Texas Legislature this session to ensure that elections, the bedrock of our republic, are free, fair, and secure."
But something strange happened when González, who was leading the discussion, attempted to recognize state Rep. Nicole Collier, D-Fort Worth, chair of the Texas Legislative Black Caucus. Cain attempted to grab back the chairmanship of the committee and call for a recess.
González refused to yield the gavel. Cain eventually succeeded, but that success came at a cost.
"So inept was he at running the committee," Rice University political scientist Bob Stein said, "that when he tried to, so to speak, wrestle the gavel back after he had given it up to the ranking Democratic member, he found that he was in violation of parliamentary rules, and not only could he not reconvene the committee's hearings, but he had to basically cancel a whole day's worth of testimony."
The result was that hundreds of people who had come to Austin to testify, many against the bill, had to come back several days later when Cain was able to reconvene the committee. And when it did resume, Stein said, it often seemed Cain hadn't even read his own bill.
"What that did was drew attention not to the merits, if there are merits, of the bill, but it drew attention to his incompetence," Stein said. "It put Cain in a kind of center spotlight that he may have wanted, but it's come off very badly, not only for him, but his handling of the bill looks amateurish and very transparent and very partisan."
Cain did not respond to multiple interview requests for this story. But several people who have testified before Cain's committee said that Stein's interpretation was on the mark.
"He couldn't answer simple questions on his own piece of legislation," said Charlie Bonner, communications director for the voting rights group MOVE Texas. "I think we should all be concerned about that right now. I know if I was the governor, and I said that this was my priority, I'd be real concerned that the author can't answer simple questions about the impact of the legislation."
Bonner said that Cain's management of the Elections Committee has been, at the least, inefficient.
"These Elections hearings that Chair Cain is running, all of them have been running into the night, time and time again, and that has a dramatic impact on the folks there to testify on these important issues, to fight back against these voter suppression bills, who travel from all over the state to do so," Bonner said.
HB 6 is perhaps the starkest example of that, but it's far from the only one. Emily Eby, staff attorney for the Texas Civil Rights Project, testified before Cain against a bill on which Cain is a co-author, House Bill 895, which would allow election officers to photograph people whose ID was suspected to be fraudulent, or anyone using an ID not issued by DPS.
"IDs not issued by DPS include military IDs, U.S. passports," Eby said. "Essentially this law says you can pull a veteran out of line and make them stand for a mugshot if you think, maybe, their ID might be fraudulent."
Eby added, however, that Cain could be flexible in ways that benefited voting rights advocates.
"In Chair Cain's defense, there have been multiple changes that I've seen to bills where advocates of voting rights point out that they are not clear on certain aspects, and he will change them to make them clear," she said.
It's not clear when Cain's own bill, HB 6, will get a vote on the House floor. But if it does, Anthony Gutierrez of Common Cause Texas thinks that House Speaker Dade Phelan will modify it. That's the same Speaker Phelan who named Cain to head the Elections Committee in the first place.
But unlike Cain, Gutierrez said, Phelan did not endorse arguments by former President Trump that the 2020 election was rife with fraud.
"There are a lot of Republicans in the Legislature who I think fully buy into the election fraud conspiracy theories and try to advance those," Gutierrez said. "But the Speaker's not one of those guys. So, I think there is the possibility that he could be helpful in, if not stopping these bills, at least trying to get rid of some of the most problematic parts of them."