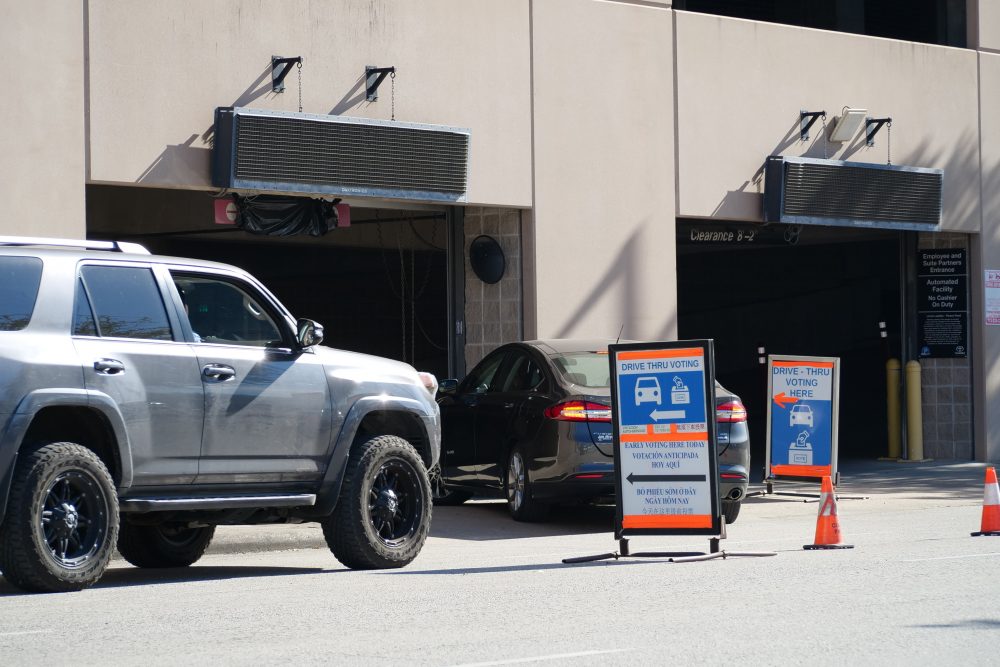 More than 60 Texas-based civil rights organizations and other groups on Thursday condemned a pair of election bills advancing in the state legislature, which critics say are aimed at Harris County reforms and amount to voter suppression.
The coalition — which includes the Texas branches of the ACLU, NAACP and the Anti-Defamation League, as well as groups like Planned Parenthood and the AFL-CIO — have called on legislators to drop House Bill 6 and Senate Bill 7, which if signed into law would impose criminal penalties related to voting and limit what local officials can do to expand voter access.
"These legislative efforts are based upon wholly unsupported claims of voter fraud," read a statement from the ADL. "Instead of pursuing voter suppression bills, we urge our elected officials to consider bipartisan opportunities to increase voter access and turnout safely and securely in Texas."
In a press release, the ADL ran down many of what they say are the bills' faults, including the ability to give "partisan poll watchers free rein to disrupt voting," which they said would likely be used as an excuse to intimidate Black voters and other voters of color. The group also said the bills target people with disabilities and those who speak limited English by threatening people who assist such voters with felony charges, "for even accidental violations of their oath."
The two bills have also been publicly criticized by local officials, with Houston Mayor Sylvester Turner comparing them to Jim Crow-era laws.
On Thursday, Harris County Judge Lina Hidalgo urged voters to denounce the bills. Hidalgo made the remarks at the Kingwood Community Center, which she said was a popular destination for senior citizens using drive-thru voting — an option now in jeopardy under GOP proposals.
Drive thru voting was one of many innovations Harris County implemented this past November, to make voting easier in the middle of the pandemic.
SB 7 would make it illegal, which Hidalgo said would make voting harder for many people.
"It's as secure as any other form of voting, and most importantly, voters have taken enormous advantage of it," Hidalgo said.
Republican lawmakers have framed the bills as attempts at "election integrity," and claim things like drive-thru voting were never legal in the first place.
State Sen. Paul Bettencourt, R-Houston — who sponsored SB 7 — even suggested that county officials themselves had doubts surrounding its legality.
"(Former County Clerk Chris Hollins) himself pulled back 9 of the 10 sites on Election Day because of his own concerns about the legality of drive thru voting," Bettencourt said in a text message to a Houston Public Media reporter. "If the county clerk thought those votes would not count, how can the Judge turn around and say in good conscience that those votes would count now?"
In 2020, more than 127,000 voters used drive-thru voting during the election – about 8% of total voters. Harris County has seven drive-thru voting locations currently operating in local municipal elections, and Hidalgo said the Kingwood location is almost twice as busy as the other locations.
Local officials say drive-thru voting and other reforms instituted by Harris County were among the reasons for record turnout in the 2020 election, even during a pandemic.
Last month, local election officials told Houston Public Media they wanted to continue utilizing drive-thru voting as an option even after the pandemic passes, seeing it as a way to encourage voter turnout.
"It is a silver lining in a terrible, terrible situation that we're still going through," said Isabel Longoria, Harris County elections administrator. "It allowed us the creativity to think outside the box on how to serve voters. Why not use this terrible situation to give us some lessons that we can learn to modernize voting moving forward?"
Longoria said SB 7 and HB 6 are "not based in reality."
"I would love to see instead of slashing the things that Harris County voters love, the state consider investing in promoting things like drive-thru voting in a modern era," Longoria says.