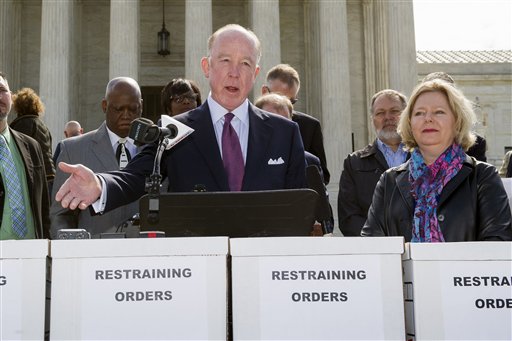 Texas Agriculture Secretary Sid Miller and Houston-based conservative activist Dr. Steven Hotze are suing Lt. Gov. Dan Patrick over a rule requiring a COVID-19 test before entering areas under Texas Senate jurisdiction.
Under the rule enacted in mid-January, individuals who test negative for COVID-19 are given a wristband that allows them access either to the Senate floor or to Senate committee hearings. The regulation does not apply to other areas of the Texas Capitol.
According to a lawsuit filed in Travis County, Hotze attempted to enter the Senate gallery on March 2 but was denied by Senate Sergeant-at-Arms Rick DeLeon, because he did not have the required wristband.
Later that same day, Hotze was barred from entering a Senate committee hearing room for the same reason, according to the civil complaint.
The lawsuit also names DeLeon as a defendant in his official capacity.
Miller and Hotze say the COVID-19 testing rule violates Texas law and the Texas Constitution — specifically, protections for freedom of speech and the right to petition government for a redress of grievances.
The suit does not indicate why Hotze did not want to take the test.
In a statement to Houston Public Media, Hotze's attorney Jared Woodfill called the rules an effort to shut down public access to government.
"A medical procedure has never been required to access one's government," Woodfill said. "Here, the situation is more egregious when you consider that the Texas House and public areas of the Capitol do not require one to undergo a COVID test prior to entering the respective areas."
Patrick told the Houston Chronicle that the rules, which were approved unanimously by the Republican majority Senate, should be expanded to the whole Capitol.
"The people know, if we want to have session, if we want to protect lives and life, if we want to conduct the peoples' business with the least restrictions, then testing is the answer," Patrick told the paper.