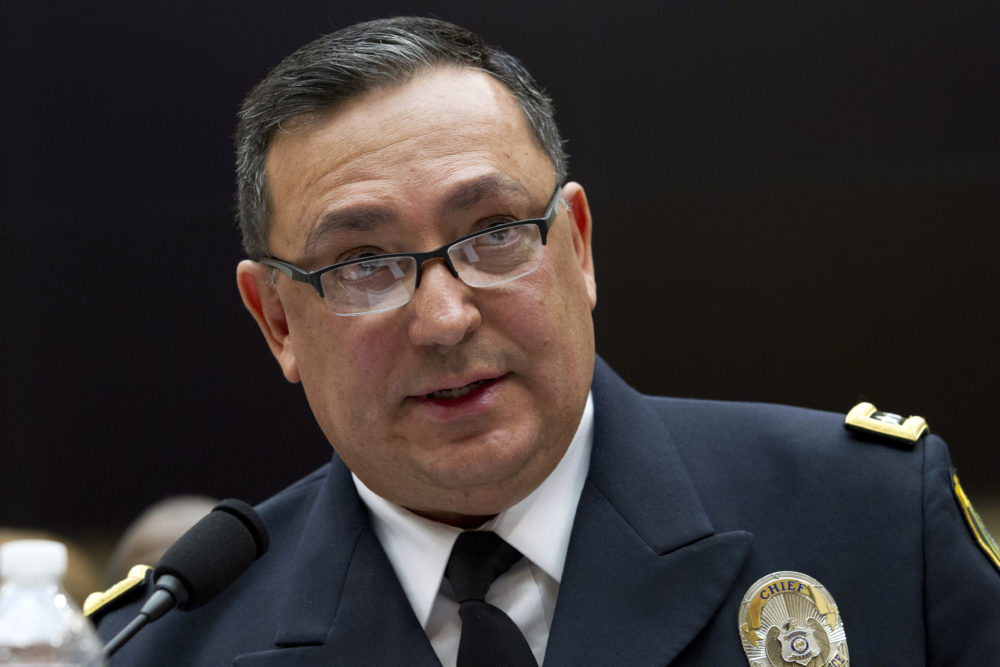 Outgoing Houston Police Chief Art Acevedo on Tuesday blamed Harris County leaders and the local criminal justice system for a spike in murders over the past year, just a day after confirming he was leaving his position to lead the Miami Police Department.
With violent crime increasing in the city, Acevedo had harsh words for the current criminal justice system in Houston, blaming judges, the district attorney, and "people who run the county that don't care enough to actually fight back."
"A suggestion: If you want to march, and you want to save lives, let's march on the criminal courts building, march on the DA's office, march on the criminal justice system that is getting people hurt and getting people killed," Acevedo said.
In a statement, a spokesman for DA Kim Ogg said her office "is dedicated to public safety and equal justice."
"Those of us who still live in Harris County will continue to work hard to protect our community," said the spokesman, Dane Schiller.
Other than the DA, Acevedo did not elaborate on which Harris County leaders he blamed for a steep rise in violent crime. But he also placed blame on Harris County judges for what he said was a "revolving door" of people out on little or no bail amounts, who he said later commit crimes.
When pushed by a reporter from KPRC 2 on whether his department should take more responsibility for a rise in murders and aggravated assaults, the chief lashed out, rejecting the idea that HPD was at fault.
"Crimefighting strategies aren't the issue," Acevedo said. After more back and forth, he shouted at the reporter, "I find it offensive that you or somebody else is blaming the cops. Because these cops are getting shot , they're getting killed — and for what?"
The heated interaction came during a roughly 40-minute press conference in which he thanked his officers and the people of Houston, as well as Mayor Sylvester Turner, for their support over the last five years.
At times appearing to fight back tears, Acevedo praised his executive staff and the rank-and-file officers of the Houton Police Department, thanking them for their service during a tenure that included natural disasters, civil unrest, and a global pandemic.
He also recounted his own personal story of coming to the United States from Cuba, arriving in the city of Miami at four-and-a-half years old with his parents, eventually moving to California where he worked in the highway patrol, then later police chief of Austin, before finally arriving in Houston to head up HPD in 2016.
It's in Miami where he will return, to head up a department far smaller than the one in America's fourth-largest city. He'll receive a $315,000 salary, with a 5% annual increases and a $700 monthly allowance, as well as a $50,000 relocation fee, according to the Miami Herald.
"Miami is a world-class city just like Houston," Acevedo said. "Miami is a city that is an international city like Houston. Miami is the gateway to Central and South America, the Caribbean, Europe — Houston is the gateway to the world. And it is a very diverse community, like our community."
The outgoing chief said he was first approached about the role two weeks ago, and called it "a very quick courtship." According to Acevedo, he had already been contemplating his next steps amid Turner's final term, and was looking at opportunities, including mulling a run for Los Angeles County sheriff or entering the private sector. He said he also contemplated taking a federal position, "significantly bigger than any other department in the country."
But ultimately, it was a love for law enforcement and a Miami offer that came to him at just the right time, he said.
Acevedo said he expected one his two current executive assistant chiefs — Troy Finner and Matt Slinkard — to replace him. Mayor Turner said he would make an announcement about future HPD leadership this week.
Acevedo leaves behind a department coming off a year with near-record violent crime numbers. The city saw 400 people murdered last year, a 42% jump from 2019. There were nearly 5,000 more aggravated assaults in 2020 than the prior year.
He also leaves as the department continues to gain historic resources from the city. Just last year, Houston City Council passed a budget that increased HPD funding by $20 million, to $964 million. And since the COVID-19 pandemic, the city has twice promised to use federal recovery funds to bolster the police force. Acevedo often praised the mayor for his commitment to the department and criticized calls to "defund."
HPD was not without scandal during the chief's tenure. After a botched 2019 drug raid in which officers killed two people, HPD came under fire when it was later revealed that the lead narcotics officer on that case — Gerald Goines — made up a story about a confidential informant to justify a no-knock warrant at the Harding Street home, according to prosecutors.
Twelve officers in total have since been charged in connection with Goines.
An internal audit later released in response to reporting from the Houston Chronicle detailed a narcotics division rife with error and mismanagement. The audit found more than 400 errors in 231 investigations involving Goines and former officer Steven Bryant alone, as well as hundreds of errors in two additional drug enforcement squads.
On Tuesday, Acevedo addressed that controversy head on, and said he took full responsibility for that and other incidents that happened under his watch.
"After four-and-a-half years, I can tell you we've had missteps, we've had tragedy, we've had problems in this dynamic profession like any other profession," Acevedo said. "From Harding Street and beyond. But on balance, our department is second to none."