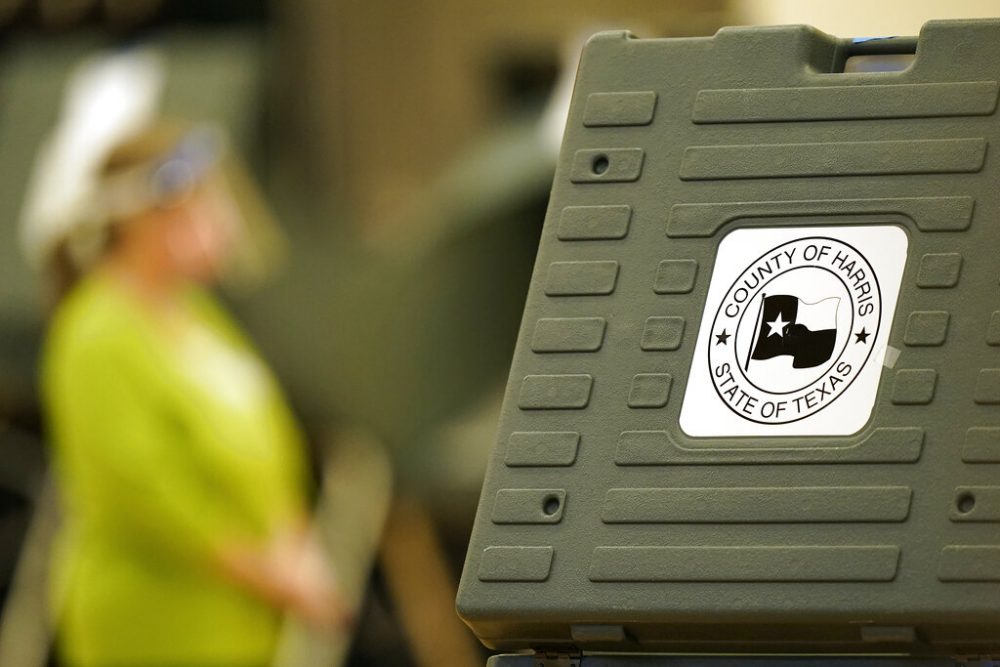 Republican lawmakers have filed seven bills that would change voting access in Texas, including a law to limit the hours counties can keep ballot locations open during the state's early voting period.
State Sen. Paul Bettencourt, R-Houston, who authored the bills, argued they're necessary to force local governments to comply with the Texas Elections Code.
"The seven bills themselves really represent my ideas to make sure that we have integrity in the voter roll as well as in the election system," Bettencourt said.
One of the proposed laws filed Friday, SB 1115, would require all counties to observe the same early voting hours and days, prohibiting counties from expanding their hours as Harris County did last fall with the state's first-ever 24-hour voting sites.
"In Harris County's case," Bettencourt said, "you have code that allows people to have very extended hours in early voting, but not on Election Day. When you look out in some of the counties surrounding Harris County, they don't even go to 7 p.m. So, I think that the concept here is to have a standard 12-hour voting day, regardless of whether it's early voting or Election Day."
Another measure, SB 1111, would requires the voter to provide documentation that the voter lives at the address where they are registered when they receive a confirmation request from the registrar. Bettencourt said this is specifically aimed at barring people from registering using a private P.O. box.
Two other measures in particular are aimed at making it easier for the Secretary of State's office to purge voter rolls. SB 1113 provides the Secretary of State the authority to withhold Chapter 19 funds if the voter registrar or elections administrator fails to remove in a timely manner voters who should be canceled from the voter roll. And SB 1114 boosts Secretary of State efforts by requiring registrars to cross-reference voter rolls and motor vehicle records where a person indicated that he or she is not a U.S. citizen, and remove ineligible voters.
Republican lawmakers at the state and federal level have asserted, without evidence, that widespread voter fraud took place during the 2020 election. In Harris County, a multiagency, bipartisan election security task force found no cases of fraud in the most recent election.
But Gov. Greg Abbott has nonetheless identified "election security" as one of his emergency items for the legislative session, making these bills eligible for consideration from state lawmakers within the session's first 60 days, Bettencourt said.
"Clearly, this is going to be a focus," he said. "It might have been one of the top focuses until Winter Storm Uri…But it's still, I believe, going to be in the top five focuses of the legislature, just by the amount of interest that it's creating, really, on both sides of the aisle, both in the state of Texas as well as federally."
Other measures aimed at combating alleged election violations include:
SB 1110, which requires each Administrative Judge of each of the 11 districts in Texas to appoint judges who can hear issues raised by either a candidate or a political party within three hours of the request prior to Election Day and within one hour on Election Day;
SB 1112, which prohibits local election officials from suspending the requirement of the Early Voting Ballot Board to verify that the signature on the mail ballot application and the signature on the mail ballot are from the voter; and
SB 1116, which requires transparency for cities, counties, and ISDs, who maintain a website, to place on their respective websites, no more than two clicks away from their homepage, any results of their elections.
Bettencourt's coauthors include state Sens. Brian Birdwell, R-Granbury, Brandon Creighton, R-Conroe, Lois Kolkhorst, R-Brenham, Bob Hall, R-Edgewood, and Charles Schwertner, R-Georgetown.
Texas is already among the most difficult states to vote, with some of the most restrictive voting laws in the country, according to outside analysis. And critics of strict voting laws say they're intended to suppress voter turnout.
Harris County was the first jurisdiction in Texas to offer 24-hour voting, opening several overnight locations across Greater Houston, including a site at NRG Park. More than 10,000 Harris County voters cast ballots overnight on Oct. 29 of last year.
Out of roughly 2.5 million registered voters in Harris County, a record 1,435,221 ballots were cast during the state's early voting period thanks to drive-thru voting, mail-in balloting, and 24-hour voting policies put in place by then-Harris County Clerk Chris Hollins.
The efforts did not come without controversy.
Conservative activist Steve Hotze sued the county to limit early voting, and reject some in-person absentee ballots. He also asked the Texas Supreme Court to throw out 127,000 votes cast via the county's drive-thru ballot locations.
Harris County Election Administrator Isabel Longoria said the move to limit a county's right to expand voter access makes no sense in a state with 254 counties, all of which are trying to meet the needs of their own residents.
"We just want the ability to provide the service that Harris County residents want," she said. "And so, when you create bills like this that create uniform laws, someone out in West Texas is going to have much different hours than 24 hours of big voting here in Harris County."
Additional reporting from Paul DeBenedetto.