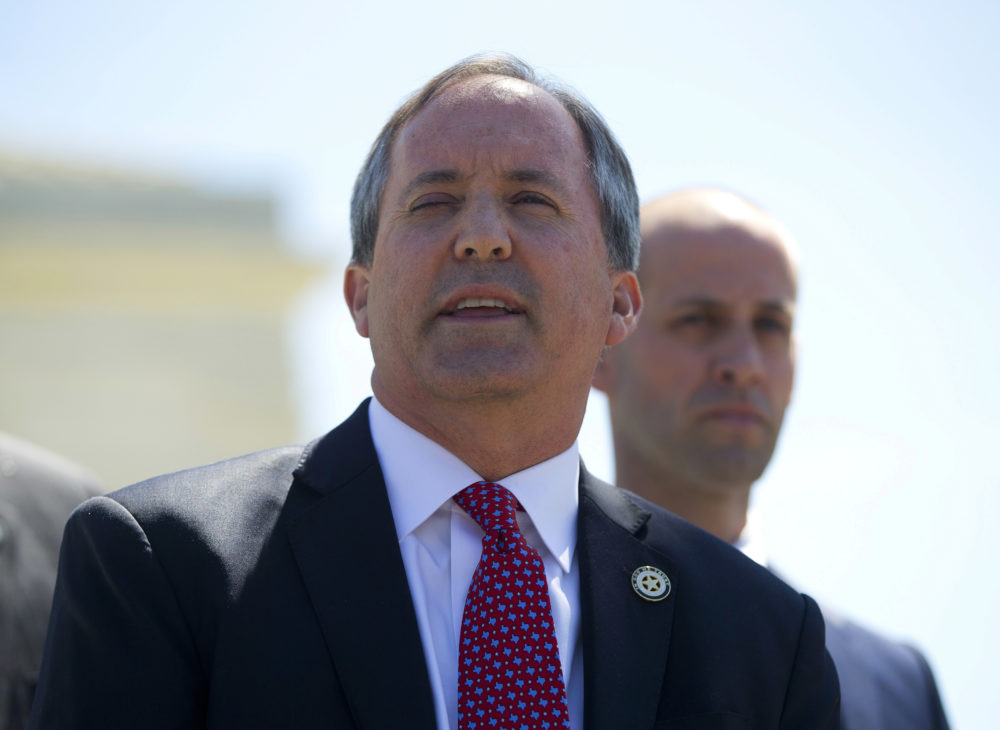 Updated 6:45 p.m. CT: Harris County Clerk Chris Hollins will only send applications for mail-in ballots to voters 65 and older, after being sued by Texas Attorney General Ken Paxton over a plan to send applications to every voter in the county, KHOU reported Tuesday. Hollins said the change was made pending the results of a lawsuit, and told KHOU, "the law is on (the county's) side on this, and we're going to have our day in court, plain and simple."
Our original story is below:
Texas Attorney General Ken Paxton on Tuesday addressed a pair of ongoing court battles over mail-in ballots, including a Harris County initiative he argued would lead to an uptick in voter fraud.
Paxton is suing Harris County over the county's plan to send mail-in ballot applications to all registered voters, arguing that in doing so, the county clerk is breaking Texas election law.
The attorney general told Houston Matters host Craig Cohen on Tuesday that the Texas Election Code bars Harris County Clerk Chris Hollins from mass mailing vote-by-mail applications.
"He has no authority under the law to send out applications," Paxton said. "It's not his job. If somebody requests it – that's what the law says – if somebody requests it, he can do it. But he can't just decide, 'I'm just going to send out millions of ballots and spend millions of dollars.' It's not within his authority to do that."
In his email announcing the lawsuit, Paxton said that, "The Harris County Clerk's proposed mass mailing would sow confusion because applications would go to all registered voters, regardless of whether they legally qualify to vote a mail ballot and regardless of whether they even want to vote by mail."
The announcement of the lawsuit came just before Hollins made an appearance on Town Square With Ernie Manouse, where he said providing forms and information is part of his office's job.
"I think we believe the exact opposite," Hollins said, "that by giving people information and educational materials, that you actually clear up any confusion and actually educate voters and empower them to use their rights and to vote in the way that's most safe and convenient for them."
Hollins also stressed that his office is not mailing out ballots themselves, but ballot applications — something the Texas Secretary of State provides for free on its own website.
"We're not just wreckessly sending out ballots across Harris County," Hollins added. "We're sending out information, along with information about who should and who shouldn't apply."
Paxton responded on Houston Matters that there was nothing prohibiting Hollins from sending out information and educational materials. But, he said, the Texas Election Code barred Hollins from sending out applications unless voters specifically requested them.
In justifying the decision to sue the county, Paxton asserted that expanding access to voting by mail would open the door to voter fraud. When pressed on the issue, Paxton was unable to state how many cases of voter fraud his office had successfully prosecuted this year.
The attorney general also addressed an ongoing federal court battle over mail-in voting, in which the Texas Democratic Party sued the state over an election rule that limits mail-in ballots to those over 65, saying it constitutes age discrimination.
Paxton called that argument "ludicrous," and insisted that the Texas Legislature intended to limit the number of people who could vote by mail.
Everyone else, he said, still had the right to vote in person.
"Anybody can vote," he said. "Everybody…over 18, unless they fall within certain categories of being a felon, can vote."
But in a statement Monday after oral arguments in the 5th U.S. Circuit Court of Appeals, Texas Democratic Party General Counsel Chad Dunn said the state's position violates the 26th Amendment — especially amid the COVID-19 pandemic, in which many people feel it is unsafe to leave the house.
"Voting by mail is not controversial in 45 other states," Dunn said, arguing that even President Donald Trump has endorsed a form of voting by mail: absentee ballots.
"Texas insists though it should be one of a handful of states that have limited voting-by-mail to age," Dunn said. "The 26th Amendment was adopted in 1971 for the purpose of prohibiting denial or abridgment of the right to vote on the basis of age. Today, we simply asked the Court to ensure that Constitutional right in time for this next presidential election, especially as these pandemic circumstances continue."