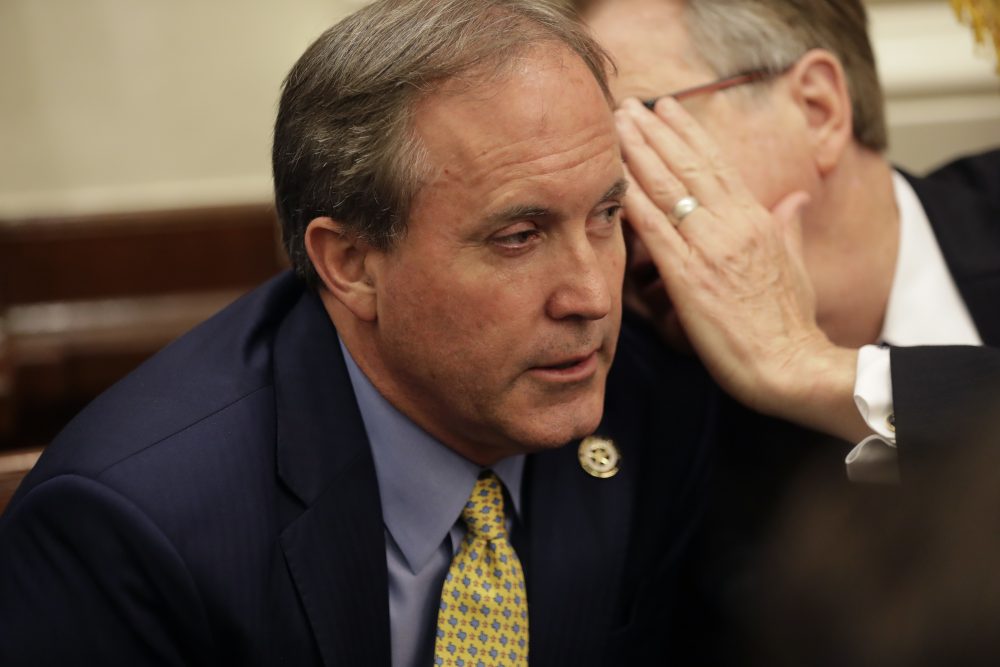 Updated 6:54 p.m. CT Friday
Texas Attorney General Ken Paxton on Friday warned county governments against vote-by-mail expansion in the upcoming July and November elections, saying Harris County officials and others were "misleading the public" in their attempts to do so.
Paxton issued a letter to Texas county judges and election officials saying that, under the Texas Election Code, citizens cannot claim disability and request a mail-in ballot purely on the grounds of fear of contracting COVID-19 through exposure at the polls.
"Mail ballots based on disability are specifically reserved for those who are legitimately ill and cannot vote in-person without assistance or jeopardizing their health. The integrity of our democratic election process must be maintained, and law established by our Legislature must be followed consistently," Paxton said. "My office will continue to defend the integrity of Texas's election laws."
The Texas election code states that a qualified voter is eligible to vote early by mail "if the voter has a sickness or physical condition that prevents the voter from appearing at the polling place on election day without a likelihood of needing personal assistance or of injuring the voter's health."
There are currently two separate lawsuits challenging Paxton's position — one in state court and one in federal court. The plaintiffs won the former case at the district court level, arguing in part that lack of immunity to the coronavirus during a global pandemic is itself a physical condition as defined by the Texas election code, which brings with it the likelihood of injuring one's health.
But Paxton immediately appealed, putting on hold a court order that opened up voting by mail to anyone worried about contracting the virus. That case is currently in the state's Third Court of Appeals in Austin.
Civil rights groups hit back on Paxton Friday, saying his letter was misleading, and misrepresented what the courts have said in the case.
"Ken Paxton's letter – which is not binding – gets the law wrong and serves no other purpose than to attempt to intimidate voters and county officials," read a statement from Thomas Buser-Clancy, senior staff attorney with the ACLU of Texas. "The simple fact is that no Texan should have to choose between their health and exercising their fundamental right to vote."
The Texas Democratic Party, which filed the state lawsuit, said that no court has yet to agree with Paxton.
"Paxton can keep on stating his opinion over and over again for as long as he wants but the bottom line is he needs to get a court to agree with him," read a statement from the Texas democrats. "We all have opinions. In our constitutional system, what Courts say is what matters."
Harris County Clerk Diane Trautman has said that the county is not yet prepared for a universal mail-in ballot program, but that her office was preparing to expand voting by mail in addition to in-person voting. If the courts find that expanding the mail-in ballot process is unconstitutional, Trautman's office said it was still preparing for an increase in mail ballots from voters who do qualify.
Earlier this week, Harris County Commissioner Court voted 3-2 along party lines to give the Harris County Clerk's Office up to $12 million to expand its vote-by-mail program for July and November. That came as part of a request from Trautman specifically to cope with an expected massive increase in requests for mail-in ballots due to the pandemic.
Harris County Attorney Vince Ryan on Friday said he stood by the legal advice given to Tautman and other Harris County officials: That lack of immunity to COVID-19 does constitute a legitimate physical condition that should be taken into account for issues of voting.
"We in the Harris County Attorney's Office — and the only judge who has ruled on the issue — believe COVID-19 places all voters in the position of possibly contracting a disease that may be fatal or cause severe suffering with long-term health consequences—that is, 'injuring the voter's health'—should they be forced to vote in person," read a statement from Ryan.
"It is not the place of the government to question the good faith determination of voters requesting mail ballots because they wish to protect their health by avoiding in-person voting," Ryan said.