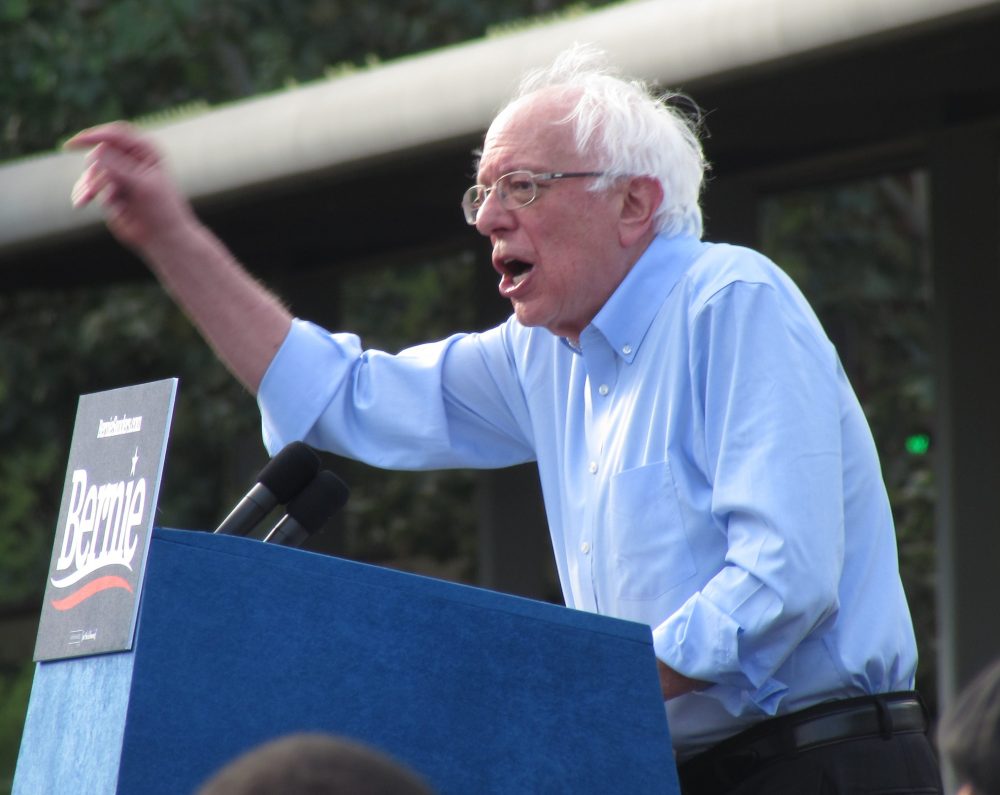 Democratic presidential candidate Sen. Bernie Sanders backed Audia Jones on Thursday in her bid to unseat Harris County District Attorney Kim Ogg.
Jones, who worked for both Ogg and her predecessor Devon Anderson, is positioning herself as a criminal justice reform candidate. She is a self-described democratic socialist, and has been endorsed by the Houston Democratic Socialists of America, along with progressive groups like Black Lives Matter Houston and the Texas Organizing Project. She also received the endorsement of the Working Families Party Thursday.
But the support from Sanders brings a high-profile endorsement to a four-person local race that also features another former prosecutor from Ogg's office, Carvana Cloud, and Houston lawyer Todd Overstreet.
"I am honored to have earned the endorsement of Senator Bernie Sanders and to join him in his continued fight for justice," read a statement from Jones. "Sen. Sanders has been steadfast in his vision of justice, a vision that is designed to speak for all us. I am committed to pursuing that vision of a fair, equitable and fiscally responsible legal system here in Harris County as the next District Attorney."
Ogg herself ran as a reform candidate against Anderson in 2016. But she's seen increased pressure from the left since being elected, and some of her supporters in 2016 have declined to back her in 2020. Earlier this month, Ogg, who is openly lesbian, lost the endorsement of the Houston GLBT Political Caucus, a group that supported her in the last election cycle. Jones picked up the caucus' 2020 endorsement.
Ogg has also been criticized by activists for her push to hire more prosecutors, a request that was denied by the Commissioners Court in February 2019 and again just this week.
In a statement, Ogg defended her record on progressive issues like diversion for low-level drug offenses, which last year led to an 80 percent drop in convictions for misdemeanor marijuana possession. She also pointed to her record of keeping people with mental illness out of jail and combating gun violence.
"I respectfully question Sen. Sanders' appreciation of our local criminal justice system and the priorities of Harris County residents," Ogg said.
"We invite Senator Sanders to come learn about the most progressive criminal justice reforms in the South — the ones put into place by my team and me," she said. "There's a lot for the nation — and the senator and the candidates he has endorsed in local races in many states — to learn from Harris County's progress under this district attorney."
Jones is one of two Texas DA candidates Sanders endorsed Thursday. The presidential candidate also endorsed Jose Garza in Travis County in his race against District Attorney Margaret Moore.
"I'm proud to endorse these progressive leaders for the important office of district attorney," read a statement from Sanders. "Now is the moment to fundamentally transform our racist and broken criminal justice system by ending mass incarceration, the failed war on drugs and the criminalization of poverty, and that's exactly what they'll do."