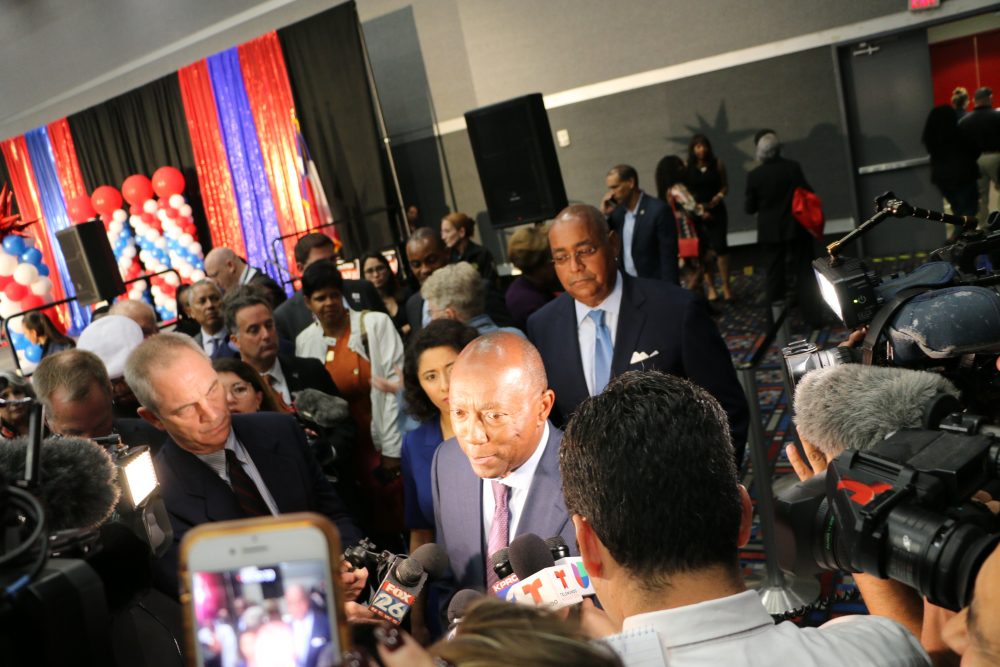 Incumbent Sylvester Turner won the mayoral runoff against challenger Tony Buzbee with 56.04% of the vote, according to results released by the Harris County Clerk's Office.
Buzbee trailed with 43.96%. Out of more than 1.1 million registered voters in the city of Houston, just over 115,000 people turned out to vote early in the runoff.
A poll by Houston Public Media and KHOU 11 published Wednesday showed 55.6% of likely voters said they would support Turner, while 34.2% would support Buzbee. Among respondents who supported Bill King in the general election, 52.6% said they were planning to vote for Buzbee. Sue Lovell supporters were evenly split between Turner and Buzbee, and 100% of Dwight Boykins supporters said they planned to vote for Buzbee.
With 12 mayoral candidates on the Nov. 5 general election ballot, no candidate received more than 50% of the vote. Turner led with 46.8%, followed by Buzbee with 28.4%. Twelve out of 16 City Council races went to runoffs, as well, including all five at-large seats.
After the general election, Turner argued Houstonians had a clear choice to make between the two mayoral candidates: "An experienced leader who has been delivering for Houston for more than 30 years? Or a Donald Trump imitator who has no experience, no ideas and will say anything, do anything or spend anything to get elected?"
Earlier this week, Buzbee emphasized his public safety plan, telling voters he plans to immediately fire HPD Chief Art Acevedo and add 1,500 police officers, if elected.
"On December 14th the voters will say no to four more years of Sylvester Turner and his hand-picked police chief, who places more energy into making political statements than our city's public safety," Buzbee said. "To get things done it takes vision, persistence and willpower. Reducing crime will be a top priority of my administration and I will be accountable to our citizens."