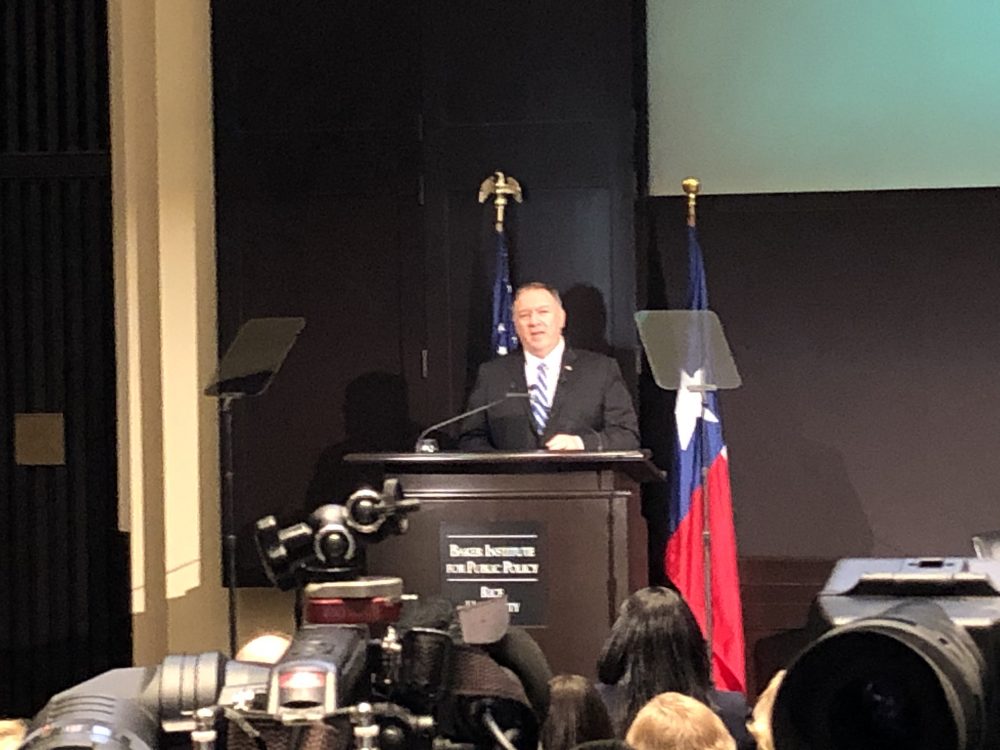 Secretary of State Mike Pompeo signaled the Trump administration is tilting yet again toward a harder line on trade with China, during a speech he gave in Houston Friday at Rice University's Baker Institute.
In his speech, Pompeo spoke in broad strokes about the importance of freedom and democratic government. But during the Q&A period, he took Beijing to task on a range of issues, from theft of intellectual property to subsidization of state-owned enterprises.
"And I'm happy to take some responsibility for this too," Pompeo said. "America's not done enough. And President Trump has now said we're going to do this. We're going to be candid and honest and transparent. We're going to work with China where we can, but we're going to make sure that America addresses each of those challenges in a way that is appropriate."
Pompeo also said he was concerned about Beijing's handling of Hong Kong protests and its militarization of the South China Sea. The secretary will deliver a series of speeches on China in the coming weeks.
Pompeo made one brief reference to the impeachment drama currently engulfing the Trump administration — in the form of a joke. At the start of his speech, he said he had consulted former Secretary of State James Baker for advice when Pompeo was being confirmed as secretary himself. He said Baker was gracious and helpful, but that Baker had insisted in return that Pompeo would have to come speak at the Baker Institute.
"I'm now upholding my end of the quid pro quo," Pompeo said, referencing the Latin phrase that has been repeated throughout the impeachment inquiry.