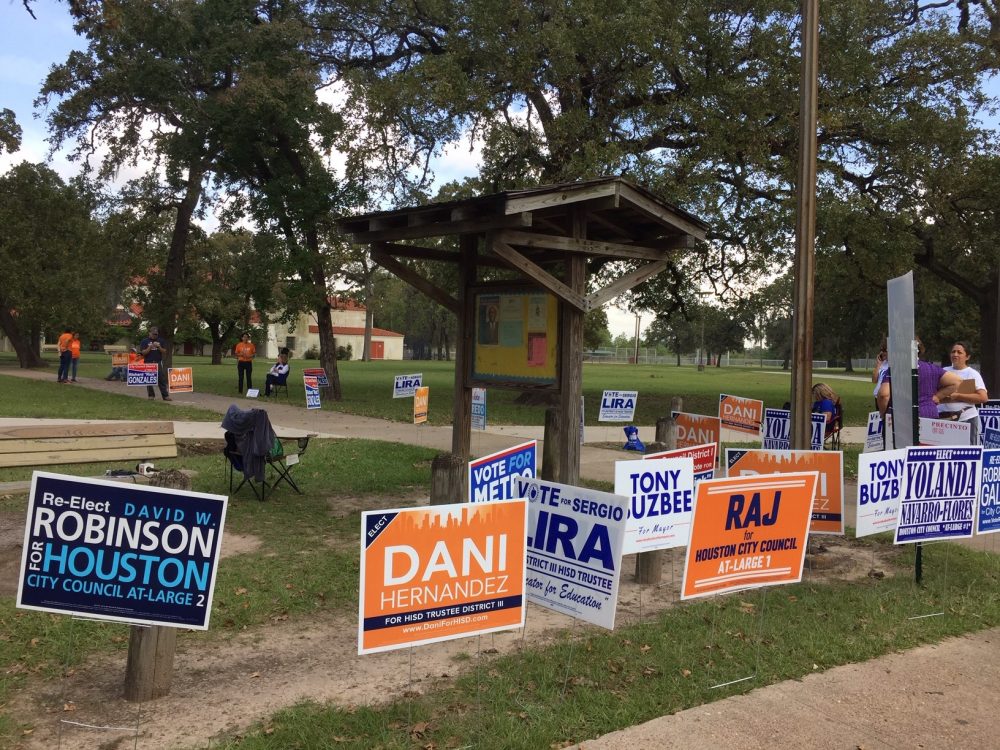 The results are in for Houston's City Council elections, with 12 races going to runoffs.
All 16 seats on Houston City Council were up for grabs, and a total of 111 candidates entered the race.
Houston has five at-large members who represent the whole city, and 11 council members who represent geographic districts. Voters in Fort Bend County also cast ballots for all five at-large positions, as well as District F and District K.
Runoff elections are set for Saturday, December 14.
Below are the combined results from the Harris County Clerk's office and Fort Bend County. Candidates with the most votes are bolded:
District A (runoff):
Mehdi Cherkaoui: 8.95%
Amy Peck: 45.42%
Marina Angelica Coryat: 8.62%
Lois Myers: 8.64%
George Harry Zoes: 16.54%
Iesheia Ayers-Wilson: 11.83%
District B (runoff):
Alice Kirkmon: 5.15%
Ben White, Jr.: 4.50%
Karen "KKC" Kossie-Chernyshev: 8.81%
Robin J. Anderson: 2.02%
Broderick F. Butler: 1.89%
Alvin D. Byrd: 10.22%
Cynthia Bailey: 14.47%
Prince E. W. Bryant II: 5.52%
Karisma D. Gillam: 1.10%
Tarsha Jackson: 20.84%
Kenneth Perkins: 4.69%
Renee Jefferson Smith: 13.42%
Huey German-Wilson: 2.06%
Alyson Quintana: 5.32%
District C (runoff):
Kevin Walker: 3.79%
Amanda Wolfe: 4.77%
Michelle Ganz: 1.78%
Sean P. Marshall: 1.91%
Gladys House: 1.75%
Mary Jane Smith: 12.05%
Bob Nowak: 4.00%
Abbie Kamin: 31.77%
Rodney Hill: 2.78%
Daphne Scarbrough: 2.16%
Candelario Cervantez: 5.19%
Greg Meyers: 13.56%
Shelley Kennedy: 14.50%
District D (runoff):
Jerome Provost: 10.17%
Ken Moore: 3.67%
Carolyn Evans-Shabazz: 17.42%
T. "Nissi" Hamilton: 1.64%
Carla Brailey: 12.21%
Mike Grissom: 2.90%
Travis McGee: 6.56%
Brad "Scarface" Jordan: 14.96%
Dontrell L. Montgomery: 0.94%
Anthony Kirk Allen: 3.94%
Dennis Griffin: 1.84%
Rashad Cave: 10.98%
Terrill D. Thomas: 1.29%
Marlon A. Christian: 2.13%
Andrew C. Burks, Jr.: 8.47%
Jeremy Darby: 0.88%
District E (Incumbent Dave Martin is reelected):
Dave Martin: 77.07%
Sam Cleveland: 22.93%
District F (runoff):
Tiffany D. Thomas: 39.02%
Jesus Zachary Zamora: 7.52%
G. "John" Nguyen: 5.39%
Richard Nguyen: 17.24%
Anthony Nelson: 8.19%
Van Huynh: 22.62%
Adekunle "Kay" Elegbede: 0.03%
District G (Incumbent Greg Travis is reelected):
Tom Baker: 12.64%
Greg Travis: 66.97%
Crystal Pletka: 20.39%
District H (runoff):
Gaby Salcedo: 10.26%
Cynthia Reyes-Revilla: 24.42%
Karla Cisneros: 38.15%
Isabel Longoria: 27.18%
District I (Incumbent Robert Gallegos is reelected):
Robert Gallegos: 67.11%
Richard "Rick" Gonzales: 32.89%
District J (runoff):
Andrew "Drew" Patterson: 10.22%
Barry Curtis: 17.96%
Sandra Rodriguez: 29.58%
Nelvin Adriatico: 5.36%
Federico "Freddie" Cuellar II: 3.70%
Edward Pollard: 30.35%
Rafael Galvan: 2.84%
District K (Incumbent Martha Castex-Tatum is reelected):
Gerry Vander-Lyn: 15.08%
Martha Castex-Tatum: 62.28%
Kim Sauke: 22.64%
At-Large Position 1 (runoff):
Mike Knox: 35.98%
Georgia Provost: 13.90%
Raj Salhotra: 21.89%
Yolanda Navarro Flores: 18.30%
Larry Blackmon: 9.93%
At-Large Position 2 (runoff):
David W. Robinson: 37.83%
Willie R. Davis: 27.37%
M. "Griff" Griffin: 9.25%
Emily Muñoz Detoto: 20.93%
Jim Honey: 4.62%
At-Large Position 3 (runoff):
Jose Carlos Gonzalez: 19.20%
Michael Kubosh: 47.55%
Marcel McClinton: 11.59%
Janaeya Carmouche: 21.66%
At-Large Position 4 (runoff):
Ericka McCrutcheon: 11.26%
Tiko Hausman: 2.25%
James "Joe" Joseph: 5.89%
Jennifer Laney: 6.12%
Nick Hellyar: 12.49%
Bill Baldwin: 10.61%
Jason Rowe: 3.33%
Anthony Dolcefino: 20.61%
Christel Bastida: 2.63%
Javier Gonzalez: 8.35%
Letitia Plummer: 16.47%
At-Large Position 5 (runoff):
J. Brad Batteau: 7.02%
Ralph "Rafa" Garcia: 6.27%
Catherine Garcia Flowers: 10.00%
Eric Dick: 20.08%
Sonia Rivera: 11.13%
Michelle Bonton: 7.99%
Sallie Alcorn: 22.51%
Ashton P. Woods: 6.40%
Marvin McNeese, Jr.: 8.60%