Incumbent Sylvester Turner is leading the Houston Mayoral race with 48% of the votes, according to early voting results published by the Harris County Clerk's Office.
Tony Buzbee is in second place with 29%, followed by Bill King with 13% and Dwight Boykins with 6% of the votes.
As he arrived at his campaign's watch party, Turner highlighted the countywide voting that started this year in Harris County, and said it has made it easier for people to participate in the election.
"We've gotten a lot of positive responses from people in this city," Turner said, when asked how confident he is he can win tonight and avoid a runoff.
The incumbent mayor said the thinks he has the trust of Houstonians and said his four years leading the Bayou City have been intense with Hurricane Harvey and other flooding events. But he also stressed the fact Houston has been in the national spotlight by hosting major sports events like the Superbowl and the NCAA Final Four.
Turner also touched on the potential effects of the national political landscape on today's elections. "People are just tired of the toxicity that exists on the national level and I think people are prepared to reject it on the local level," he said.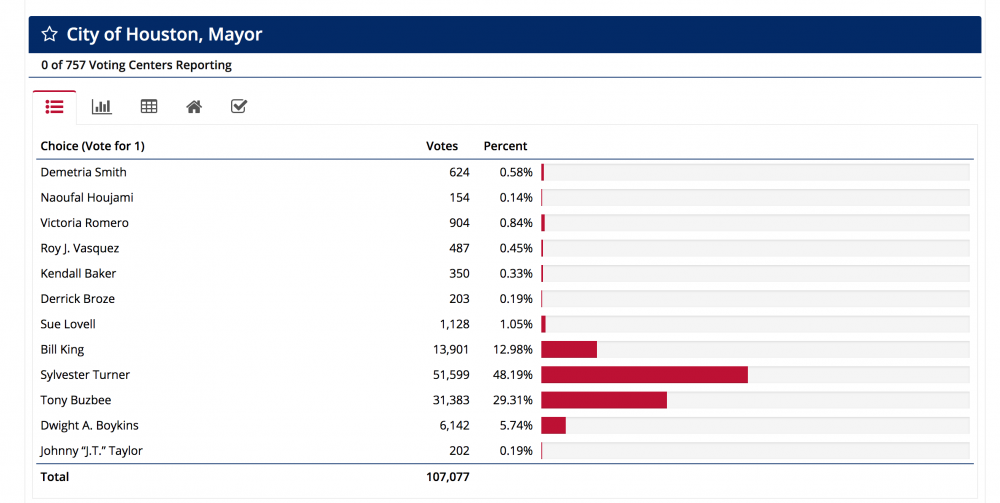 Another big item on this election's ballot is Proposition A, the approval of a $3.5 billion METRO bond issue. Among early voters and absentee voters, 68% supported the initiative, while 32% voted against it.
Early voting results also show a tight race for City Controller, with incumbent Chris Brown receiving 54% of the vote and challenger Orlando Sanchez receiving roughly 46% of the vote.
About 153,000 Harris County voters cast their ballots during the early voting period — a 20% drop in early voting compared to the last time Houston elected a mayor in 2015.
The busiest early voting spot in Harris County was the Metropolitan MultiService Center on West Gray, with more than 11,000 voters.
Some other top locations were the Trini Mendenhall Community Center, in the Spring Branch East area, and the Kingwood Community Center.
The two new campus locations at the University of Houston and Texas Southern University had among the lowest turnouts with around 2,000 people combined.