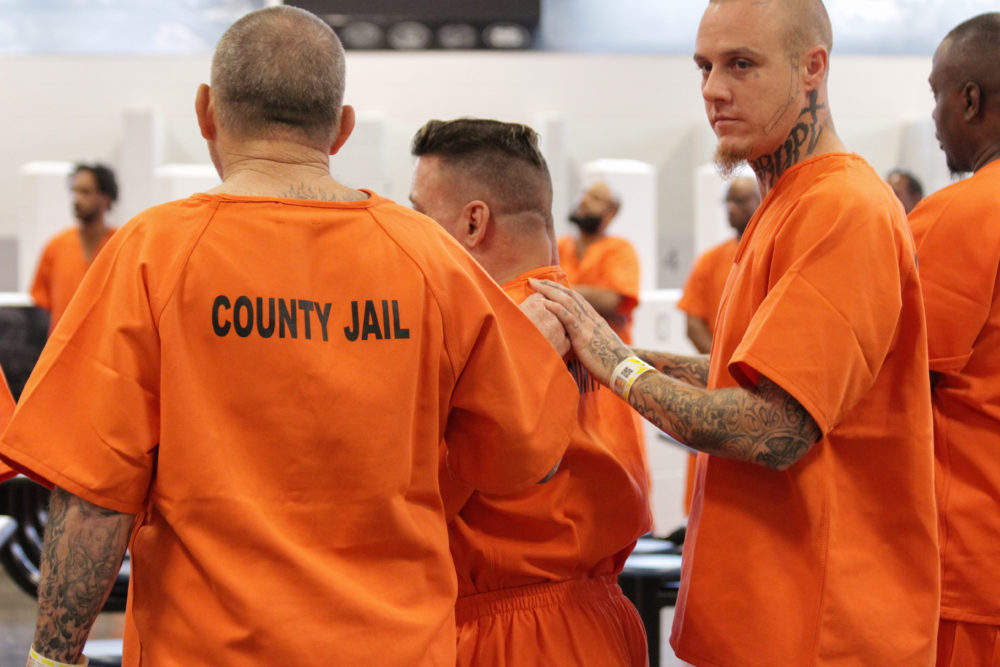 When the top 10 Democratic presidential candidates came to Houston last week for their debate, they hit one issue of major importance to Houston: criminal justice reform.
California Senator Kamala Harris defended her record on the issue saying, "my plan has been described by activists as being a bold and comprehensive plan that is about ending mass incarceration, about taking the profit out of the criminal justice system."
Former Vice President Joe Biden pointed to the work of the Obama administration in releasing tens of thousands of nonviolent offenders. "Nobody should be in jail for a nonviolent crime," Biden said.
New Jersey Senator Cory Booker challenged his fellow candidates to pledge to release all inmates of U.S. prisons who had been unjustly incarcerated. "So much of this comes down to privilege," Booker said. "We have a criminal justice system that Brian Stevenson [founder of the Equal Justice Initiative] says treats you better if you're rich and guilty than if you're poor and innocent."
That idea, that the system is unfair to the underprivileged, was exactly what federal courts found was wrong with Harris County's cash bail system. Last year, a federal appeals court ruled that too many indigent defendants were being held in jail pending trial simply because they couldn't afford bail.
A final settlement of the case is still pending. But many of Harris County's elected judges have already adopted a rule that allows the majority of defendants in nonviolent misdemeanor cases to bond out simply by pledging to show up for their court date – what's known as a personal recognizance or "PR" bond.
"It's no secret to us that, I think, the world is watching – not the world, but other states are clearly watching what we're doing," said Judge Shannon Baldwin of Harris County Criminal Court Number 4. Judge Baldwin, elected last year, is one of the judges putting these changes into effect.
"What I expect to see is that in a county as big as Harris County, once they see this happen and that it works and it is effective and constitutional, I expect that that ripple effect will just start to move into the other counties."
Those include counties like Cook County, Illinois, whose chief judge has likewise ruled cash bail unconstitutional. And whole states, like New York, which has passed a law that eliminates cash bail for misdemeanors and most nonviolent felonies, effective next January.
Not everyone is thrilled with the changes taking place in Harris County. District Attorney Kim Ogg has filed her objection to the proposed settlement, saying it doesn't do enough to protect victims' rights. "[We] see judges right now letting dangerous misdemeanor offenders out – domestic violence abusers, pimps, people who stalk folks, DWI offenders – and we see those individuals go out and commit additional crimes, only to be taken back in front of the courts and given another PR bond," Ogg previously told Houston Public Media.
Law enforcement leaders have made similar points. Pasadena Police Chief Josh Bruegger says that, since local judges began the widespread use of PR bonds, he's seen a number of defendants who've been released even with multiple offenses.
"We had a case where we had an individual that was on two PR bonds for misdemeanor offenses," Chief Bruegger said.
Bruegger says the defendant then was arrested and charged for assault on a family member, also a misdemeanor, "and less than 24 hours later was released on another PR bond, so at the time he had three active PR bonds, and then after being released, he returned and killed his wife and unborn child."
The Pasadena case is perhaps the most notorious example that critics of Harris County's bail reform cite. But even with that example, federal Judge Lee Rosenthal issued a preliminary ruling in favor of the proposed settlement.
"You can't lock up every single person as a solution to preventing those kinds of terrible outcomes," said Rebecca Silber, director of criminal justice at Arnold Ventures. "Anybody who is released on a PR bond and goes on to commit another crime could just as easily have come out on [a cash] bond and committed the same crime."
Just how widespread that view is remains to be seen. But according to the most recent UT/Texas Tribune poll, nearly 90% of Texas Democratic voters rate criminal justice reform as important in determining their vote for president.
CORRECTION (Sept. 19, 2019): An earlier version of this story incorrectly stated that Arnold Ventures is a non-profit. It is an LLC.